---
Boardman Little League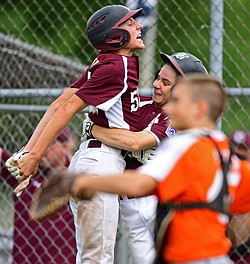 Gallery
By TOM WILLIAMS
williams@vindy.com
NORTH CANTON
Long before the Boardman Little League baseball 11-12 team had a double-digit lead, when the outcome was very much in doubt, pinch-hitter Evan Sweder came through.
In Boardman's debut game in the state tournament at Hoover Community Recreation Complex, a 12-0 victory over Galion, Gavin Hyde and Galion's Logan Campbell were engaged in a scoreless pitching duel.
Then with one out in the fourth inning, Sweder's teammates Jack Ericson and Dylan Barrett were at third and second. Sweder smacked a Campbell pitch off the tip of the glove of second baseman Logan Keller. The ball ricocheted into shallow center field as Ericson and Barrett raced home.
Sweder didn't see what happened to the ball because he was too busy looking at first base.
"Honestly, I wasn't looking at [Keller], I just wanted to get to the base," Sweder said.
Once he made the turn, he saw his teammates celebrating at home.
"It felt amazing because I just wanted to smack the ball," Sweder said.
One out later, Campbell was lifted because he had reached 50 pitches — Galion's ace had pitched on Saturday in a win over Hamilton.
Boardman had little trouble connecting off reliever Carter Weaver. After Charlie Young singled, he and Sweder scored on Matt Kay's single to right-center field for a 4-0 lead.
"It was just a good pitch and ... it felt good," Kay said of the hit. "It was so exciting, I was so happy in that moment."
Staked to a lead, Hyde continued to dominate on the mound, even after a 25-minute rain delay in the sixth inning. At least 40 minutes had passed since Hyde had ended the fifth inning by whiffing Hunter Minyard before his next pitch.
"It wasn't very hard," Hyde said of the delay. "I just knew I had [a good] defense behind me, just in case they were to get a couple of hits."
Hyde struck out Keller to open the sixth inning then switched positions with shortstop Jack Ericson because he was approaching 65 pitches. He finished with 12 strikeouts and allowed just two hits.
Last year, this group of Boardman players won the state tournament in the 10-11 tournament. Two years ago, they won state as 10-year-olds.
Boardman's win earns them a day off today. Boardman's next game is Tuesday at 6 p.m. against Ironton in a winner's bracket semfinal. The winner will be off on Wednesday.
Because of the pitching switch, Boardman manager Rob Hyde said Gavin Hyde will be eligible to pitch up to 85 pitches on Thursday. Because Ericson did not throw 35 pitches, he is available to pitch on Tuesday.
"We have a handful of pitchers that we can go to," Robert Hyde said, adding that he hasn't decided on his starter.
Boardman scored three runs in the fifth inning for a 7-0 lead. Ericson started the rally with a double. After Hyde singled and Barrett walked, Zach Ganser and Young put groundballs in play with to clear the bases.
In the sixth inning, Kay had a 1-2 count when the game was halted by a downpour. When it resumed, Boardman scored five times. Tyler Kirlik greeted reliever Quinn Frankhouse with a two-run double. Ericson and Ryan Conti also drove in runs with a triple and double, respectively.