Astro Falcons win it all again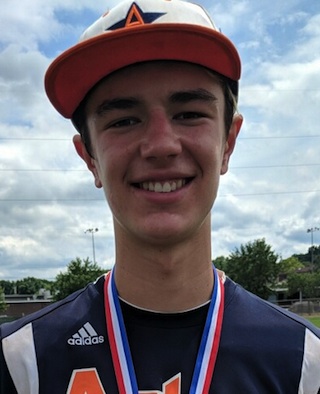 Photo
By GREG GULAS
sports@vindy.com
STRUTHERS
The Astro Falcons 16-U team is a group that won't be forgotten any time soon.
The defending NABF Junior World Series champions defeated Brooklyn Bonnie Rockets, 13-3 for their second consecutive junior crown Sunday afternoon at Cene Park.
Earlier in the day, Astros defeated Baird Brothers, 9-1 to advance to the title tilt.
The win also marked their third straight as a franchise, having won the Sophomore Division crown (14-U) in 2016.
Brayden Beck worked five innings and struck out three, scattering four hits to pick up the win and was named MVP for the tournament.
Vince Armeni had three hits — he laced two triples and a double — scored a run and had four RBIs. Connor Miller added two hits, including a triple with two runs scored while Chase Franken, who had two hits and scored two runs, was named batting champion after posting a .600 tourney average.
"It's really nice to be named batting champion, but there are a lot of deserving players who could very easily have won the award," Franken said. "I would put this team up against any team our age in the country."
Armeni, who was the 2017 batting champion and MVP, had three triples, a double, scored two runs and had five runs batted in on the day.
"It's an absolutely great feeling to be a three-time champion," Armeni said. "Each championship is to be treasured, but the last one that you win is always the most special. This group is a very special group and one that has worked really hard all season long."
Astros took the early 1-0 lead in the opening inning when Colin Balas walked, scoring a batter later when his double play mate, Armeni, followed with a run scoring triple - his first of two in the game and second of three on the day.
They stretched their lead to 6-0 in the third inning, sending 11 batters to the plate with Armeni's second triple of the game plating Balas again, eventually rounding the bag and scoring without interruption on a throwing error during the relay by shortstop Josiel Santos.
The Bonnie Rockets cut the deficit to 6-2 in their half of the third inning with Santos scoring on a sacrifice fly by Mike Lewishall and Andy Alcantara racing home on Sammy Canela's infield grounder.
Miller hit his second triple of the day in the fourth inning and had four hits, including three extra base hits on the day.
Astros continued to pound the ball in the fifth inning, adding three more runs to open a 9-2 margin with a two-run double by Armeni, and run-scoring double by Ricky Havrilla accounting for all three tallies.
After Alcantara walked to lead off the fifth inning, Canela's ground out sent him across the plate to cut the Astros lead to 9-3.
Astros added four more runs in the seventh inning to ice the game.
Franken was quick to deflect any praise to his teammates.
Astros manager Jason Triveri said his team is a very special group of players.
After falling to 1-1 in tourney play, they outscored opponents 47-6 in the next four games
"It was very special to come back from a 2-1 deficit in the league championship series, but after going 1-1 in our first two tournament games, then to come back and accomplish what we did was equally special," Triveri said. "Brayden has pitched in so many big games, we knew that if we had him ready for the championship game then we would have a good chance."
SEMIFINALS
The Astros (4-1) punched their second consecutive championship ticket with a 9-1 victory over league foe Baird Brothers in Sunday's semi-final contest.
Will Shaffer tossed five strong innings, allowed just two hits and one run, striking out five while needing just 92 total pitches for the victory.
Baird starting pitcher Jake Gehring got Baird on the board first, starting off the game when he was hit by Shaffer's first pitch of the game, crossing the plate on Bren Kilpatrick's r.b.i. single.
Astros took the lead for good in the second inning, sending 12 batters to the dish and scoring six times for a 6-0 lead.
They only had three hits in the inning with the big blow a bases clearing triple by Miller.
Miller finished with two hits and four runs batted in, adding a double as well in the fifth inning.
They added three more runs in the third inning to increase their lead to 9-1 with Armeni's triple scoring Balas, eventually scoring the final run of the game on Miller's sacrifice fly a batter later.
Franken had three hits for Astros while Beck also tripled and scored a run.
More like this from vindy.com