American Legion helps YPD outfit motorcycles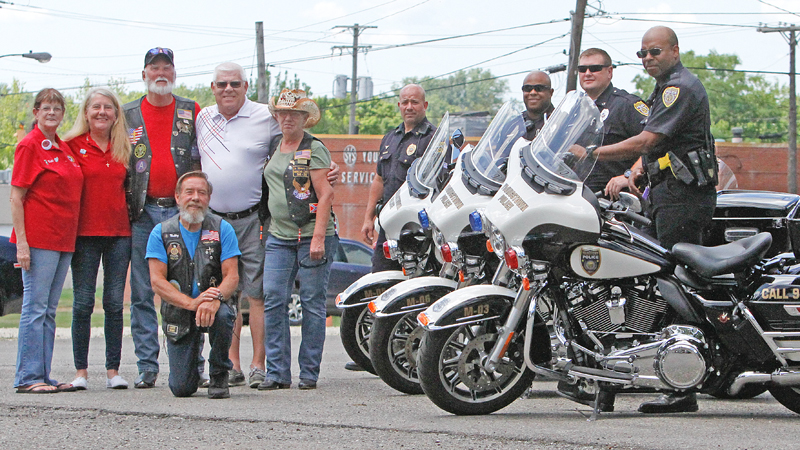 ---
By Joe Gorman
YOUNGSTOWN
Will Midkiff wanted a chance to thank police for always looking out for American Legion Post 472 at Rush Boulevard and East Indianola Avenue, so when the department recently purchased four new motorcycles, Midkiff and the post put their money where their clutch is.
The South Side post raised $1,000 to outfit the new motorcycles with decals.
The bikes, 2018 Harley Davidson Electroglide models, are popular, said police Chief Robin Lees, and often the department cannot keep up with the request to have them at an event.
Midkiff, post commander, said he was looking for a way to show appreciation for the work police officers do in the neighborhood and around the city. He solicited funds from four committees the post has, and each kicked in $250. It was not hard to get members to give, Midkiff said.
"We wanted to do something to say thank you for keeping us safe," Midkiff said. "Every time we call them they respond."
Lees said the department has six motorcycles and anywhere from 10 to 12 officers serve on the unit, often on a rotating basis.
He likes the motorcycles because they are excellent for traffic control for an event at the Covelli Centre or for providing escorts, Lees said. Two of the motorcycles recently helped to escort a Mentor police officer who died in the line of duty at his funeral, Lees said.
Lees said at each event he attends with the bikes, people clamor for pictures of them, often asking if they can sit on them.
He said the department appreciates the help of Midkiff and post members.
"I think it's great, and we appreciate the support of the veterans organizations in particular," said Lees, who is also a veteran.
One of the members of the motorcycle unit, Officer Ryan Curry, also thanked the post for its support.
"It's an awesome feeling being from the city and having people give back as well," Curry said. "It's hard to explain the appreciation level people have for police officers."
Lees said the new motorcycles were purchased with money raised by the city's traffic cameras.
More like this from vindy.com