All ages take part in 5K on the Runway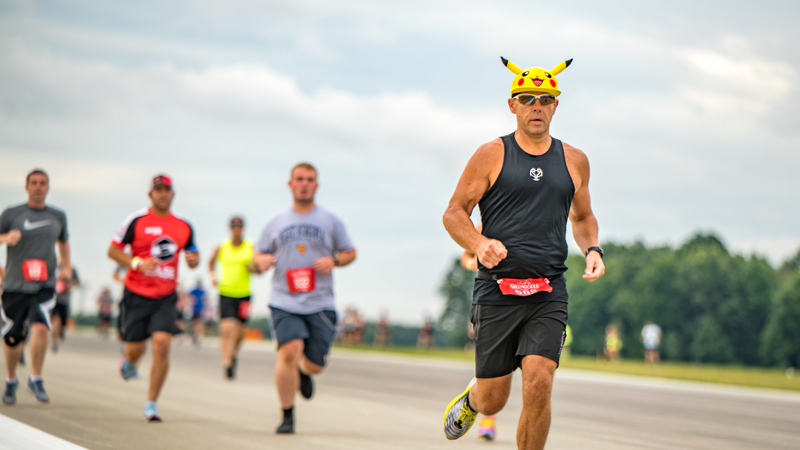 ---
By Sean Barron
VIENNA
Barbara Meadows took off from the runway smoothly, on schedule and without a hitch, though only one thing was missing: the plane.
"It was so neat to be on the runway and on the taxiway," the Minerva woman said after having gotten back her bearings and second wind.
Rather than being airborne, however, the 14-year flight attendant found herself much more down-to-earth, because she was among the estimated 125 runners of all ages and skill levels who took part in Saturday morning's first 5K on the Runway at the Youngstown Air Reserve Station.
Sponsoring the two-hour fundraising event were 7/17 Credit Union and the Cafaro Foundation.
Proceeds are to benefit the base's Community Council and the Eastern Ohio Military Affairs Commission, noted Marcy Angelo, an event co-planner and council member.
The run also was to advocate on behalf of YARS and support the 910th Airlift Wing, she said.
"This airbase puts over $100 million back into the local economy, so it's important we keep it here," Angelo said, adding YARS is one of the Mahoning Valley's five largest employers. "A lot of people don't know how lucky we are to have this."
Participating in similar events in similar settings is nothing new for Meadows, who has unflinchingly put her endurance to the test in such competitions at the Akron-Canton and Pittsburgh International airports and has a deep interest in aviation. Her latest crowning achievement was having been in a 50K marathon last month in Niagara Falls, Ontario, Canada, said Meadows, who finished the local run in slightly more than 27 minutes.
She also praised the Mahoning Valley, saying the region is active in hosting such gatherings for good causes.
"It's so great to see Youngstown become so strong with running events," said Meadows, who has family and friends in the military and persevered in Saturday's 5K, despite a stiff headwind and gradual, lengthy incline.
The event held special meaning for Caryn Roman of Fort Benning, Ga., whose husband, Capt. George Roman, is on his second deployment in Afghanistan.
"My husband has been in the Army nine years," said Roman, whose father, Michael Kovach, is a private pilot at YARS. "[George] will return this December."
The Valley native added she's part of a group of young mothers at Fort Benning who exercise and work out with one another and bring their children. In the meantime, Roman and her two daughters, Clara, 1, and Caroline, 3, communicate with George Roman via Facetime, she continued.
Roman also said her finish time in the competition exceeded her expectations.
Pleased with but surprised by her eighth-place finish was Kelsey Dickey of Cortland, who ran with her boyfriend, Kevin Quinlan, also of Cortland.
"I've been a runner all my life, including in high school and college," the 2011 Lake-view High School graduate said. "I run for fun now."
Dickey, who has taken part in a few 5K runs since having graduated in 2015 from Walsh College, explained that she kept a steady pace for the first portion of Saturday's run. The second mile, however, was more challenging, mainly because of the headwind, she added.
After the main event, many participants took part in a smaller run to cool down.