Christman, Clark and Hoover take charge at Squaw Creek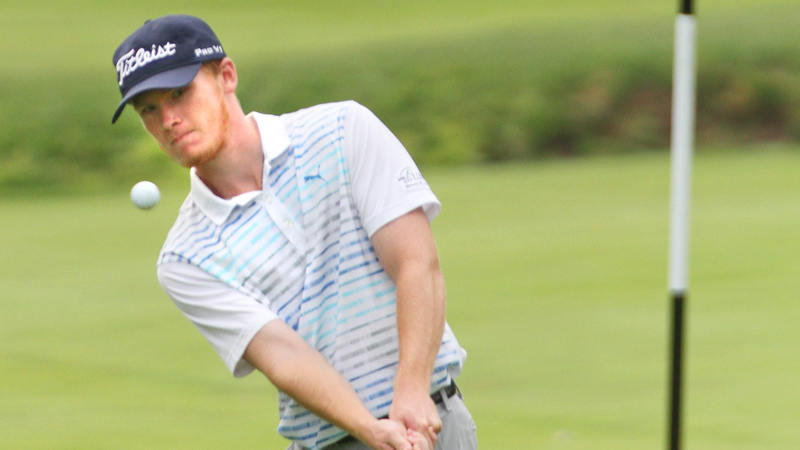 ---
By Greg Gulas | sports@vindy.com
VIENNA
Cole Christman of Kennsing ton Golf Course and Anthony Clark of Yankee Run each carded 1-over-par 73 at Squaw Creek on Friday to share the first-round lead at this year's Greatest Golfer of the Valley 17-U junior championship, presented by Avalon Lakes.
In 17-U girls action, New Castle Country Club's Erika Hoover fashioned an 82 to lead Hannah Keffler of Flying B Golf Course by seven strokes heading to today's finals at Avalon Lakes.
Boys 17-U division finals begin at 12:10 p.m. today, girls 17-U division tees off at 12:15 p.m., 14-U girls hit the tees at 1:30 p.m. while boys 14-U finals begin at 1:50 p.m.
In all, 46 golfers representing 18 Mahoning Valley golf courses and five counties are taking part in the Greatest Golfer's ninth season. The event is produced by The Vindicator and hosted by Farmers National Bank, Covelli Enterprises and Superior Beverage along with 14 other companies and golf course sponsors.
"This course plays fast like it always does so you need to position yourself, especially on the greens," Christman said. "There are a lot of trees, so you need to have a plan off the tees."
Christman, a two-time Greatest champion who is vying for his third title, authored a 2-over 37 on the front nine.
"I was driving really well and had a lot of confidence," he said. "My wedges were great and I gave myself a chance for birdie, which is all that you can ask for. I just need to eliminate some dumb, pointless errors on Saturday. I three-putted twice, left an 80-yard wedge shot in the bunker and had two double bogeys."
Clark shot 35 on the front nine and finished with 38 on the back nine. His round included 10 pars and three birdies.
"I got off the tee really well on the front nine, was hitting the greens and felt like my putting went well," Clark said. "I had three bogeys on the back nine and that was because of bad drives. Overall, my putting was better than usual.
"If I expect to remain in contention on Saturday, every part of my game will have to be in sync. Getting off the tee and putting will be the keys."
Keegan Butler's 75 was good enough for third place entering today's final round. He is two strokes off the pace set by Christman and Clark.
His round included 10 pars and two birdies.
"The course set up really well and while I didn't hit particularly well today, I scrambled enough to keep myself in it on Saturday," said Butler of Mill Creek Golf Course. "I don't particularly have a good history at Avalon Lakes, but I'm looking to change that this weekend."
Hoover's 82 leads Hannah Keffler of Flying B Golf Course, who carded 89 and Mill Creek's Jenna Jacobson whose 90 was a stroke behind Keffler.
She shot 41 on both the front and back nine holes, had eight pars, failed to register a birdie while hoping to eliminate 10 bogeys from her first-round.
"I started well on the front nine because I had great drives, all of which were right down the middle," she said. "I had success with my irons and made a couple long putts. I also had a couple putts that lipped out. The pins were challenging so on Saturday, I just need to go out and manage my game. Avalon Lakes is a little tougher, so I'll need to putt and chip really well."
Squaw Creek assistant golf pro Josh Pearlman said the juniors are always great to host.
"We absolutely love hosting the Greatest juniors," Pearlman said. "They bring a different atmosphere and it helps build junior golf in the area. It was a very nice day today and luckily the weather held up."
More like this from vindy.com