Poland library hosts blood drive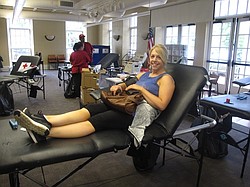 Photo
Neighbors | Jessica Harker .Adrienne Neff waited to get her blood drawn at the June 20 blood drive at the Poland library.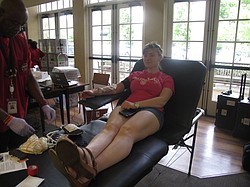 Photo
Neighbors | Jessica Harker .Sophia Grenzig sat and donated blood at the Poland library on June 21.
By JESSICA HARKER
The American Red Cross set up shop in the Poland library on June 21 for the annual blood drive.
This is the first of two drives scheduled for the library this summer.
During the blood donation, volunteers and nurses from all across the area came to the library to assist.
The American Red Cross offers a few options that make blood donation easier, including a mobile app that allows donors to track blood drives and make appointments.
The organization also offers text and call reminders about when donors are eligible to donate again as well as when a drive is in their area.
Information about the mobile app and early registration to blood drives can be found at redcrossblood.org.
During a regular blood donation all donors are given information packets to go over and are asked questions about their personal and medical history to determine eligibility.
Additionally, donor blood is always sent to a lab to test for diseases and other issues that make the blood unsuitable for donation.
After blood is donated and sent to the laboratory it can be sent to a number of hospitals including Cleveland Clinic.
More like this from vindy.com