Library hosts blood drive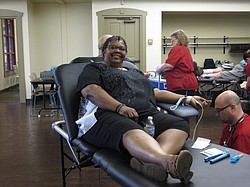 Photo
Neighbors | Jessica Harker.Joann Russ, a blood donor for more than 20 years, donated blood at the June 25 blood drive at Boardman library.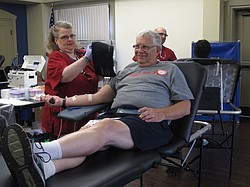 Photo
Neighbors | Jessica Harker.Roger Patterson prepared to start his blood donation during the June 25 American Red Cross blood drive at the boardman library.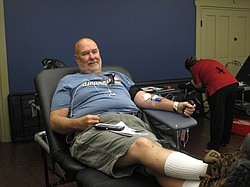 Photo
Neighbors | Jessica Harker .Dan Macinty donated blood at the boardman library blood drive on June 25.
By JESSICA HARKER
The Boardman library hosted an American Red Cross blood drive on June 25.
A new program highlighted during the blood drive called "The Missing Types," was aimed at increasing the number of new donors during the summer months.
"The Red Cross has declined 8,000 new donors every year in the last four years," according to Christy Peters, a Red Cross communication manager.
To combat this issue, the Red Cross has coupled with other organizations to drop the letters A, B, and O from their logos.
This is to bring awareness to the need for blood, the types of which are signified by the three letters.
"Summer is a difficult time for us because about 50 percent of our donations come from high school and college students, so when they are out of school out donations drop significantly," Peters said.
The program is aimed at bringing new donors to the Red Cross, instead of just focusing on people who donate regularly according to Peters.
Along with the missing letters program, the Red Cross offers a rapid pass system through their web site.
This allows regular donors to go online, find a local blood drive and fill out the preliminary paper work to make their trip to donate blood faster.
For new donors the process entails coming to the location and signing in, then reading a list of information about the various situations that would make the blood being donated unable to be used.
After receiving the information and going through a checking process, the donors are then able to give blood.
The American Red Cross now has two options for when you give blood, the normal way which takes about 15 minutes and takes a pint of blood from you, and Power Red.
Power Red is a way to donate twice the amount of red blood cells according to Peters, where during the donation the red blood cells and the plasma are separated, then the plasma is put back into your body and the process is repeated.
After any donation the blood is then verified safe by a lab and sent to a variety of hospitals, including the Cleveland Clinic.
"Our goal is to raise awareness and to increase the collections at donation centers because it is so important," Peters said.
More like this from vindy.com