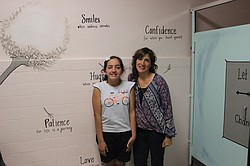 Photo
Neighbors | Abby Slanker.On June 7, Sam Nappo and her daughter, Canfield Village Middle School fifth-grade student Nina, visited Nappo's favorite bathroom at the school after she was honored by students and staff for painting and improving several bathrooms throughout the school.
By ABBY SLANKER
Canfield Village Middle School students and staff honored Sam Nappo, recognizing her work painting and improving the school's bathrooms, at the school's year-end awards assembly and talent show on June 7.
To start the assembly, CVMS Principal Judd Rubin welcomed students, staff, family and friends.
"Good morning and welcome to the last day of school of the 2017-18 school year. We have some wonderful moments and a great assembly planned for you. I'd like to welcome our student body, teachers, families to our student-led assembly consisting of lots of talents and awards. I'd first like to thank and recognize Sam Nappo with a video tribute to her work improving our bathrooms here at the school," Rubin said.
A video tribute to Nappo was shown, with several students praising her work in painting and redecorating the school's bathrooms with whimsical scenes and inspirational quotes. They also thanked her for all her efforts.
After the video, the CVMS staff presented Nappo with a gift basket as a token of their appreciation.
"Thank you again, Mrs. Nappo, for making our school better," Rubin said.
Nappo, who is an elementary teacher in the Girard Schools, was overwhelmed with the recognition.
"I wanted to fly under the radar in regards to painting the bathrooms. The reaction from the students has been magical. I never expected to be overwhelmed by how happy the students are with the bathrooms, but I am. Their feedback has been amazing. My heart is very full today," Nappo said.
Nappo also said she sees her work on the bathrooms as a love letter to her children.
"I see these bathrooms and my work on them as a love letter to my three girls. My oldest daughter is in fifth grade here and my two younger girls are in third grade and kindergarten. I wanted them to have something special," Nappo said.
Nappo also said she is not finished painting at the school.
"I am going to continue to paint the bathrooms, and hopefully move onto other rooms, too. I think CVMS has the best bathrooms in Mahoning County," Nappo said.
Nappo was also presented with a plaque from the school, with a duplicate plaque of recognition to be placed in the new display cases at the school.
More like this from vindy.com