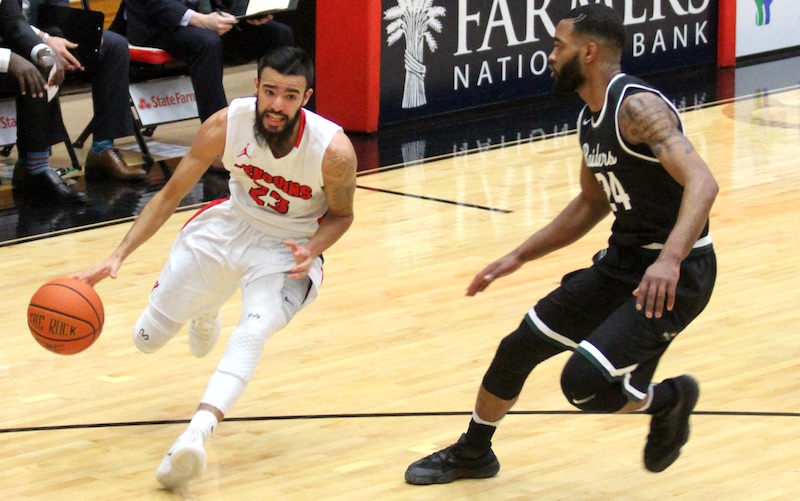 ---
By BRIAN DZENIS
bdzenis@vindy.com
YOUNGSTOWN
Francisco Santiago's college basketball career is over. He is not getting another season at Youngstown State.
This offseason, the Penguins point guard and the school's compliance department made an appeal to the NCAA's Committee on Student-Athlete Reinstatement for a hardship waiver.
The waiver would have let Santiago gain a sixth year of eligibility after his redshirt senior season was ended by knee injuries, but on Tuesday, the NCAA informed Santiago that his appeal was declined. The school confirmed he was out of eligibility on Wednesday.
"I don't think they made the right decision," Santiago said. "I feel like they didn't do what's best for the student. I'm disappointed.
"I have to take this in stride, but this hurts my family dearly that I didn't get to play my senior year," he added. "I feel like I didn't get a fair chance at doing so. I'm hurt by the decision they made."
In July 2017 heading into the 2017-18 men's basketball season, Santiago tore his ACL. At the time, he believed he was out of eligibility, so he attempted to play through the injury. He played in eight games before suffering further damage to his knee and sat out the rest of the season.
"[YSU assistant athletic director] Elaine Jacobs said I wouldn't get another year. She said it would be a waste of her time to try and get one," Santiago said. "I felt like my back was against the wall and I didn't have any options, so I said I would try.
"We had several conversations because my knee slipped several times and I wasn't looking forward to playing," Santiago added. "If I had to do this over again, I would have just got the surgery."
Jacobs, who oversees academic and eligibility requirements for athletes, couldn't be reached for comment. Athletic director Ron Strollo said that while he wasn't privy to conversations between Santaigo and Jacobs, he was privy to the athletic department's knowledge of Santiago's situation at the time.
"Every kid gets five years to compete, but to get six requires something extraordinary. You have to show you lost two years," Strollo said. "When he came to our offices, we knew he chose to transfer here from Wheeling Jesuit, which isn't a lost year.
"We thought there was nothing to appeal."
Santiago spent the 2013-14 season — in which he didn't play with Wheeling Jesuit — before transferring to YSU, using a redshirt as he sat out the 2014-15 season to fulfill NCAA transfer requirements. Strollo said as the department learned more of Santiago's time going from high school to Wheeling Jesuit, things were "cloudy" enough to pursue an appeal.
BORDERLINE
Santiago said he didn't have "the best grades" at Cleveland St. Ignatius — good enough to be academically eligible to play, but poor enough to consider going to prep school. He decided to go to Wheeling Jesuit because the offer of a full ride was too good to pass up and he was under the impression he would be eligible. He learned that wasn't the case when he went through the NCAA's clearinghouse, the eligibility entity every potential college athlete must pass through.
"I didn't know this, but my theology courses don't count in the clearinghouse," Santiago said. "You had to take theology every semester at St. Ignatius, so when you take those courses out of my grades, it barely dropped my [grade-point average] below a 2.0. It was like 1.9-something.
"That's what we were fighting. That I was misadvised and misguided. No one told me that was a possibility."
In the most recent edition of the NCAA rulebook, receiving "erroneous academic advice" from a collegiate institution is considered valid criteria to get a waiver for an extra year.
THE APPEAL
Strollo said that in his 23 years as athletic director, he couldn't recall if any YSU athlete ever earned a sixth year of eligibility. He also couldn't recall a more involved case than Santiago's.
"We spent around five to six months working on this and I believe this is the first time we've ever taken the appeal all the way to a conference call with the NCAA," Strollo said.
As Santiago described it, the call followed a certain protocol. Each party — YSU, Santiago and the NCAA — had 10 minutes to speak. Then the NCAA goes through a question-and-answer session and then the conference call ends with the three parties getting five minutes of closing remarks. Assistant AD Emily Wollett did the talking for YSU.
Opinions on the appeal's chance for success varied. Strollo viewed it as something of a longshot, while head basketball coach Jerrod Calhoun thought at a better time, it could have worked.
"It's unfortunate. I think he could have had a chance for qualifying had he went through this coming out of high school," Calhoun said. "It's such a different case, but I thought he had a chance."
Santiago has not received a formal explanation as to why his appeal was denied, but said the majority of the NCAA's questions centered on his high school through Wheeling Jesuit years.
"I felt like I answered everything great. I thought what I had prepared was great," Santiago said. "I spoke from the heart and I thought we would get it."
Santiago said "for the most part," he felt YSU — specifically Wollett — had done right by him in his appeal.
"She handled everything. She put in a lot of the effort so I appreciate that," he said. "But other than her, I don't know what else could have been done. I feel like we did everything we could."
WHAT'S NEXT
Santiago is still rehabbing his left knee, but said he is getting better.
"I feel strong. I'm doing everything except stuff with contact, but I work out in the pool and run," Santiago said. "I'm getting stronger everyday."
Santiago earned a degree in business management. He's pursuing a professional basketball career. He started 65 games for the Penguins, averaging 9.5 points and 4.1 assists.
"I'm sad for him. I knew how hard he works and how hard he worked for the program," Calhoun said. "All that's left now is to do what we can to help him with his professional career."
Santiago's departure means there are no players remaining on the team that were brought in by former coach Jerry Slocum. In an offseason that saw Slocum-era players like Braun Hartfield, Devin Haygood and Jeremiah Ferguson transfer out of the program, he also considered leaving.
"I thought about it. You wonder if they were thinking of moving on and if it's time for me to move on, but you don't really know," Santiago said. "I was more focused on getting the year and then crossing that path when it got there. I wanted the year before finding out what the coaching staff was going to do."
Santiago said he still keeps in touch with Slocum on a weekly basis. He also will carry his bond with former leading scorer Cameron Morse through wherever he ends up.
"The relationships that I've built there are worth more than anything anyone could have given me," Santiago said. "I succeeded in what I wanted to do for the most part. I just feel like the NCAA let me down and cut me short.
"They say they care about the student-athlete, but that just doesn't seem to be the case."
More like this from vindy.com