Biker Brewhouse full throttle craft beer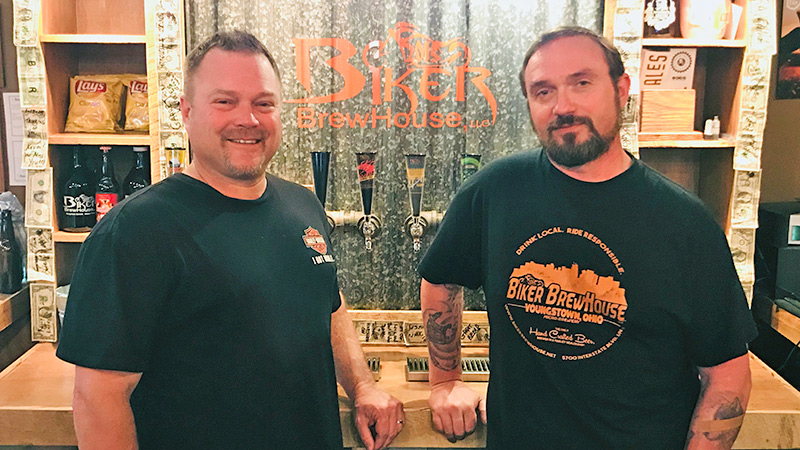 ---
Biker Brewhouse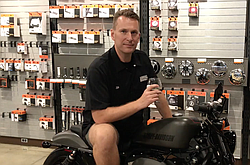 Video Set
By Jim Cyphert,
Mahoning Valley Flight Crew
Picture Biker Brewhouse owner/Harley-Davidson Biketown floor manager Larry Wilson perched atop a shiny 2018 Fat Boy motoring down an open stretch of Interstate 80 near Route 46.
If You Go
Location: Biker Brewhouse
Address: 5700 Interstate Blvd., Youngstown (Inside Harley-Davidson Biketown)
Website: bikerbrewhouse.net
Hours: Sun.: noon to 4 p.m.; Mon. & Thurs.: noon to 8 p.m.; Tues.: noon to 6 p.m.; Fri. & Sat.: noon to 10 p.m.
Available for Purchase: Flights, pints, growlers, & merchandise
Does he let that byproduct of American steel and ingenuity idle and get passed by a Hyundai Santa Fe or a Toyota Prius? No way. He goes full throttle.
Wilson takes the same approach when it comes to his brewery in the back corner of the Harley-Davidson dealership at 5700 Interstate Blvd., Austintown.
Since opening in February 2017, he's been pushing hard to make sure many people in the Mahoning Valley get a taste of his motorcycle-themed craft beers.
"Sales are up 38 percent, and production is up 28 percent this year over 2017," Wilson said. "We're looking to expand production. If we don't, we won't be able to keep up with demand."
In addition to the tasting room at the dealership, Biker Brewhouse beers are now available at 21 other locations, including Cleary's Bar in Niles, the Whistle & Keg in downtown Youngstown and the Casual Pint in Boardman.
Wilson's plans call for installation of a 5-barrel brewing system, two additional fermenting tanks and two more bright tanks.
"There's plenty of room for growth here," Wilson said. "There are so many people who love craft beer in the Mahoning Valley."
Wilson and his team – which now includes another experienced brewer in Lyle Valentich – sees much opportunity to expand north into Trumbull County, and beyond.
As the only brewery inside a Harley-Davidson dealership anywhere, Wilson also eventually sees franchising potential.
Just as Wilson would tune up that Fat Boy to make sure it was running right, he and Valentich continue to tweak their beer recipes, and develop new ones.
The night the Flight Crew visited Biker Brewhouse, eight beers were on tap, including a newly formulated Hopster IPA. Wilson and Valentich also made sure the crew got a taste of the brewery's newest beer – Naughty Brew-Nette English Brown Ale – straight from the bright tanks.
Here's what the Flight Crew liked best that evening:
Ball Bearing Blonde Ale
(5% ABV, 15 IBU)
Dave Shively
"Ball bearings, by their very nature, are designed to reduce friction. Biker Brewhouse's Ball Bearing Blonde Ale is aptly named. This beer is about as smooth as it comes, with zero friction on the palate. It also happens to be the best-selling beer at the brewery because it's such an easy-drinking, light-bodied ale. It also serves as a gateway beer, giving first-time customers to the dealership the opportunity to experience a craft beer. And, because it's brewed with traditional pale and Pilsner malts, this beer also serves as the backbone to the brewery's blueberry-, raspberry- and cherry-infused cousins of this classic ale. Be sure to add this one to your next flight."
Blue Balls Blueberry-Infused Blonde
(4.7% ABV, 10 IBU)
Joe Sanfilippo
"It's time to 'sip' back and relax with Blue Balls. If you're looking for a summer beer for the pool or the beach, this is the one for you. This nice, easy-drinking ale is a spin-off of the Ball Bearing Blonde that's infused with natural blueberry flavor. Let me tell you, it's hard to put this one down once you start drinking it."
High Octane Coffee Co. Breakfast Stout
(6.0% ABV, 31 IBU)
Jim Cyphert
"Biker Brewhouse partnered with another local favorite in High Octane Coffee Co. to create this tasty breakfast stout. It's a cousin to one of my favorite local craft beers, the Midnight Rider Chocolate Pumpkin Stout, which will be available in October. High Octane's cold-brewed South American blend Black Flag Dark Roast coffee serves as this beer's backbone. It's got the feel of a big beer, but it comes in at only 6 percent. I'm definitely a fan of Biker Brewhouse's stouts and porters."
Pineapple Hefeweizen
(5.2% ABV, 14 IBU)
Roger Gillespie
"Pineapple Hefeweizen (look at the label) was brewed by request for Youngstown's own Whistle & Keg. It starts with Biker's Hef recipe, but with the addition of pineapple, we have a totally new experience. This brew is refreshing and easy to drink. With an ABV of 5.2 percent and only a 14 IBU, it can be enjoyed any time of day and at any function."
Hopster IPA
(6.0% ABV, 56 IBU)
Jason Jugenheimer
"Jump in the saddle and rev up your engine for this hop-slapping adventure. This hog is the second version of Biker Brewhouse's dry-hopped IPA. This time, they doubled up on the Mosaic and Centennial hops, giving you a hazy pour with a piney, yet sweet, aroma. Flavors of pine and citrus fill your palate, while the hop bitterness resonates on the roof of your mouth. Overall, this IPA is well-balanced and should be added to the end of your next ride."
Melon Balls Watermelon-Infused Blonde Ale
(4.7% ABV, 10 IBE)
Brian Long
"Watermelon and beer? Why yes, Biker Brewhouse has done just that with its Melon Balls Ale. The brewery has taken its flagship Ball Bearing Blonde Ale and hit it up with a summer favorite, watermelon. This ale is crisp and is a refreshing, easy-drinking beer on these warm summer days. You can down a few of these, as this beer comes in at only 4.7 percent ABV and at just 10 on the IBU scale. Even though I love my hops, I'm digging this summer beverage."
Recommended Flight Pattern: Give the throttle on your Fat Boy a full twist – or just get into your Santa Fe or Prius – to head over to sample the variety of craft beers on tap at Biker Brewhouse.
More like this from vindy.com