After delays, Astro wins 16-U title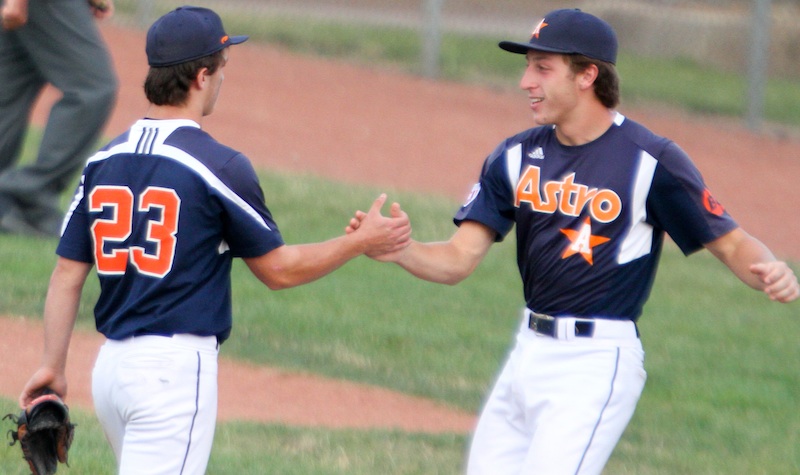 ---
Astros vs Baird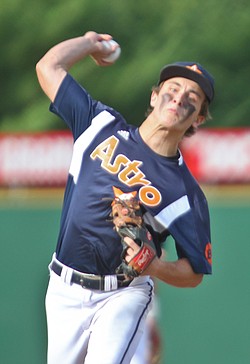 Gallery
By Greg Gulas
sports@vindy.com
STRUTHERS
It took three days to complete, but when Mother Nature finally decided to cooperate the Astro Falcons defeated Baird Brothers, 14-1 in six innings Tuesday to capture their second consecutive Class B 16-U title.
They'll now enter NABF Junior World Series play Thursday looking to defend their national championship.
Andrew Sabella had two hits, scored three runs and added an RBI, Vince Armeni had two hits including a double, reached base five times and drove in a run and Brayden Beck and Chase Franken combined to limit Baird Brothers to one run to pace Astros.
"When Brayden started on Sunday, I was in relief and when the rains came then I knew I was going to get the ball," said Franken, who scattered four hits and struck out two. "I didn't have to warm up on Monday because of the rain, but today when I was warming up I felt really good. Brayden set the tone on Sunday and all I wanted to do was stay in the zone.
"My mindset was to not allow any free passes, throw strikes and let them hit the ball because we have an excellent fielding team and I wanted my defense to do their job behind me."
On Sunday, it didn't take Astros long for their offense to assert themselves, opening a 3-0 lead in the first inning on the strength of a hit, two hit batsmen, a double steal, base on balls and two Baird Brothers fielding miscues.
Colin Balas led off with a single, Vince Armeni was hit by a pitch and after Connor Miller reached on a force play, Miller and Balas pulled off a double steal with Balas giving Astros the early 1-0 lead.
Evan Jarvis then walked and after Sabella was hit by a pitch, Miller and Jarvis scored on back-to-back infield errors to extend their lead to 3-0.
"We felt good as a team coming into the season and became a confident group as the season progressed," Armeni added. "The goal was to defend our championship and we were able to do that. Consistency and chemistry was there from the outset. It's exciting to win the league, now the goal is to defend our NABF World Series crown."
Baird cut the deficit to 3-1 in its half of the first when Trey Pancake led off with a single, then raced home on a two-out double by Rocco Bernadino.
A double by Armeni plated Balas as Astros made it 4-1 in the second stanza, extending their lead to 5-1 in the third inning with another tally when pitcher Brayden Beck's single sent Sabella across the plate.
In the bottom of the third inning, Baird Brothers designated hitter Ty Ventresco led off with a double and after Rocco Bernadino struck out, Bren Kilpatrick's infield single put two runners on before rain halted the fray at 8:37 p.m., eventually suspending action Sunday evening at 9:04 p.m.
Rain washed out Monday's contest but when play resumed on Tuesday, Franken was able to get the final two outs of the inning and stifle any Baird rally.
Neither team could mount any offense in the fourth inning, but Astros sent seven batters to the plate in the fifth, scoring three times to extend their lead to 8-1.
A two-run double by pinch-hitter Brent Herrmann and bases loaded walk to Mike Kushner accounted for all three tallies.
Astros then sent nine batters to the dish in the sixth inning, scoring six more times to increase their lead to 14-1 with Franken's two-run double the highlight of the frame.
Like Armeni, Sabella was perfect at the plate, adding a walk and hit-by-pitch to his game resume.
"We put runs up early and didn't strand many after that," Sabella said. "We made the most of our opportunities. We felt good about our chances with both Brayden and Chase on the hill. They are the two guys you want pitching in situations like that."
After falling behind 2-1 in the series, Astros defeated Baird 12-0 in the fourth game and over the final two games, outscored their foes by a 26-1 count.
"We lost those two games in extra innings, yet it didn't bother this group. They're a resilient bunch that dug in the final two games and won against a very good Baird Brothers team that has an excellent pitching staff," Astros manager Jason Triveri said. "This group will celebrate the league title in their own way because they realize that there is still work to do."
Baird, which finished first in the regular season with a 21-1 mark, enters NABF play with a 25-5 overall record.
"Give Astros credit because they're the team we've been chasing all year and the team we want to be like," assistant coach Randy Dominguez said. "They're the team you want to play every game because when you make mistakes, you pay and from that you learn. We feel good right now as we enter World Series play. Our goal at the beginning of the year was to get to the NABF and win it, and we're ready to get started."
More like this from vindy.com