UPDATE | New details about vapor plume that closed 422, truck company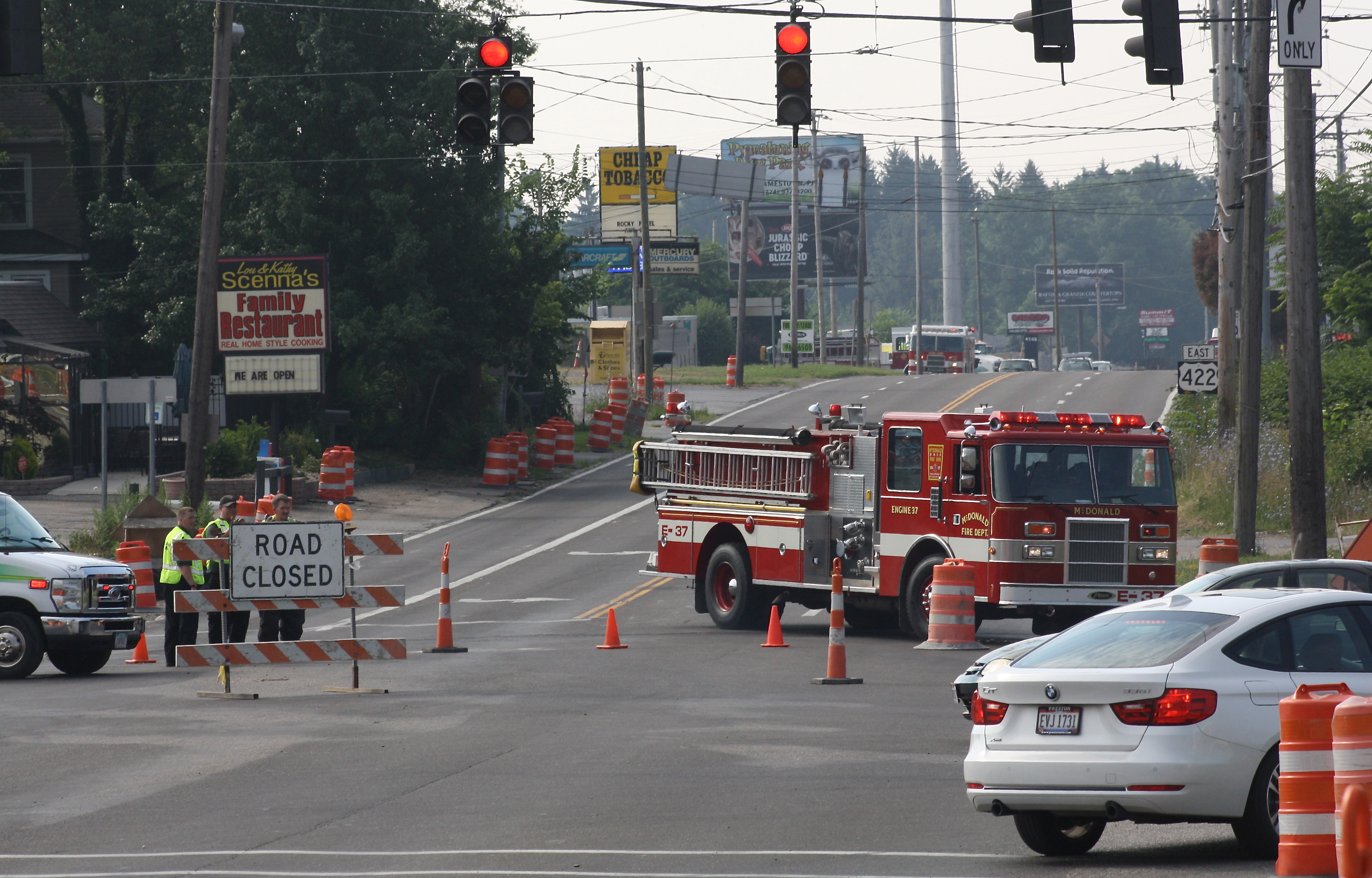 ---
12:38 p.m.
GIRARD — A passerby who spotted a plume of vapor alerted authorities at about 7:20 a.m. today and that led to a discovery that about 2,500 gallons of hydrochloric acid had leaked out of a tanker truck at the Predator Trucking Co.
The company and U.S. Route 422 in front of the company were back open at about 11:20 a.m. today as the Ohio Environmental Protection Agency monitored the cleanup.
Capt. Raymond Knepper of the Weathersfield Township Fire Department, said a passerby called 911 when the person saw what appeared to be smoke at the trucking company.
Firefighters also initially thought it was smoke but discovered it was vapor as they got closer, Knepper said. They immediately backed out and called the Trumbull County HazMat team to handle it. There were workers at the trucking company at the time, and they were evacuated.
The chemical leaked from a rusty valve on a truck, authorities said.
Altogether, about 75 residents, workers and patrons of two nearby restaurants and others were evacuated, including 23 homes.
Knepper said there were no injuries to residents, workers or firefighters. The vapor is flammable and explosive, but it is "more of an irritant than anything," as far as in harm it could cause to anyone. It is not believed the chemical caused any harm to anyone, but the evacuation was conducted as a precaution.
11:48 a.m.
GIRARD — The Predator Trucking Co. has reopened following this morning's chemical leak.
U.S. Route 422, also known as North State Street, is also back open.
8:24 a.m.
GIRARD — An apparent hazardous chemicals leak at Predator Trucking, 1775 N. State Street, has forced the evacuation of residents north of the trucking company as far north as Tibbetts Wick Road and on the east side of Tibbetts Wick.
The Trumbull County 911 center said a passerby noticed smoke coming from the rear of the trucking company at 7:22 a.m. today. When first responders were sent to the scene, they were advised to wear air packs because hydrochloric acid is used at the facility.
The Trumbull County Hazmat team was contacted to respond, and Girard shut down U.S. Route 422.
Authorities were checking with the city of Niles to determine whether the community center can be used for evacuation purposes.
More like this from vindy.com