VINDY EXCLUSIVE | Summit students, staff sound off on problems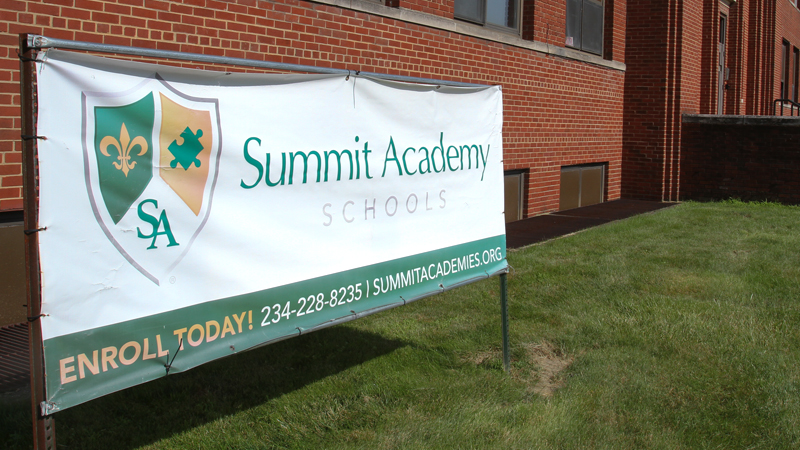 ---
By AMANDA TONOLI
and GRAIG GRAZIOSI
news@vindy.com
YOUNGSTOWN
The administration at Summit Academy Secondary School asked teachers to do work beyond the scope of their training and qualifications to meet state deadlines, a state report indicated.
According to the Ohio Department of Education report, "teachers indicated they were asked to conduct assessments on students they did not have or were not comfortable doing because they did not feel qualified. When the teachers questioned this process, they were told by administration/IEP coordinator to 'make the information up' to meet specific deadlines."
IEPs are individualized education plans for students with special needs.
Of 29 student records reviewed, 21 were found not to have addressed all areas related to the suspected disability category as required under federal regulations, according to the July 10 ODE report.
The report also says: "Students identified as having multiple disabilities were not receiving services and supports."
Corey Yoakam, former Summit Academy Secondary School intervention specialist, said he thought the school was understaffed.
"That was biggest issue," he said. "I pushed hard to get more intervention specialists, but they didn't have money in the budget, and no one wanted to work for the salary they were offering. They had some fantastic general-education teachers who stepped up to help out in paperwork, but they don't have the training to do the special-education work that was required."
In an evaluation by ODE's Office for Exceptional Children, Summit Academy Secondary School, 2800 Shady Run Road, had a number of noncompliance issues, including a lack of formal curriculum, improper procedure and documentation of student disabilities, lack of licensed teachers in some classrooms and grade-appropriate work not being provided to students, among other issues in the report.
Terell Anderson, a 2018 graduate, recalled the day he and his classmates realized several of their teachers were not having their contracts renewed.
"When our sensei told me and the rest of the martial arts demo team that she got laid off, we just broke down. And I was just promoted to purple belt that day too, so it was really hard to hear it," he recalled. "When school was letting out, me and my friends saw our history and economics teacher leaving with boxes in his hands and it was like, 'another one's leaving.'"
According to its website, Summit Secondary employed a sensei to serve as martial arts instructor. Summit Academy has used a "therapeutic martial arts program" for students with disabilities.
Another student, a senior at Summit Academy Secondary School who wished to remain anonymous to avoid possible retaliation for speaking out, said students were aware of the staffing issues at their school.
"I remember the day very clearly. There was a somber tone in the air, we could tell from the teachers that something wasn't right," he said. "We found out which teachers were laid off in the last month of school. I can't remember a single day in that last month where a student or a teacher wasn't crying."
The student was referencing a round of teacher layoffs he said occurred in May.

A spokesman for Summit Academy Secondary said there were no layoffs, but some teacher contracts were not renewed, and hiring is not yet complete for the upcoming school year.
The spokesman added that although salaries are not made public, Summit offers competitive wages.
Yoakam said the staffing issues were enough to make him leave his position.
"I'm an advocate for students with special needs so I put in my letter of resignation before any of this occurred because it was wrong that kids weren't getting services that they are legally afforded and require to succeed," Yoakam said.
Of Summit Academy Secondary School's 243 students, 188, or 77.4 percent, have disabilities, the ODE reported.
A lack of staffing is mentioned in the July 10 report: "It was stated on multiple occasions in different interview groups that Summit Academy Secondary was using Intervention Assistants/Paraprofessionals to teach classes due to lack of staffing."
The report adds, "Staff also stated they are aware of instances where highly qualified teachers are being used as the teacher of record; however the person responsible for instruction may not be [the] highly qualified teacher, or even a licensed teacher. OEC was told due to hiring freezes, Instructional Assistants were being used as 'long-term substitutes' (licensure not on file at ODE) ­­— providing instruction, specially designed instruction and other special education services to students for which they are not qualified."
Summit Academy has five locations in the Mahoning Valley and 24 schools throughout Ohio.
More like this from vindy.com