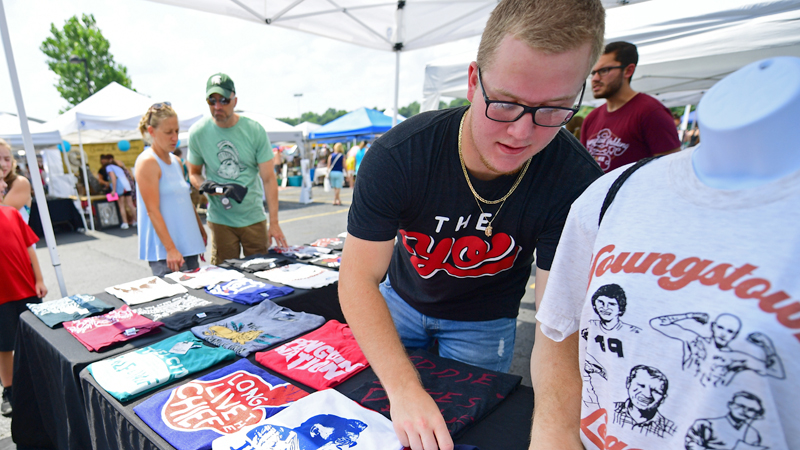 ---
By Bob Jackson
YOUNGSTOWN
The Youngstown Flea is growing in both size and reputation.
Launched three years ago in a parking lot off Freeman Alley, between Market Street and South Avenue, the Flea is a forum for area vendors and artisans to display and sell their wares in their own backyard, said founder Derrick McDowell.
"This isn't just a parking lot full of vendors," McDowell said Saturday. It's giving legs and legitimacy to entrepreneurs and makers. For years, most of these people had to travel to other communities to have a platform for showcasing their work. Now they can do it right here."
More than 60 vendors were set up Saturday at the Flea, which was slightly fewer than the usual number of around 70, McDowell said. He tries to ensure not just a variety of vendors and products, but also that those who sell their products are the best.
McDowell said most of the vendors at the Flea don't have actual retail stores for selling their products, so the Flea gives them a chance to put their wares in front of people and get a foothold in the marketplace. Youngstown Clothing Company is one such business.
"This is a great opportunity for us to get our name and our products out there," said Nathan Richards, whose cousin, Matt McClure, is the owner. Founded in 2015, the YCC has been setting up shop at the Flea for the past three years.
"It's really starting to grow," Richards said of the event. "When we first started coming here, there weren't very many vendors, but it's really taken off."
McDowell said that's because of the support the Flea has received from the community, and because word about the Flea has spread throughout the artisan community.
"A lot of these vendors know each other, and word travels," he said.
Mori Anderson discovered the Flea by checking out its Facebook page. She liked what she saw and wanted to be a part of it, even though she lives in Detroit, Mich.
"I applied, I was accepted, and I'm here," she said. "I was thrilled when they accepted me."
Anderson is a school teacher in Detroit, but has a home business called Made With Luv Bowtique. She makes eco-friendly clothing, accessories and toys for kids from her home and sells them online. Like many of the other vendors, she hopes one day to open a retail location and make Made With Luv her full-time gig.
"But for now, events like this are the only time I get to show the world what I do," she said. Anderson said there are no similar events in Detroit, so it was worth the three-hour drive to Youngstown.
"This started as a hobby, and it just clicked with people," she said.
Christine O'Connell and her daughter, Sadie Bryant, came with five other people from Philadelphia, Pa., to the Flea on Saturday. They came to Youngstown last year to see a band called Spirit of the Bear perform in the city. They were looking for other things to do in the city and discovered the Flea.
They were back Saturday because Spirit of the Bear was performing at the Fiction Forest Music and Arts Festival that night at the B&O Station, and they wanted to make a return visit to the Flea.
"It's grown since last year," O'Connell said. "The crafts here are really great, and the people are all really nice."
The Youngstown Flea takes place monthly during the spring, summer and fall. The hours are 10 a.m.-4 p.m., and the remaining dates are Aug. 18, Sept. 8, and Oct. 13.
More like this from vindy.com