Dozens rev up, go the distance to help cats, dogs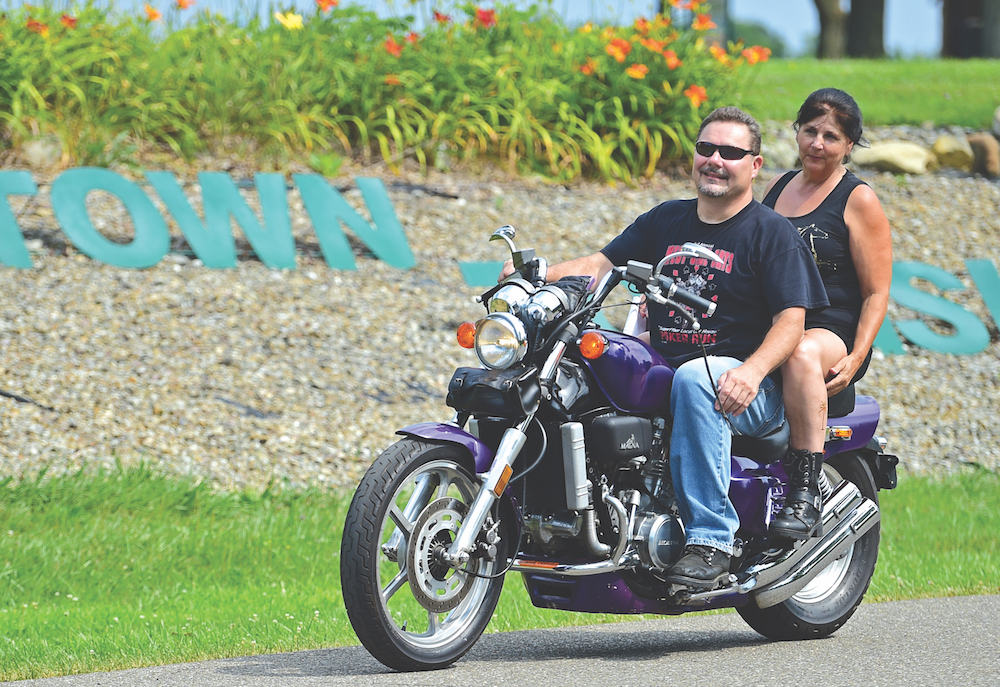 ---
By SEAN BARRON
news@vindy.com
AUSTINTOWN
If you were to examine a tally sheet listing all of the animals that have been a loving part of Alicia Flinders' life, it wouldn't be a stretch to see why going on a long motorcycle ride would be a no-brainer for her.
"I once had nine horses, four dogs, a few cats, ferrets and raccoons. I've had a whole menagerie of animals," the Niles woman recalled.
This time, though, it was to benefit a shelter for cats that led to Flinders joining forces with her boyfriend, David Wild of Lowellville, to be among an estimated 40 riders who took part in Sunday's seventh annual West Side Cats Bike Run & Summer Festival that began and ended in Austintown Township Park on Kirk Road.
Proceeds from the 77.6-mile run through Mahoning and Trumbull counties will benefit West Side Cats, a 10-year-old nonprofit, no-kill and cage-free shelter that specializes in treating and housing sick and injured cats, noted Christine Wilson, a 1.5-year volunteer.
This year's funds will be particularly helpful, because the all-volunteer facility is to move from its Youngstown location at 2217 Mahoning Ave. to 4305 Market St., Boardman, on or near Sept. 1, Wilson explained.
Last year's event raised about $3,500, and this year's goal is $5,000, noted Dave Childers, event coordinator.
Wild was a bit more stoic in expressing his main reason for participating, saying he was happy simply to support a positive cause. The run also gave him an opportunity to get his motorcycle out of the mothballs and onto the road for the first time this year, he continued.
Participants in the family-friendly, nonalcoholic run stopped at Utterly Sweet Treats, an ice-cream business in Lake Milton; Killerwaxx, an auto-detailing and motorcycle decal shop in Cortland; and West Side Cats' 3,500-square-foot future home before returning to the park. The ride also included a tour of the one-story Market Street building, formerly Steinhauser Insurance Agency Inc., Childers noted.
"If there's something at all possible we can do [for special-needs cats], then we want to. We want to give them a chance," Wilson said.
She cited as examples Stormin' Norman, a black cat unable to use his back legs, and another animal with a broken leg. Nevertheless, thanks to the volunteers' compassion and kindness, Stormin' Norman is playful and happy, with a zest to assert his independence, Wilson added.
The shelter receives many animals that were strays, along with others whose companions are no longer able to care for them because of illness and other reasons. In addition, many volunteers serve as foster parents to cats, Wilson continued.
West Side Cats adopts an average of 500 animals each year and has a partnership with PetSmart in Boardman, noted Kimm Koocher, the facility's founder.
"There's a real cat problem in this area ... and with the [local] economy not being great, a lot of people are losing their homes and have to downsize, so a lot of pets are losing their homes," said Koocher, who added she's grateful that Dr. Donald K. Allen, a longtime Boardman veterinarian, will provide spaying-and-neutering and other medical services.
The Market Street location is vital largely because it will be more efficient in providing needed space for the animals. Currently, carpeting is being removed from the building, walls are being painted and a washing machine and dryer are being added, Koocher said.
Also assisting with the bike run was Nancy Logero, director of All About the Pawz, an Austintown-based nonprofit dog-rescue shelter that uses its donations for spaying and neutering, shots, heartworm and other services. All animals are spayed and neutered before being available for adoption, Logero noted.
The shelter seeks additional volunteers, she added. For more information, go to www.allaboutthepawzrescue.org or visit its Facebook page.
Upon their return, the riders took part in a basket raffle and a poker run while enjoying live outdoor entertainment, courtesy of JD Eicher, Terry & Diane McCabe and Anvah. Also, 21 trophies, including three specialty ones, were awarded in six categories.
More like this from vindy.com