Caboose rides thrill attendees at open house for Railroad Heritage Assoc.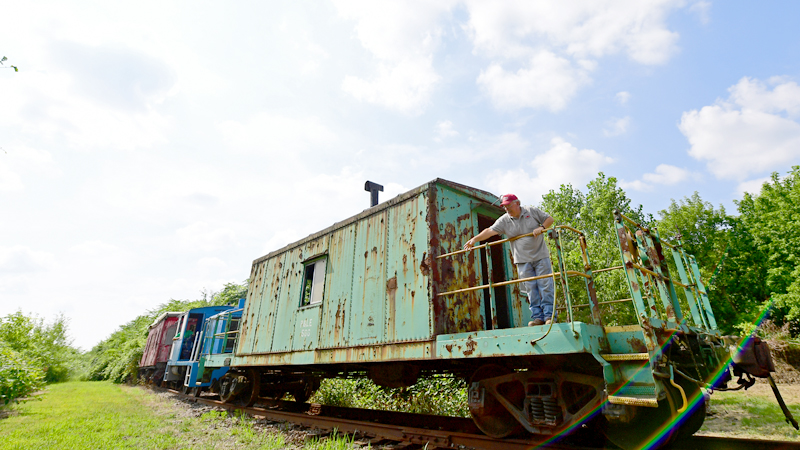 ---
By Sean Barron
YOUNGSTOWN
Cory Smith's two grandchildren are much too young to remember the Mahoning Valley's steel-producing days, but they know how to crank out enjoyment from a slow caboose ride.
"They loved it," the Youngstown woman said, referring to the two youngsters, Amelia, 1, and Eliza, 2. "I had to hold them in their seats; they were investigating everything."
Among the things the toddlers found interesting on the light-green Pittsburgh & Lake Erie Railroad transfer caboose were the lower portion of a bunk bed, a wood-fire furnace, platforms at both ends and a whistle, which was often blown as the car backed up.
The children were among those who took rides on the caboose during the Mahoning Valley Railroad Heritage Association's open house Saturday at the Jim Marter Yard, 1340 Poland Ave.
During the four-hour event, the MVRHA also was hosting a "Bring them Home" campaign to raise money to return several hot-metal and other cars, many of which were used to transport steel-making materials, to the site. They are on a rented track in the CASTLO Industrial Park in Struthers, noted George Seil, an MVRHA co-founder.
The goal was to raise $40,000 for the effort, he said.
The nonprofit organization, formed in 1985, is dedicated to preserving the history of the region's steel-industry railroading, as well as to obtain, restore and display railroad equipment, especially that used to transport ore and other materials vital in steel production, its mission statement says.
To that end, the museum at the 2.5-acre Marter Yard has four locomotives and three cabooses, one of which was restored and painted yellow earlier this month, Seil noted.
Even though she's originally from Morgantown, W.Va., and moved to Youngstown about 35 years ago, soon after the demise of many of the area's major mills, the experience of being on the caboose ride elicited memories for Smith, whose father and two brothers worked in the industry, she said.
"I pointed out that this was a steel mill here," Smith added, also referring to the buildings behind the museum that were once home to Republic Steel Inc.
Among the vehicles the organization hopes to move from CASTLO to the museum are a hopper car that carried taconite, a major component for producing steel; a so-called side-dump car used to maintain railroad tracks; an "ore-Jenny" car that brought material to blast furnaces; and three hot-metal cars, including a Pollock slag car, Seil explained.
Because of their age and condition, some might have to be moved with cranes and trucks, which could cost up to $10,000 per car, the MVRHA says.
This is the first year that caboose rides have been offered as part of the open house. Such an experience can give attendees an added sense and better feel of what it was like to work in the mills, said Carl Jacobson, the MVRHA's president.
"A lot of people have said, 'This is the first train I've been on in my life,'" said Jacobson, who worked for U.S. Steel Inc.'s Ohio Works until it closed in 1980, then spent several years at Sharon Steel Corp. "We want to emphasize railroad transportation and steel-mill transportation, because both were here."
By extension, many young people have little idea of how massive the Valley's industrial might was, so part of the organization's hope is to convey that portion of the region's heritage, Jacobson continued.
The next MVRHA open house is set for 10 a.m. to 2 p.m. Aug. 11 at the Marter Yard. For more information, go to www.mvrha.org, or visit the organization's Facebook page.
More like this from vindy.com