Youngstown's oldest residence honored with state marker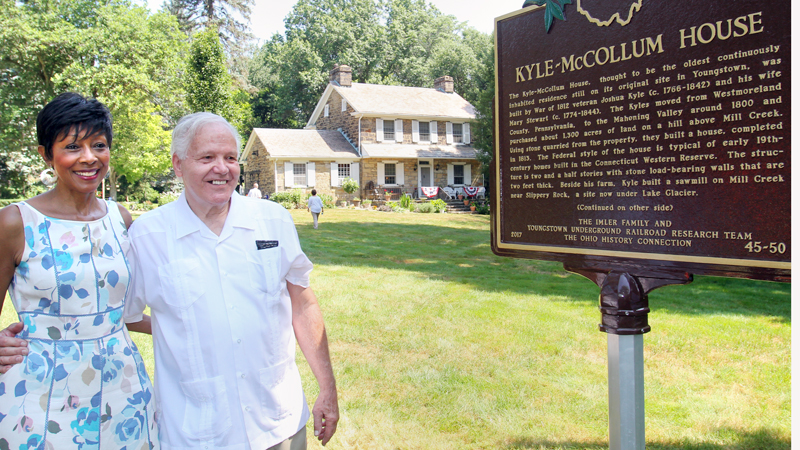 ---
By DAVID SKOLNICK
skolnick@vindy.com
YOUNGSTOWN
Kyle-McCollum House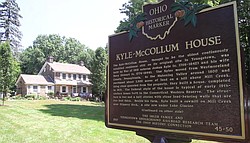 Video
A Youngstown house dating back to 1813 was awarded an historical marker.
It's been a long time coming, but the city's oldest continuously inhabited residence on its original site received an official state historical marker.
And it wouldn't have happened without the work of former Youngstown schools history teacher Penny Wells, local historian Vince Shivers, and a group of students from the Youngstown Underground Railroad Research Team.
In 2005, they began looking into whether the Kyle-McCollum House at 1458 McCollum Road was part of the Underground Railroad.
It turns out it wasn't.
But Wells and the students were able to find records showing the West Side home had the designation as the city's oldest continuously inhabited house.
"It's very important to the history of the city," Wells said Friday at a ceremony unveiling the historic marker. "We're interested in preserving our history for future generations and the marker helps people identify this house's place in history."
The house was built by War of 1812 veteran Joshua Kyle and his wife, Mary. It was completed in 1813.
The Kyles moved from Westmoreland County in Pennsylvania to the Mahoning Valley around 1800 and purchased about 1,300 acres on a hill above Mill Creek.
Using stone quarried from the property, they built the house, which is two and a half stories with stone load-bearing walls that are two feet thick.
Kyle also built a sawmill on Mill Creek, which is now under Lake Glacier.
Their daughter, Hannah, married Ira McCollum in 1831 and inherited the house.
In the 1890s, the family sold 36 acres to help create Mill Creek Park. The house remained in the family until 1937.
Philip and Sylvia J. Imler, the current owners, have lived in the house for about 25 years.
"We're greatly privileged to live here and to be the caretakers of this home and these grounds," Philip said. "This marker is important. It's been a collaboration of about 13 years."
Councilman Mike Ray, D-4th, said, "It's awesome to celebrate this history. It's one of Youngstown's hidden treasures." The house is in Ray's ward.
More like this from vindy.com