Boardman Little League wins third straight district title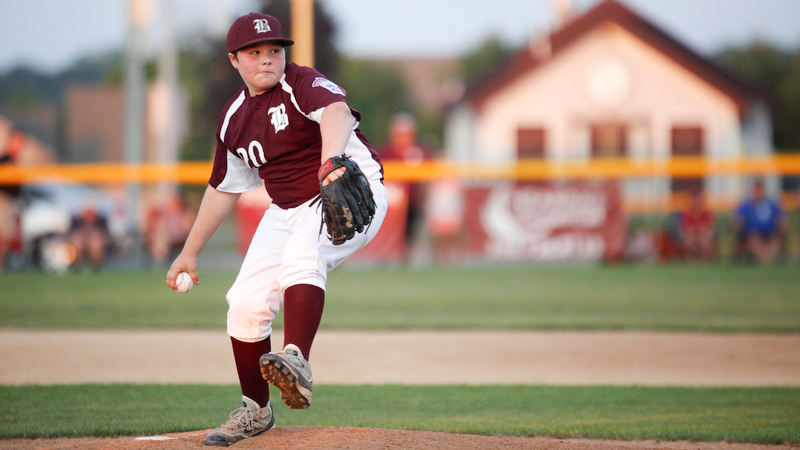 ---
By Brian Dzenis
BOARDMAN
Boardman's 12-U Little League team is heading down a familiar path.
For the third straight year, the team has taken home the District 2 title. This year's edition came Friday night with a 2-0 victory against Poland at Fields of Dreams.
This Boardman group has won both the district and state titles in each of the age groups it was in. Should Boardman go 3 for 3 at state, it will have a shot at competing in the Little League World Series.
"It's a big dream for all little kids playing the game of Little League is to find their way to the World Series," Boardman coach Robert Hyde said.
Boardman's familiar trip to state featured a familiar face in Poland starter T.J. Richey, who played for Boardman the last two seasons before joining Poland's Little League team.
The matchup offered little advantage to his former teammates, who never saw him pitch before Friday. Richey gave up two runs on five hits and two walks. Three of his five strikeouts came with the batter looking.
"He did a tremendous job for us this year and we couldn't ask for any more out of him on the mound," Poland coach Bruce DiLullo said.
The only run that came off of a hit was thanks to Boardman's Evan Sweder. He came off the bench in the bottom of the fourth inning to smack the ball down the right-field line. An errant throw from the outfield that sailed over home plate allowed Dylan Barrett to score from second base.
"When I swung, [the ball] kind of came off the middle of the bat," Sweder said. "I didn't know if it was going to go over the first baseman or not, so I just kept running."
Boardman's other run came in the second inning when Marty Stachowicz reached first via a walk before a fielder's choice and two wild pitches gave him the opportunity to score. Those two runs matched Boardman's lowest scoring total for the tournament. The other time Boardman scored just twice was in a 4-2 loss to Howland on Sunday.
"You obviously like to have more runs on the board for a bigger lead," Hyde said. "I was really confident with what we had lined up for pitching. It worked out for us yesterday and today."
Boardman limited Poland to two runs in their two-game championship series.
Other than a third inning in which Poland had runners at first and third with two outs, it didn't pose much of a threat to Boardman starter Ryan Conti. He escaped the jam with a strikeout and a fielder's choice.
In four innings, he gave up four hits and two walks while striking out four.
"[I was] using my curveball and off-speed stuff," Conti said. "Sometimes, I could push a fastball by them."
Barrett entered the game in the fifth inning, gave up one hit and struck out two to complete the shutout. Boardman's Charlie Young had the game's only extra-base hit with a double.
Boardman will travel to North Canton for the state tournament, where it will await the winner of a first-round game between Galion and West Side.
Those teams open the tournament a week from today.
More like this from vindy.com