Till Open starts with a bang on two courses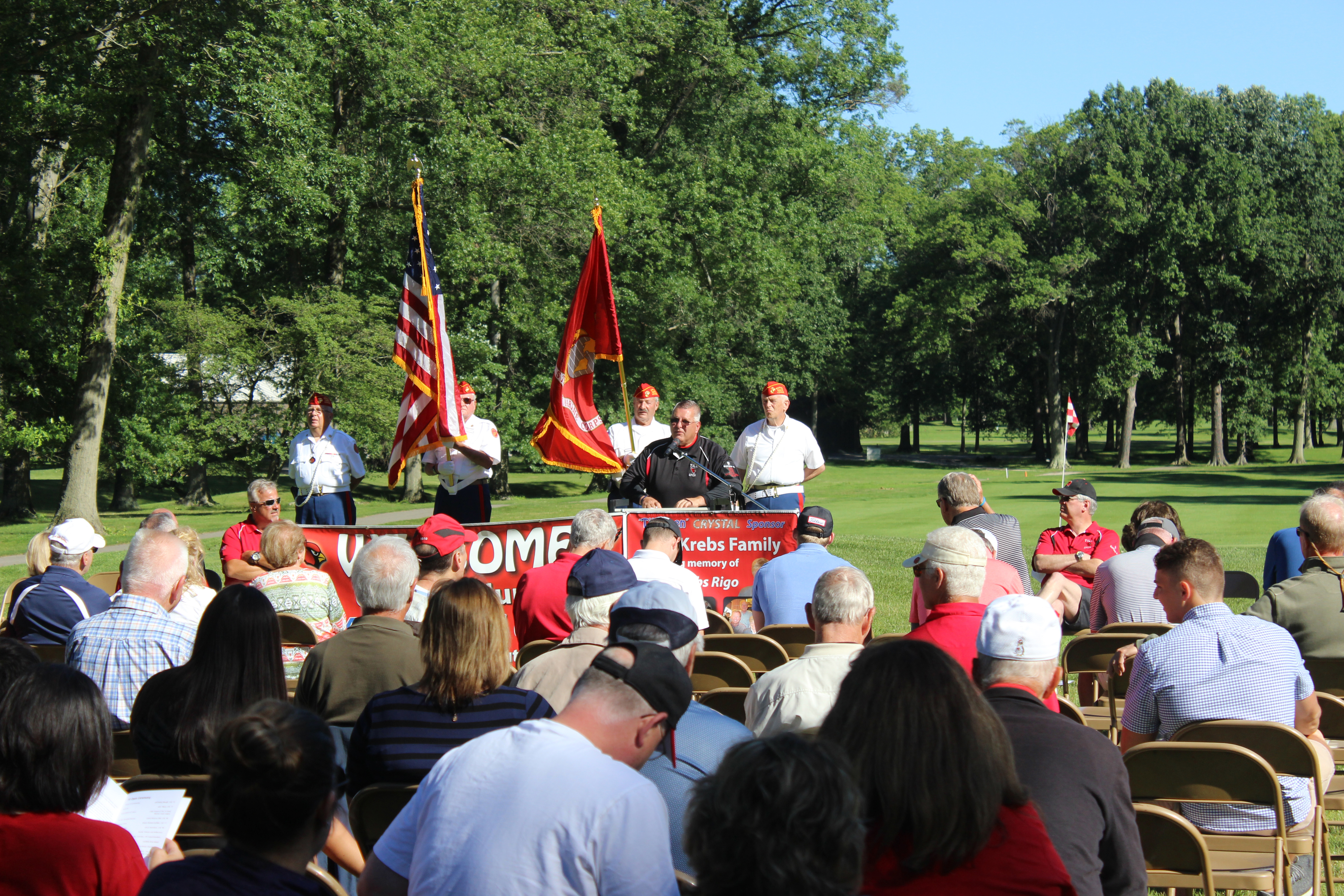 ---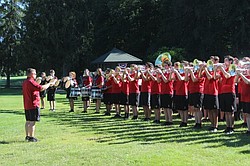 Photo
Neighbors | Abby Slanker.The Canfield High School marching band performed prior to the start of the Till Open on July 7.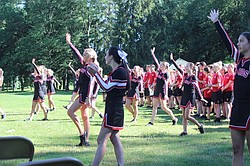 Photo
Neighbors | Abby Slanker.The Cardinal cheerleaders performed a spirit cheer for the large crowd at the Till Open Ceremony prior to the start of the golf outing on July 7.

Photo
Neighbors | Abby Slanker.Canfield Mayor Richard Duffett addressed the crowd at the Till Open Ceremony prior to the start of the golf outing.
By ABBY SLANKER
The seventh annual Fourth of July Till Open Golf Outing took place at Mill Creek Metroparks North Course and South Course on July 7.
The event kicked off with the Till Open Ceremony with a welcome and introduction by Jeff Blough, master of ceremonies.
"Welcome to the seventh annual Till Open. Money raised here today will benefit Canfield's extra curricular activities. One hundred percent of your donations will be applied to the extra curricular activity of your choosing. After today, in our first seven years, we have raised over a quarter of a million dollars for Canfield Schools," Blough said.
Blough then introduced John Tillery.
"Good morning. It is always humbling to come back to Canfield. I moved to Virginia 31 years ago, but Canfield has always been home. Canfield is a tight knit community with strong bonds. We wanted to give back to the school which gave us so much, and we are doing so with the Till Open. The first year we raised about $8,000 and each year it has grown. It has grown so much that this year we had to expand to two courses, which is amazing. Thank you for your contributions and involvement and we hope to continue this tradition for a very long time," Tillery said.
The Color Guard of the Tri-State Marine Corps League then performed the Presentation of Colors. After the Presentation of Colors, Cassie Mosure-Oles sang The Star Spangled Banner.
Canfield Mayor Richard Duffett then gave the Memorial Salute, honoring Nancy J. Dove, William M. Myers, Sr., William M. "Bing" Wolf, Keith West and Ruth Krebs Rigo. Lance Hartshorn gave the Memorial Blessings. Family members of those honored presented family tributes and reflections. Members of the Canfield Marching Band paid tribute with the playing of TAPS.
Canfield Local School Superintendent Alex Geordan was introduced for his remarks.
"Every year this just gets better. The Till Open is an unbelievable event. This event shows the commitment, dedication and camaraderie of Canfield as a whole. Our younger generations can look at all that and carry on traditions that you folks have set forth. Because of you, the younger members of our school system will carry on this tradition for years to come. At Canfield Schools, we have a vision of being in the Top 10 of anything we do. And this is definitely an example of that. We are a blessed community as a whole," Geordan said.
The Canfield High School Canfield Pride Marching Band then played the "Canfield Alma Mater," the "Canfield Fight Song" and "Hang on Sloopy." The Fighting Cardinals Cheerleaders then performed a spirit cheer for the large crowd.
Brian Tolnar, PGA, Mill Creek Metroparks golf pro gave an explanation of the Till Open Scramble Rules and sent the golfers on their way with a shotgun/firecracker start.
More like this from vindy.com