The Inn at Poland Way celebrates their resident fathers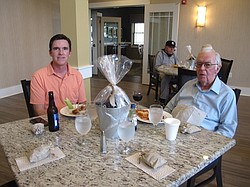 Photo
Neighbors | Zack Shively.The Inn at Poland Way's Father's Day event had approximately 65 attendees. The facility made the centerpieces for the event, which they raffled off to residents. The centerpieces had candy and treats inside. Pictured are Tom Philbin and his father Ben at the event, enjoying pizza.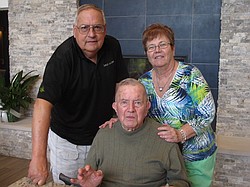 Photo
Neighbors | Zack Shively.The Inn at Poland Way celebrated Father's Day with a dining event for their resident fathers on June 16. Pictured are William Coates and his daughter Sue Ferrier and son-in-law Rick Ferrier.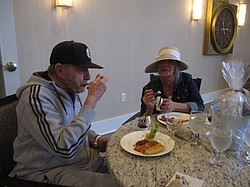 Photo
Neighbors | Zack Shively.The Inn at Poland Way provided the fathers and their guests with pizza and wings for their Father's Day meal. After the meal, they gave the residents ice cream to make their own sundaes. Pictured, Mowry Young and his daughter Deborah Young enjoyed their ice cream.
By ZACK SHVIELY
The Inn at the Poland Way hosted their first Father's Day Social on June 16 in the dining areas of the facility.
The event allowed for residents and their families to get together for food to celebrate the holiday at the facility.
Approximately 65 people attended the dinner. The families had ate around 2:30 p.m., then had dessert and some won centerpieces that the inn gave away through a raffle.
"We wanted to make sure [the resident fathers] knew how important they are to us," said Kathy Boosinger, the recreation director of the organization.
The families ate pizza and wings from Cocca's Pizza along with some vegetables from the Inn at Poland Way's kitchen for their meal. For their dessert, they made their own sundaes.
They raffled the centerpieces to the residents. These centerpieces included candy, such as Dad's Root Beer hard candy, Pop Rocks and Tootsie Pops.
The facility had a similar event on Mother's Day, and they wanted to show their appreciation for all of the residents and bring in the residents' families and friends.
More like this from vindy.com