St. John's celebrates Greek tradition with festival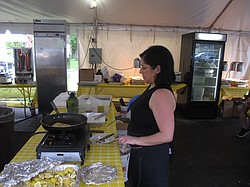 Photo
Neighbors | Zack Shively.St. John's festival featured food hand-made from church members. They had a dining hall inside with many types of food as well as tents outside with food vendors selling Greek dinners. Pictured, Chryse Ellinos cooked up saganaki, a fried cheese appetizer.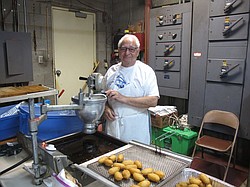 Photo
Neighbors | Zack Shively.St. John's Greek Orthodox Church had their annual food festival on May 24-27. The festival included a pastry room where the church sold many hand-made sweets. Pictured, George Zografides made loukoumathes, Greek honey puffs, for the festival.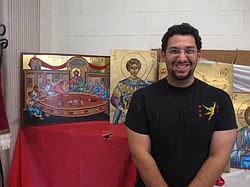 Photo
Neighbors | Zack Shively.In addition to food, St. John's Greek festival included a gift store, guided tours throughout the building, music and an art display from local artist Stephen Valantasis.
By ZACK SHIVELY
St. John's Greek Orthodox Church had their 42nd annual Greek Festival starting on May 24 and ending on May 27.
The festival mostly revolves around food and treats while giving the community a chance to get together at the church. Members of the church helped make all the food by hand.
"It's a major fundraiser and we want to show off our Greek tradition," said Greg Giannios, one of the organizers for the event. He enjoyed that the festival took place inside and outside of the church, because it gave the community a chance to tour the church.
Many of the food vendors were in tents outside during the event. They sold authentic Greek foods, such as a lamb dinner, pastistio and spanakopita. They had more food inside, including a pastry room where community members could buy all sorts of sweets, ranging from Giannios chocolate to Greek honey puffs called loukoumathes. They also had a dining hall and a room where visitors could watch the sweets being made. They set up a gift store in their library, where people could buy books, shirts, hats and other items. Artist Stephen Valantasis of Stephano's Orthodox Byzantine Art displayed and sold his paintings and works in the pastry room as well.
During the day, the church also gave tours to show others their religious artifacts and art. Each night, the community danced to Greek music.
More like this from vindy.com