Ericson helps Boardman force deciding game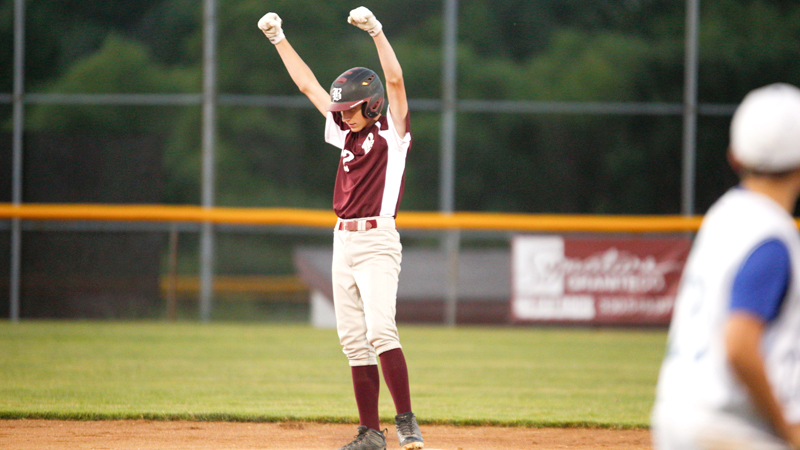 ---
By Tom Williams
BOARDMAN
With their backs against the wall, Little League's District 2 two-time state champions responded with force.
Trailing Poland by two runs, the Boardman 12-U team scored four in the fourth inning and three more in the sixth for Thursday's 7-2 victory.
Tonight at 8 at the Fields of Dreams, Boardman and Poland will meet for the district crown and a berth in the state in the state tournament that will be contested from July 21-26 in North Canton.
"What I love about this team is that we like to stay calm through adversity," winning pitcher Jack Ericson said. "I knew we were going to score runs eventually."
In the third inning, Ericson relieved Cal Huston with Boardman down 2-0. Ericson struck out 10 batters in the final four innings and had solid defense behind him when Poland threatened.
Boardman led 4-2 in the fifth inning when Poland's Michael Chambers led off with a walk. Wild pitches sent pinch-runner Chris Denney to second and third base.
Dom Pagano then slapped the ball to first baseman Dylan Barrett who fired the ball to Huston, Ericson's catcher.
"I knew how important that run was, I had to keep that [run] from coming in," Barrett said of his instinctive move. "It was more important than getting the [sure] out at first."
Huston chased Denney back to third base, then threw to third baseman Ryan Conti. When Denney turned for home, Conti sent the ball to Ericson covering the plate for the tag.
Ericson struck out the next two batters to end the inning.
In the sixth inning, Poland's T.J. Richey led off with a single but Ericson struck out the next three batters to end the game.
"He threw a lot of strikes, that got us a lot of strikeouts," Boardman manager Robert Hyde said. "He didn't give them the opportunities to get runners on base."
Because of pitch-count rules, Hyde said Ericson and Huston are not eligible to pitch tonight. Hyde said he has plenty of options.
"We're in a good spot," Hyde said.
Boardman has experience on its side. As 10-year-olds in 2016, the Boardman players won the state tournament. They repeated last year in the 11-year-old tournament.
Poland manager Bruce DiLullo is not surprised there will be a winner-take-all game.
"Boardman is a great team, they've won back-to-back state titles and we expected them to ... give us a battle," DiLullo said.
DiLullo said pitcher Matt Paparodis, who started, is ineligible for the rematch.
Poland scored twice in the second inning. With two outs, Denney and Chambers hit back-to-back doubles for a 1-0 lead. Chambers then scored after an errant throw.
With two outs in the fourth inning, Evan Sweder doubled to start Boardman's big inning. After Anthony Triveri singled, Huston walked to load the bases and Ericson doubled to tie the game.
After Gavin Hyde was intentionally walked, Barrett cracked a two-run double for a 4-2 lead.
Boardman converted one hit, an intentional walk and two Poland errors into three runs in the final at-bat, with Marty Stachowicz driving in a run.
More like this from vindy.com