Fourth-graders present their stories at bookstore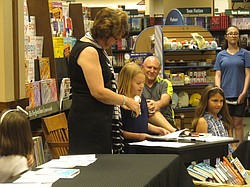 Photo
Neighbors | Zack Shively.The fourth-grade students from Robinwood Lane Elementary gave their name, the title of their book and a brief description of the story during their presentations. Then, they talked about themselves as authors and read a section of the story. Pictured, Mary Malone presented on her book "The Flashcard."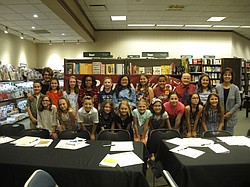 Photo
Neighbors | Zack Shively.Fourth-grade students at Robinwood Lane Elementary gave presentations at Barnes and Noble on June 4. They presented the children's books that they wrote during the school year. Pictured are Doreen Miner, Janice Zorman and their fourth-grade intervention classes.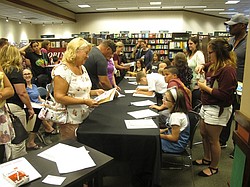 Photo
Neighbors | Zack Shively.Rovinwood Lane's fourth-grade students gave out autographs after doing their presentation at Barnes and Noble. The families at the event spoke to the students about their stories and illustrations.
By ZACK SHIVELY
Robinwood Lane Elementary's fourth-grade classes had an author's event at Barnes and Noble on June 4.
The fourth-grade students of Doreen Miner and Janice Zorman wrote their own children's stories and presented them at the store in the style of a typical author event. The area had space for all of the students to sit and speak and enough room for their families to sit and watch the event.
"We wanted to share their work as authors," said Miner, who created the event. She had previously taught sixth-grade students and had a speaking event at the store with those students.
Twenty students presented during the event. Each child gave their name, the title of the book and a brief synopsis of the story. They then read a piece about themselves and a section of their story. Some of the students also included to whom they dedicated their work.
After everyone presented, the students autographed a page for other students and families at the event.
The teachers created the project with their intervention classes. They did not work on the book every day, but they spent an hour or so on them on days throughout the last grading period.
They asked the students to come up with a story idea within five minutes. From there, the teachers spent time revising and reworking on the stories to help the children make them better.
The students wrote the stories and illustrated the cover and other pages. Some of the more artistic students showed the audience their artwork within the books.
Miner, in her 33rd year of teaching, still had an excited look on her face throughout the event. She said she loved seeing the joy of literature in her students.
More like this from vindy.com