Greatest junior field nearly set after final qualifier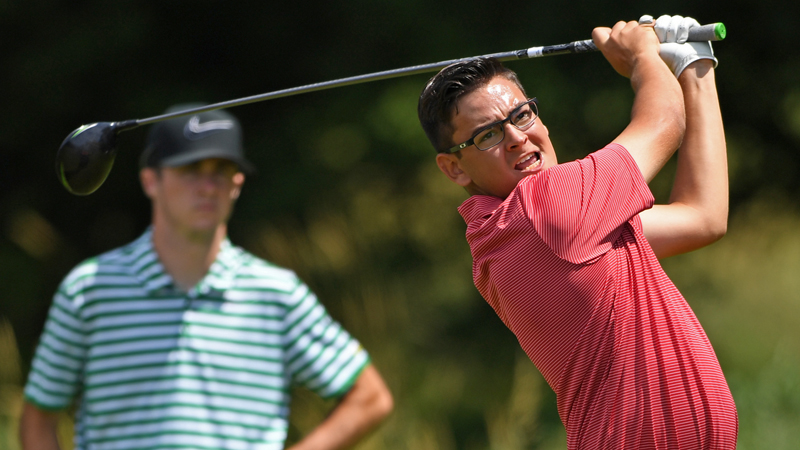 ---
Golfers earn final spots at Tam O'Shanter
By Greg Gulas | sports@vindy.com
HERMITAGE, PA.
Anthony Clark of Brookfield High School has hovered near the top of each Greatest Golfer of the Valley junior qualifying tournament in which he has participated, yet was unable to earn an automatic berth to this year's tournament championship.
It took extra holes Thursday, but Clark finally punched his ticket on the sixth and final qualifying session, edging Keegan Butler of Cardinal Mooney on the second hole of their playoff at Tam O'Shanter Golf Course.
Clark and Butler each carded 75 in regulation — both shot 37 on the front nine and 38 on the back nine — and after both registered par on the first playoff hole, a par by Clark and bogey by Butler on the second hole ended the competition and sent Clark to this year's championship round, set for July 20-21 at Avalon Lakes Golf Course.
"I had a nice tee shot on the first hole and while my chip went past the hole, I was able to save par to go to the second hole," Clark said. "On the second hole, I was able to hit the green then two-putted for the win. This is exciting and the reason that I practice all the time. I am really looking forward to next weekend."
Erika Hoover of New Wilmington, Pa., who won the Tam O'Shanter qualifier last year, won her second qualifying event this year after carding 76, 12 strokes ahead of runner-up Madison Horvath of Springfield.
Since Hoover has already qualified for the championship, Horvath earned the qualifier nod.
In 14-U action, Kaiden Sykes of Salem Hills Golf Course fashioned an 85, one shot better than runner-up Michael Porter of Avalon Lakes to earn his championship invitation. Ryan Sam (87) was two strokes off the pace.
Both Porter and Sam have already qualified.
In the girls 14-U division, Leah Benson — she also won last year's event at her home course — won for the second time in three days after shooting 78 while McKenzie Gustas, who also calls Tam O'Shanter her home, was runner-up with 84.
Haley Tisone of Tippecanoe Country Club qualified after finishing third with a 99 since both Benson and Gustas have already qualified.
Clark, who calls Yankee Run his home course, had a birdie and three, three-putts in regulation, noting that the course was nice to you if you stayed out of trouble.
"This course was short, kind of easy and if you were able to hit a decent tee-shot, then you were probably in pretty good shape," Clark said. "If you didn't hit a good tee shot, then you found yourself in trouble. Today, I felt like I got off the tee's well. I had a couple good chips and a few bad ones but overall, I was better short than I was if I had to play long.
"Despite those three three-putts, I felt like my putting was pretty good."
Hoover's round included an eagle on No. 10, birdies on Nos. 1, 12 and 17 and 10 pars.
"This is my home course so I used it to my advantage," Hoover said. "If I got in trouble, I knew how to get out and survived holes No. 6 and 9, which are the most challenging. I need to thank my family, friends and golf pro John Kerins for all their help and support. Also, a big thank you goes to my swing coach, Craig Wise.
"Between now and next Friday, I'll continue to work on my chipping and putting. Right now, my chipping is better but I need to work on my long putts."
Horvath said her drivers were the most challenging.
"Overall, I had a good day as my chipping was great and putting alright," Horvath said. "There were a couple holes where my driver got me in trouble. I just really enjoyed the entire event. It was relaxing and I enjoyed meeting new girls and making new friends."
In addition to Sykes, Porter and Sam qualifying in the 14-U boy's division, Dom Kapics of Duck Creek Golf Course — he finished tied for fourth with Rocco Turner of Tippecanoe Country Club — also qualified at Pine Lakes on May 6.
Benson won three of this year's six qualifying events and like Hoover, defended her championship from a year ago on her home course.
"The course was hard and pretty dry, but I like it like that because that helps my approach shots and putting. My approach really helped me today," Benson said. "I felt like my putting could have been better. Some stopped short and I needed more speed on other shots. I just need to thank Tam O'Shanter and Avalon Lakes golf courses. I'll definitely play Avalon this week in order to get a feel for the course. My long game is alright, but I'll still visit the driving range. I'll also work on my putting and short game."
Kerins, Tam O'Shanter PGA Director of Golf, said Thursday's turnout has been nothing short of tremendous.
"We've been fortunate to host the Greatest Golfer of the Valley every year since its inception, so to have 50 players turn out at the end of their season is absolutely tremendous," Kerins said. "I told the players that they need to thank The Vindicator and especially Todd Franko, because I don't know of any newspaper around that supports junior golf like they do. I'm so proud of The Vindicator."
More like this from vindy.com