Summit Academy responds to critical state report
and Graig Graziosi
YOUNGSTOWN
FAPE Letter to Summit Academy Secondary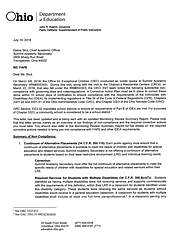 Document
Letter to Debra Skul of Summit Academy Secondary from Kim Monachino, Director of the Office for Exceptional Children.
Summit Academy Secondary Monitoring Review Summary Report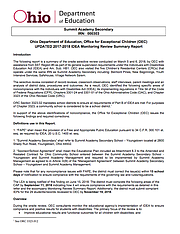 Document
Ohio Department of Education, Office for Exceptional Children (OEC) UPDATED 2017-2018 IDEA Monitoring Review Summary Report
Summit Academy Management has responded to an Ohio Department of Education report that found one of its local charter schools out of compliance with state laws.
Summit Academy Secondary School's violations included a lack of formal curriculum, improper procedure and documentation of student disabilities, lack of licensed teachers in some classrooms and grade-appropriate work not being provided to students, among other issues.
The secondary school is at 2800 Shady Run Road.
"The selective review uncovered several local practices that fail to meet Summit Academy Management standards," said John Guyer, CEO of Summit Academy Management in Akron. "Our company takes these findings very seriously. SAM has begun taking corrective action and will continue to do so to bring this facility in line with our expectation for excellence."
Recent changes include replacing leadership at Summit Academy Secondary School – Youngstown and hiring an experienced compliance director who will spearhead the corrective action process.
"Summit Academy Management takes our mission to serve children with disabilities seriously and will not tolerate the issues identified in this report," said Guyer. "We are continuing to work with ODE to uncover the root causes of these irregularities and take appropriate action to make sure they are resolved efficiently and effectively."
Summit Academy Secondary board of education member Jordan Shaver said: "We are resolving those issues."
Brittany Halpin, ODE Office of Communications and Outreach deputy director, said the next step is for Summit Academy to complete the required corrective action steps. The ODE report states Summit has until Sept. 11 to comply with the components within its corrective action plan.
Halpin said if the school does not meet the requirements outlined in the report, the ODE would evaluate what to do at that time.
In addition, the secondary school must submit compliant reports to correct the out-of-compliance Individualized Education Plans to the OEC by Nov. 19.
Summit Academy also has an elementary school on North Schenley Avenue and two locations in Warren, an elementary school and secondary school.
More like this from vindy.com