Snyder, Mancini power Canfield to 11-U Little League district crown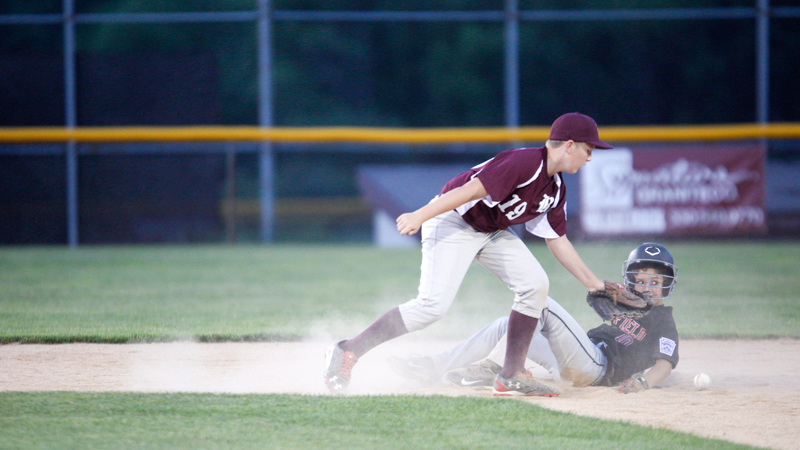 ---
By Tom Williams
BOARDMAN
Canfield's Drew Snyder said his team's loss to Boardman on Tuesday delivered a major wakeup call.
The alarm bells worked as Canfield erupted for 19-8 victory over Boardman on Wednesday night in the Little League 11-U district championship game at the Fields of Dreams.
"Yesterday, our attitude," Snyder said of Tuesday's 11-3 loss to Boardman in the double-elimination tournament. "In the second inning, when we were down 2-0, all of us were just like quitting.
"When our attitude is bad, we don't play as good," Snyder said. "Today, when we scored our first run, all of us were hyped, we were pumped up.
"We didn't make errors because we weren't down on ourselves."
Canfield scored three runs in the first and second innings then added another in the third for a 7-2 lead.
"We've worked with the kids to keep their energy high and not let them get complacent," Canfield manager Dan Anzevino said. "It's hard when it's 6-0, but they kept [attacking]."
Canfield scored three more in the fourth inning, then converted six errors into a nine-run fifth inning to provide enough runs to shorten the game by an inning.
Snyder, who started in center field then relieved Aiden Radinsky in the third inning, had three hits, scored five runs and reached base six times to ignite Canfield's offense.
Catcher Dylan Mancini reached base five times and drove in three runs. Mancini's three hits included a two-run homer.
"This is really special because we want to go to state," Mancini said. "It's an honor."
Mancini said he didn't feel the game was over when his team led 7-2 and 10-4.
"They kept fighting," Mancini said, crediting Boardman. "We did way better at the plate and a lot better on defense."
Trey McNutt, David Murphy and Angelo Delucia each reached base four times while Noah Anzevino hit a two-run double.
The district title is the first for this group of Canfield players. Canfield finished district runner-up to Boardman as 9-year-olds in 2016 and 10-year-olds last summer.
"The boys brought more energy," Dan Anzevino said of the difference from the eight-run loss. "[Boardman] is a fantastic team.
"They've got a lot of good pitchers and they've got a lot of good hitters. Either of us could [have won] this game."
For Boardman, Mason Nawrocki hit a RBI double and scored twice while Grayson Eicher doubled and scored twice. Ryan Neifer hit a RBI double.
Anzevino said Boardman's success against Canfield provided inspiration.
"They have made us a better team because they have beat us up for the last two years," Anzevino said. "These boys have worked so hard to be able to compete with that specific team.
Canfield will compete in the state tournament in Ironton from July 28-Aug. 4.
"We want to show how good District 2 is at baseball," Snyder said.
Anzevino said winning the district title "is fantastic," Anzevino said. "I'm really proud of how hard these boys have worked. It's nice to get the cheers, but there have been hundreds of practices that have [led] to this day. And we've talked about Boardman in darn near every practice."
"To have competition like that has made us a much better team."
Snyder had a rough fifth inning. He was hit in the shoulder by a pitch, then was shaken up trying to make a tag at the plate.
"I'm OK," Snyder said. "Since we won, the pain kind of goes away."
LITTLE LEAGUE BASEBALL
DISTRICT TOURNAMENT
All games at Fields of Dreams, Boardman
12U
Wednesday
Boardman 5, Howland 0
Today
Poland vs. Boardman, 8 p.m.
Friday
Championship game, 8 p.m., if necessary. Winner advances to state tournament in North Canton from July 21-26.
11U
Wednesday
Canfield 19, Boardman 8, 5 innings. Canfield advances to the state tournament at Ironton from July 28-Aug. 4.
10U
Wednesday
Boardman 6, Howland 5
Today
Poland vs. Boardman, 8 p.m.
Friday
Championship game, 6 p.m., if necessary. Winner advances to state tournament at Cambridge from July 28-Aug. 4.
9U
Wednesday
Howland 14, Boardman 2, 5 innings
Austintown 13, Poland 11
Today
Austintown vs Boardman, 6 p.m.
Friday
Poland vs. Austintown/Boardman, 6 p.m.
Saturday
Championship game, 10 a.m., if necessary.
More like this from vindy.com