Sugarland is back, bigger than ever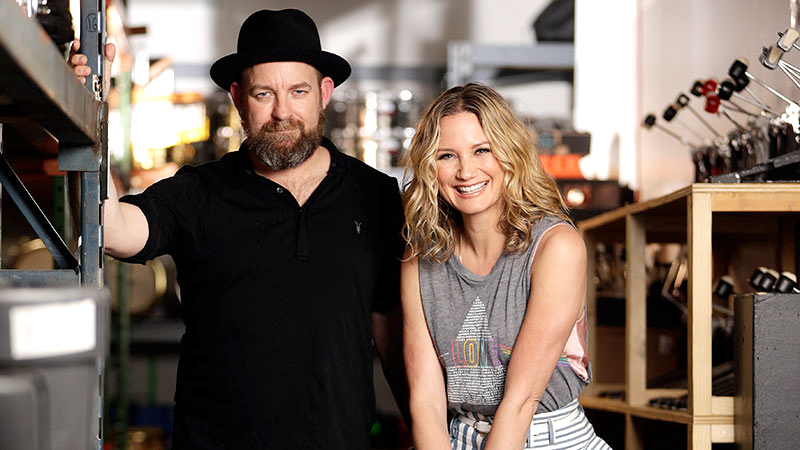 ---
By GUY D'ASTOLFO
When Sugarland decided to return from its five-year hiatus, it knew it had to go big.
The result, of course, was "Bigger," the country-pop duo's new album. The release has already spawned the singles "Babe," "Still the Same" and the title song, and a tour that comes to Covelli Centre on Friday.
But while the new album has a big sound, Sugarland – Jennifer Nettles and Kristian Bush – didn't feel the need to overdo it in the recording process.
"The entire thing was done in three takes," said Bush, in a phone interview from his Atlanta home.
That was a marked departure from the painstaking process that went into creating their previous album, 2010's "The Incredible Machine."
Bush said the new album was more about capturing the moment than making a calculated career move.
"The creation of it happened over a day or so and was written and recorded in January and February," said Bush. "You are getting a very real look at what's in our hearts. You're experiencing it in real time."
It took years to write and record "Incredible Machine," said Bush, and for good reason.
"Back then, we were moving our career and our fans along one step at a time," he said. "[The new album] is just bigger."
Nettles now lives in New York, so the writing sessions had to accommodate the change.
"It was a different process this time," said Bush. "We would sit in the room for a couple hours, working on songs, then stop, and I'd go back to my hotel," said Bush, who still lives in Atlanta. "Then I would write and rewrite and the next day I'd bring it over and she'd be like 'Oh my God, you did all this?'"
Despite the five-year layoff from performing together, the duo picked up where it left off, like it was just yesterday when they last played.
"We were way up to speed," said Bush.
During their hiatus, Nettles and Bush stayed busy. Both released solo projects, and Nettles also launched an acting career, appearing on Broadway in "Chicago" and in the NBC Dolly Parton films "Coat of Many Colors" and "Christmas of Many Colors." Bush most recently produced the debut album by Lindsay Ell.
But the biggest change that occurred during that time was that Nettles became a mother. She and her husband had a baby boy in December 2012.
"The biggest thing from the hiatus that is coming through on this album is Jennifer's parenting," said Bush. "We are now both parents. It's topical and on our hearts, but the angle we chose to talk about it is from the perspective of a parent. As in 'what would you tell your children?'"
As for getting the act back together, it was Nettles who first proposed it.
"Jennifer called me and said 'hey, want to give this a try?'," said Bush. "We came up with a strategy: let's go write and see what happens. The only way to kick the tires is to go write. It tells you who you are now. We had a fun back and forth volley of creativity."
The first song they came up with was "Still the Same," said Bush.
"We said 'what if we write the truth of what this is?'" he recalled. "It is still the same."
The new album, by the way, also includes something that Sugarland has never done before: a collaboration. None other than Taylor Swift provided the backup vocals on "Babe."
Friday's concert will be Sugarland's third trip to Youngstown, and as always, the act plans to connect with every person there.
"We always try to make it an intimate experience, even when it's a giant arena," said Bush. "We love to make that space shrink. We're always trying to connect those hearts together that are in the room."
The set list will span the act's career.
"We will play a lot of favorite songs, including several from the new album, and also go deep into the Sugarland catalog," said Bush. "You will likely be on your feet dancing a lot."
Opening for Sugarland will be Brandy Clark and Clare Bowen – each of whom is known for their work in other artistic arenas.
Clark is part of the movement that retains its connection to traditional country music but does not shy away from its evolution. She is also a songwriter who has penned many hits, including Miranda Lambert's "Mama's Broken Heart," Kacey Musgraves' "Follow Your Arrow" and the Band Perry's "Better Dig Two." Her albums include "12 Stories" and "Live in Los Angeles."
Bowen, a native Australian, is already well-known to country music fans. The singer-songwriter has played the role of Scarlett O'Connor in the CMT drama "Nashville" from its start.
If You Go
What: Sugarland, with Brandy Clark and Clare Bowen
When: 7 p.m. Friday
Where: Covelli Centre
Tickets: $59.50 to $99.50 via ticketmaster.com or 800-745-3000
More like this from vindy.com