Graham, Ungaro among latest to qualify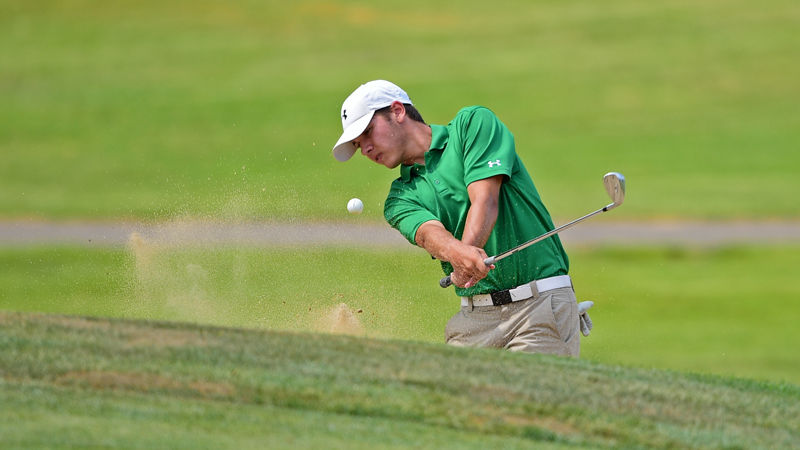 ---
By Greg Gulas | sports@vindy.com
SALEM
Jimmy Graham of Trumbull Country Club has twice authored better rounds during this year's Greatest Golfer of the Valley junior qualifying tournament, only to find himself still on the outside looking in and without an automatic bid to this year's Greatest Juniors Championship.
He refused to be denied Tuesday at Salem Hills Golf and Country Club.
Graham's 76 was one stroke better than runner-up Aiden Wiesemann of West Branch High School, and five strokes better than Keegan Butler of Cardinal Mooney as he earned this year's fifth 17-U boys qualifying spot.
Poland High's Carly Ungaro shot an 89, which was three strokes better than Mill Creek's Madison Horvath to capture 17-U girls honors. Nathan Kelly of East Liverpool Country Club won the 14-U boys division and Leah Benson, whose home course is Tam O'Shanter Golf Course, won for the second time in 14-U girls action.
Alyssa Rapp of The Lake Club, who shot 96 and finished third in girls 14-U action, also earned an automatic qualifying spot. Second-place finisher, McKenzie Gustas of host Salem Hills, is a previous qualifier as is Benson.
The final qualifying event is set for Thursday at Tam O'Shanter Golf Course in Hermitage, Pa. A shotgun start begins at 9 a.m.
Graham, who felt like he didn't play his best overall round despite qualifying, had a birdie and 12 pars.
"I didn't feel like I played my best as I had a couple missed hits, but putted really well in order to save score," Graham said. "My wedges were good, I made some long putts and I really felt like I put myself into position on both the front and back nines.
"I gave myself a 10- to 12-foot circle around the pin, hoping to put myself in good position for a birdie. Plus, two-putt pars aren't that bad."
Wiesemann, who shot 41 on the front nine, sizzled the back nine with a 36 as he started out with an eagle, par, par and birdie.
"My irons played pretty straight today and my putts were falling," he said. "On the front nine, I was driving the ball long, but my chipping wasn't that good. I made some sloppy mistakes that I wasn't happy with."
Butler, who will be a senior at Cardinal Mooney, said he played better on the front nine.
"I drove the ball exceptionally well, but hit it better on the front nine than I did on the back nine," he said. "I hit more greens in regulation, but my short game was off and that pretty much summed up my day. I just couldn't get my putts to fall."
Ungaro, a junior at Poland High School whose home course is Mill Creek, shot 86 and finished third during the fourth qualifier at Mill Creek on June 26. She said regrouping at the turn was the key.
"I shot 47 on the front nine and it was not what I had expected," she said. "At the turn, I had to refocus so I was pleased with shooting 42 on the back nine. My short game was good all day, but I struggled with my putting because of the pin placements. I tried to eliminate my three-putts, had just two on the front and none on the back.
"I've only been playing golf for a year-and-a-half, so this is an exciting time for me to be able to say that I've already qualified for the championship."
Horvath carded 93, three strokes behind Ungaro to finish runner-up while Mill Creek's Emily Jackson finished third with a 104.
"This wasn't my best round because I've shot better, but I went out there today with an open mind and I was proud of how I played," Jackson said. "My putting wasn't the best and that was because the greens are so unique and challenging."
Benson's 76 tied Graham for the best round of the day while Gustas' 92 was good enough for runner-up laurels.
Since both have previously qualified, Rapp qualified with 96 in the girls 14-U division.
Kelly's 78 was a stroke better than Kaiden Sykes of Salem Hills and two shots better than Michael Porter of Avalon Lakes, who already qualified for 14-U boys play on June 19 at his home course.
Salem Hills' Ben Broderick, in his 19th year as club professional, is already making plans for the GGOV to return next season.
"This is really an exciting event. The Vindicator, and especially Todd Franko, are great to work with and it only seems that each year the interest increases," Broderick said. "Junior golf has picked up nationally and because of events like the GGOV, the interest has picked up locally."
More like this from vindy.com