Family of five grows by one at Trumbull County Fair time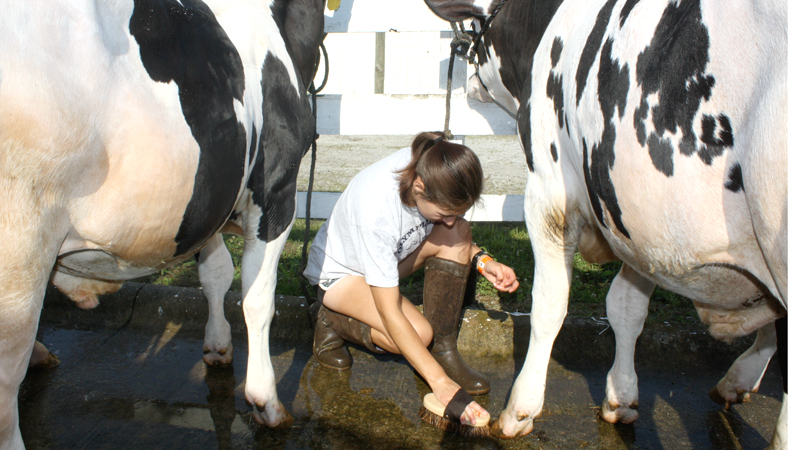 ---
By Ed Runyan
BAZETTA
The Moody family of Colebrook Township, just east of Orwell, grows by one person each summer at Trumbull County Fair time.
Richard and Terry Moody and their three children, Callae, 17, and twins Grayson and Milenka, 13, are joined by their cousin, Drayton Willey, 13, of Zanesville, for a week.
Drayton and her family live in town, but her mother grew up on the family farm in Colebrook. Drayton loves the time she spends each summer with her cousins, much of it related to the fair.
The kids are showing several dairy-feeder cows and sheep this year and were at the fairgrounds early Tuesday to unload their animals and get them settled.
It was the first official day of the fair, which lasts through Sunday at the fairgrounds at the intersection of Everett Hull and Hoagland-Blackstub roads.
After Grayson and another boy got the dairy feeders out of the trailer driven by grandpa, Jim Vins of Colebrook, the animals needed to be washed.
Drayton doesn't have any animals of her own to show but she seemed to know how to help give the cows a bath.
"My mom did 4-H in Trumbull County, so I just followed the family," Drayton said.
"I love animals, so it's fun to hang out with my cousins," she said. "I stay the whole week just to help out."
It's also an opportunity to spend time with her grandparents, aunt and uncle. "It's a family event," she said.
Her uncle, Richard, said the family farms about 300 acres of crops and has about 100 head of sheep.
"They know what hard work is like," he said of his children. "They don't get to sit in front of the computer or TV as much as other kids, but they know about hard work and help out on the farm a lot," he said.
Those tasks have also taught them how to work well together, he observed.
In addition to the animal projects, Callae and Milenka also have 4-H projects.
Milenka loves the Middle Ages and created a costume from that time period.
"I love princesses and knights and all of that," she said.
More like this from vindy.com