Potential Development High graduates six exceptional students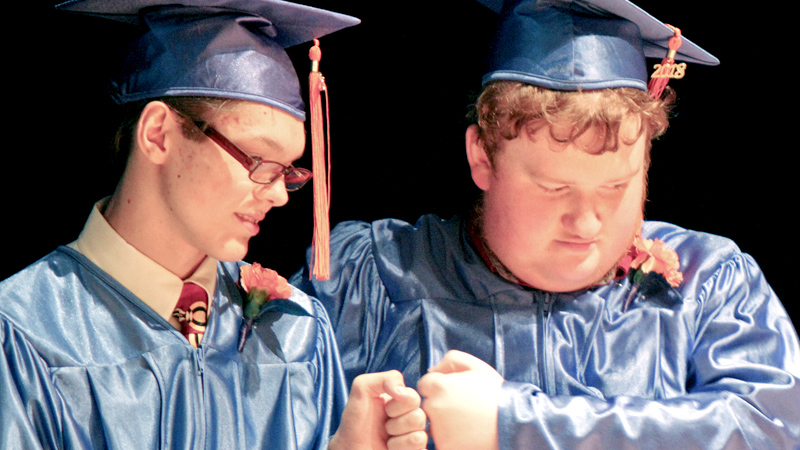 ---
By AMANDA TONOLI
atonoli@vindy.com
YOUNGSTOWN
Potential Development High School graduated six exceptional students Monday afternoon at Stambaugh Auditorium.
The 2018 graduates are Gregory Burkett, Edwin Gurney, Cody Straley, Tyler Wolford, Anthony Worley and Hunter Zarconi.
State Sen. Joe Schiavoni of Boardman, D-33rd, said this year's commencement is the visual representation of opportunity.
"It's about paving a path for them so they can truly live up to their abilities and their God-given talents," he said. "Everybody has struggles everybody has positives and negatives, but we as parents love our kids so much."
That love should enable people to do more together, Schiavoni continued.
"We need to talk about how we should come together rather than always be pulled apart," he said. "It's about giving people the best opportunity we can possibly give. Today I saw [graduate] Ed [Gurney] gave every single one of his classmates a fist bump and hug the guy next to him. That is the kind of stuff that is powerful to me and that's the kind of stuff we need to do more of. It's small things, but powerful things — things that make an impact in other peoples' lives."
Worley said the impact Potential Development had on his life is part of what made him, him.
"For those of us who told us we were problem children or had too many issues to learn anything — little did they know who we are," he said. "Those who doubted us, look at us today and I'd love to see your reaction."
"I have been honored and privileged to work with such unique students this past year," said Mary Beth Loto, Potential Development High School program coordinator. "By unique I mean one of its own kind, unlike anyone else."
Mike Cornelius, Potential Development High School science teacher, said for that reason, he was very upset with the parents and guardians of the graduates.
"After today you get to see these young people everyday," Cornelius told the crowd. "I'm going to miss them [like] something tremendously."
More like this from vindy.com