No major problems reported on first part of I-680 project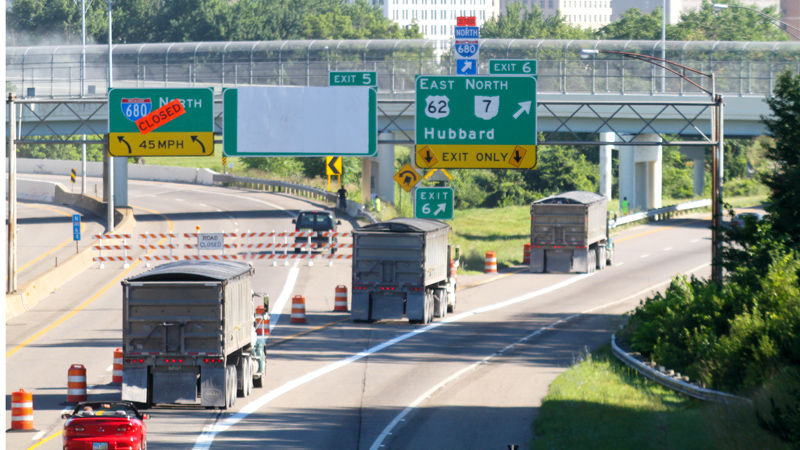 ---
By JOE GORMAN
jgorman@vindy.com
YOUNGSTOWN
Traffic flowed smoothly Monday on the first day that a portion of Interstate 680 was closed by the Ohio Department of Transportation for a construction project.
The detour, which is mostly on different freeways around the city, seemed to keep flowing at a good rate, said Justin Chesnic, a spokesman for ODOT District 4, which is handling the project.
He also said that Youngstown drivers have several different ways to reach their destinations, so they have other routes to take if the project would affect their travel plans.
"In Youngstown, people can pick and choose how they get around," Chesnic said.
The northbound lanes of the highway between U.S. Route 62 and Edwards Street are closed until early August for bridge repair.
The detour will be I-680 to Route 62 to U.S. Route 422 to state Route 193 (Belmont Avenue) to I-680.
On ODOT projects, engineers can only detour traffic on the state routes and interstates where they are responsible for major construction, Chesnic said.
Most of I-680 is also two lanes, as is the detour, so that also helps alleviate any congestion, Chesnic said.
"We're not cutting capacity, per se," Chesnic said.
There are more projects slated for the roadway:
At 8 p.m. Friday, the ramp from Marshall Street to I-680 northbound will be closed through 6 a.m. July 16 for bridge repairs. The detour will be Mahoning Avenue to North Belle Vista Avenue.
ODOT plans on repairing all of the 12 bridges that span the interstate by 2021 between the Western Reserve Road and state Route 711 interchanges, and the installation of 1.8 miles of median cable between the Belle Vista Avenue and North Meridian Road interchanges.
The state Route 711 exit ramp to I-680 southbound will be closed for up to nine months in 2019 and 2020.
Other closures through 2021 will affect Belle Vista, Mahoning and South avenue entrance and exit ramps.
More like this from vindy.com