Ham radios remain vital tools in emergencies, festival leader says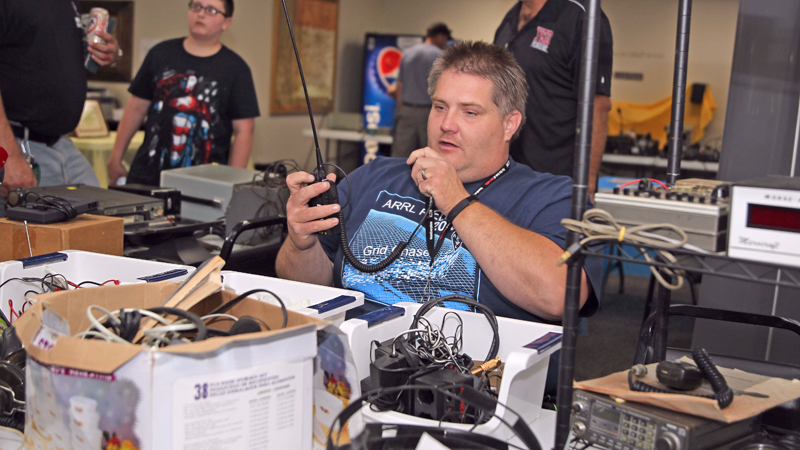 ---
By Sean Barron
AUSTINTOWN
All of today's modern technology and ready-made ways to communicate at our fingertips are more than sufficient to handle any natural disaster, right?
Not so fast, a disaster-preparedness expert contends.
"Ham radio is still popular, especially during communications during disasters like hurricanes," said Dotti O'Neil-Meleski, vice president of the 20/9 Radio Club Inc. "We can operate off generators, solar power and car batteries, if necessary."
Even though most people have iPhones and many other sophisticated electronic devices, they could easily be rendered temporarily useless if, for example, a tornado damaged an area cellphone tower. Ham radio, on the other hand, can act as a vital liaison in quickly disseminating critical information to emergency personnel during such disasters, O'Neil-Meleski explained during Sunday's annual Hamfest, Computer and Electronics show at the Austintown Senior Center, 110 Westchester Drive.
Hosting the event was the 20/9 Radio Club, a family-oriented group with an interest in all aspects of amateur radio service and operations.
The fest featured indoor and outdoor tables with a wide variety of electronics, parts and other merchandise for sale. Also offered were three forums, one of which Scott Yonally conducted.
"We function as an emergency-communications vehicle with fire and police during emergencies from tornadoes, floods and other disasters," said Yonally, of Lexington, Ohio, referring to the Newington, Conn.-based American Radio Relay League, for which he serves as state representative.
ARRL, a noncommercial organization of radio amateurs, lists advancing the art, science and enjoyment of amateur radio as its primary mission statement.
One of its core five pillars is training and organizing volunteers to provide public service and emergency communications, according to ARRL's website.
Such communications were critical last February, when 17 Ohio counties that border the Ohio River experienced mass flooding that damaged homes and, for several days, closed businesses and made roads impassable, Yonally noted. He added that the region also experienced several spring tornadoes.
"We communicate during disasters. We fill gaps between inter-agencies," as well as assist in that capacity with Emergency Management Agency chapters in all 88 Ohio counties, said Yonally, who noted that the ARRL also represents an estimated 29,000 amateur radio operators in Ohio.
In addition, the organization sets up communication links between 911 centers and first responders, added Yonally, who also was on hand for three weeks on behalf of the American Red Cross after the April 3, 1974, EF-5 tornado that destroyed Xenia, Ohio.
An EF-5 tornado is the strongest on the Enhanced Fujita Scale and has winds greater than 200 mph.
He also was in the Mahoning Valley to assist after the series of twisters that tore through Niles, Hubbard, Newton Falls, Ravenna and Wheatland, Pa., on May 31, 1985. The outbreak that struck parts of Ohio, Pennsylvania, New York and Ontario, Canada, killed an estimated 90 people and injured hundreds.
Several vendors such as John Visage sold antenna tuners and numerous other accessories. Visage runs CT Morgan & Associates, a family-owned electronics business in Chattanooga, Tenn.
Attendees took their time carefully examining the plethora of merchandise for sale that included multi-band antennas, adapters, cables, antenna wire, dipole kits, micro switches and 20-, 25- and 30-ampere glass fuses. Also plentiful were AM/FM radios, tuners, citizens band radios and tape reels.
Those interested in becoming amateur-radio operators can be tested and obtain licenses at all levels, noted Michael Joseph, a 20/9 Club member and a former police chief in Columbiana County.
Being licensed is essential partly so that operators are aware of which radio frequencies they're allowed to use so as not to interfere with police and other vital communications, Joseph said.
More like this from vindy.com