All clear — Trumbull County Fair to begin today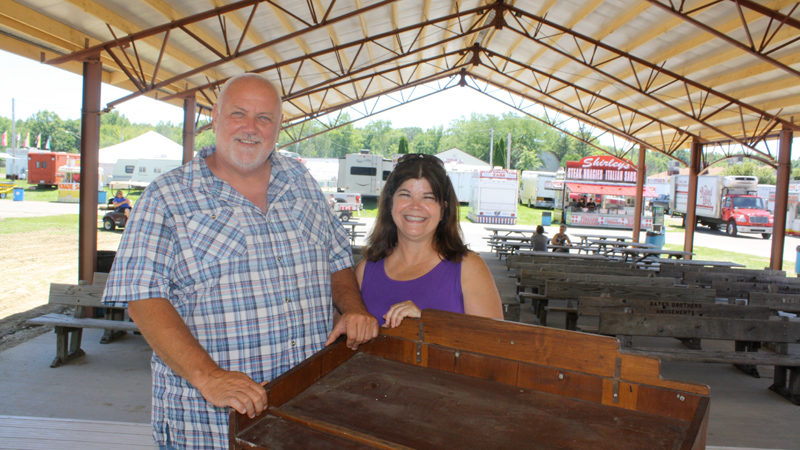 ---
By ED RUNYAN
runyan@vindy.com
BAZETTA
Due to history, the folks running the Trumbull County Fair have come to expect wet and stormy whether during fair week.
It led current fair board President Bud Rogers, who also was president in 1994-1995, to say it's necessary to have a "Plan A, Plan B and Plan C."
But if the current weather forecast holds, this could be the year everything runs according to "Plan A."
Temperatures are forecast for the 80s with no more than a 30 percent chance of rain all week.
"I think it's been years since we've had such a good looking forecast for all seven days," said Toni Dunbar, a fair board director.
Today marks the opening day for the 172nd running of the county's top agricultural exposition held at 899 Everett Hull Road.
Admission today is free for all ages. A ride wristband costs $7. Admission Wednesday through Sunday cost $10, including rides. Admission Wednesday through Sunday for children under 3 is free; people 62 and over pay a $5 admission Wednesday through Sunday.
Following today's noon opening ceremonies at the Historical Stage, which is under a new 40-foot by 84-foot pavilion, the fair will feature hours of bluegrass, country and country-rock music.
Family Pride Bluegrass will play starting at 5:30 p.m., Northern Whiskey begins at 6:30 p.m., and Chris Higbee begins at 7:30 p.m.
New this year, beer will be sold during the entertainment in the grandstand. Selling beer was a decision approved by the fair board for this year as an experiment, Dunbar said.
With sunshine expected this year, Rogers said the new pavilion may be a welcome place to rest, eat and watch an expanded schedule of performers at the Historical Stage, Rogers said.
"It's amazing how cool it is in here compared to out in the sun," Rogers said.
Rides operate from 1 to 5 p.m. and 6 to 11 p.m. The company providing the rides this year is Lisko Family Amusements.
More like this from vindy.com