Thousands attend Youngstown Comic Con at covelli centre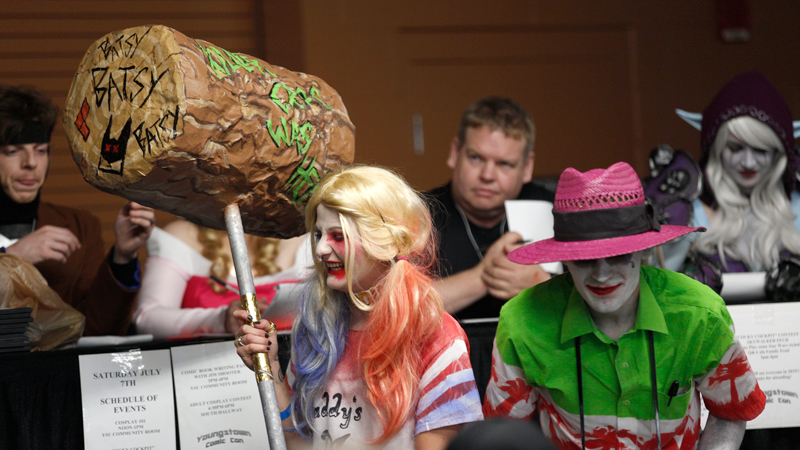 ---
YOUNGSTOWN
Stephanie and Carl Sopkovich, both of Youngstown, love comic- book conventions so much that part of their honeymoon last year was spent at Youngstown Comic Con.
This year, they returned to the convention for their wedding anniversary, dressed as Rogue and Gambit, characters from a Marvel comic book series.
"It's just good fun," Stephanie said.
The couple raffled off a superhero merchandise basket and superhero prints created by Carl and photographer Raed Esmail to raise money for Akron Children's Hospital.
The Youngstown Comic Con drew thousands of comic-book, anime and pop-culture fans to the Covelli Centre on Saturday. It continues today from 11 a.m. to 5 p.m.
The arena was filled with vendors selling comic books and merchandise, and many cosplayers stopped to take pictures with guests. Outside the arena, people played card games and sold more merchandise. A Wonder Woman cosplayer even offered massages.
Greg Bartholomew, owner of All American Cards and Comics and creator of the convention, said the event is the biggest true comic-book show in Northeast Ohio and is one of the top five biggest comic-book conventions in Ohio.
"You don't know what happens here until you come experience it yourself. Even if you aren't into this type of material, just to watch the people is worth the price of admission," he said.
One Youngstown couple dressed as Vice and Desir from the anime Ultimo made by legendary Marvel creator Stan Lee. Caz Fhey, dressed as Desir, and Carrie Grey, dressed as Vice, had a table displaying prints of their various cosplay looks.
Grey designed 84 costumes last year. Fhey has about 163,000 followers on Instagram, where he models the various costumes and makeup styles. People stopped to get pictures with the duo, some recognizing them from social media.
"It's an expensive hobby," Grey said. "I get bored of hobbies pretty easily, but cosplay forever changes; there's always something new and exciting going on." She added the hobby has helped her in real life by teaching her how to make repairs and become more social.
"When you're in costume, you are this completely new person," Grey said.
Cristina Safran of Bedford and Jayson Kepic of Broadview Heights dressed as Harley Ouinn and the Joker, respectively, complete with a homemade Harley Quinn mallet that Kepic made out of laundry baskets, paper mache and spray foam.
It was Safran's first convention. "I always wanted to go ... we threw around some ideas, but definitely wanted to do Suicide Squad," she said. "It's fun, it's great to see the different costumes."
Kepic said he appreciates how many toys the convention had, compared to the Cleveland comic- book convention. "This one has toys, comics – all the vendors have been great," he said.
Mike Rock of Boardman rocked a Gandalf the Great costume, complete with a long beard and robe. It was his first time, and he was surprised to have many people ask for a picture with him.
"I'm a nerd, and I enjoy this stuff to be honest with you, and I know Greg from the comic-book store – wanted to support him," he said. "There's a lot of different stuff and good people here. People who dress up is what makes the Comic Con; it's not just the vendors, it's the people too."
More like this from vindy.com