Drivers beware: Part of I-680 to close Monday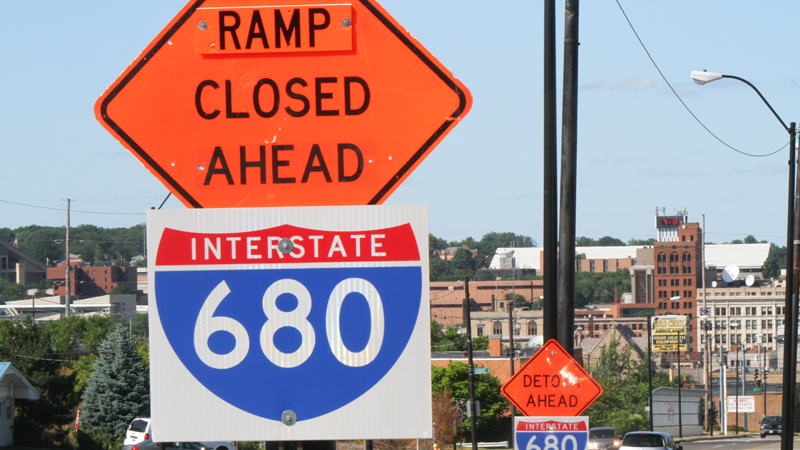 ---
Staff report
YOUNGSTOWN
Get your GPS turned on, because you might need it to navigate Interstate 680 through the city Monday.
That's because I-680 northbound between U.S. Route 62 and Edwards Street will be closed beginning Monday through early August for bridge repairs, the Ohio Department of Transportation says.
The detour will be I-680 to Route 62 to U.S. Route 422 to state Route 193 (Belmont Avenue) to I-680.
Justin Chesnic, ODOT public information officer, said the detour has two lanes open for traffic in exchange for the two-lane interstate closure.
"Traffic should flow fine through the detour," Chesnic said. "The first five days or the first week of a major traffic pattern change I would say give yourself some extra time. People travel more slowly because of a different route, so, maybe give yourself 15 to 20 extra minutes the first week of the closure."
There will be signs at least a few miles in advance, Chesnic continued, directing traffic toward the detour.
"People should be able to get through just fine," he said. "Motorists just need to stay alert through zones, avoid distractions and pay attention to construction signs."
Then on Friday, at 8 p.m., the ramp from Marshall Street to I-680 northbound will be closed through 6 a.m. July 16 for bridge repairs. The detour will be Mahoning Avenue to North Belle Vista Avenue.
But wait, there's more: This $9.7 million project to make repairs to 12 bridges along I-680 between state Route 711 to just south of U.S. Route 224 is scheduled to be completed by July 2021.

Other major projects include maintenance of 11 bridges along I-680 between the Western Reserve Road and state Route 711 interchanges and the installation of 1.8 miles of median cable between the Belle Vista Avenue and North Meridian Road interchanges.
The state Route 711 exit ramp to I-680 southbound will be closed for up to nine months in 2019 and 2020.
Other closures through 2021 will affect Belle Vista, Mahoning and South avenue entrance and exit ramps.
OTHER ROAD WORK
A summary of other road work this week in Mahoning County by the Ohio Department of Transportation:
Milton Township: Beginning Monday, Interstate 76 over Lake Milton will have various daily and nightly lane restrictions through Friday for bridge sealing.
Beaver Township: Beginning Monday until further notice, the northern leg of state Route 626 at state Route 164 will be closed through early August for the construction of a roundabout. The detour will be Route 164 to state Route 7 (Market Street) to Route 626. Also, state Route 165 between Green Beaver and Cook road is closed through July 16 for a culvert replacement. The detour is U.S. Route 62 to state Route 446 to state Route 46.
Source: ODOT
More like this from vindy.com