90 artisans, crafters draw throngs to 20th Summer Festival of the Arts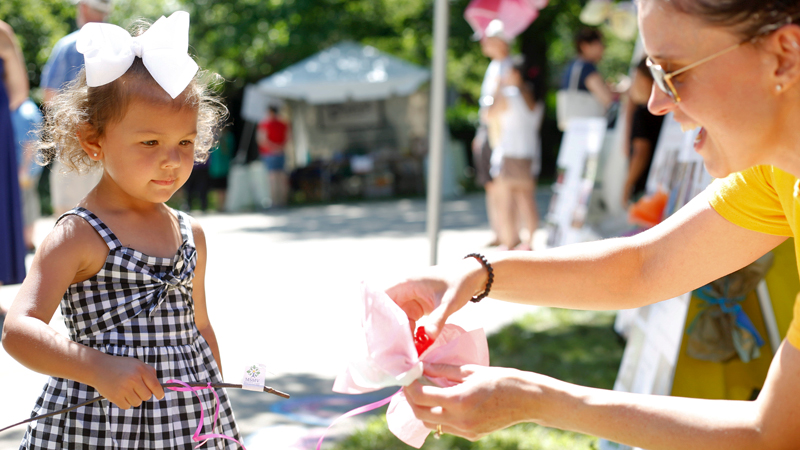 ---
By Sean Barron
YOUNGSTOWN
Ralph Teets used to spend time making clocks and tables, yet now he's enjoying not having a timetable.
"I was a clock- and furniture-maker for quite a while, so after I retired, I did this on a part-time basis," the Girard man said, referring to combining his artistic acumen with an interest in creating a variety of wooden cutting boards. "It's enjoyable because I can build what I want to build."
The result? Cutting Board Art, a business he and his wife, Joanne, started about seven years ago.
The couple's work also is a solid part of the 20th annual Summer Festival of the Arts, which kicked off Saturday and continues from 11 a.m. to 5 p.m. today on and around the Youngstown State University campus.
The event has 87 booths representing about 90 local, regional and out-of-state artisans, noted Lori Factor, organizer.
The fest also was in conjunction with Friday evening's Fabulous Flashbacks concert downtown and the Youngstown Wine & Jazz Festival on Saturday evening, as well as the Youngstown Comic Con and St. Nicholas Greek Orthodox Church Summerfest, both of which continue today.
Teets uses furniture-grade oak, maple, cherry and walnut wood, essentially the same materials from which he built clocks and furniture, to craft, then sell a variety of linear, narrow, bread and cheese cutting boards, along with fiesta servers that each contain three decorative condiment bowls. He also drills holes into metal stamping blanks before attaching wooden handles to create a series of kitchen implements.
The finished products usually are the result of continual collaboration between Teets, who assembles the prototypes, and his wife, who's a graphic artist, he explained. His merchandise also includes salt-and-pepper grinders and party servers.
A sample of items for sale at the fest includes handwoven rugs, prints, pottery, custom and handmade jewelry, paintings, embossed engravings, blues guitars, embroidered T-shirts, psalteries – medieval musical instruments similar to dulcimers and played by plucking the strings with the fingers – and glassware.
Among those happy to help attendees see the light is Aaron Buchholz of St. Louisville, Ohio, who started St. Louisville Glass and specializes in using aventurine glass, which usually comes in green, blue and gold.
"I use it to color accent a lot of pieces I make," such as vases, bowls, glasses and ornaments, said Buchholz, whose work is inspired largely by how glass showcases color and natural light.
Also one who loves to dabble in color and texture is Laurie Anderson of Mineral Ridge, who runs Artistic Designs by Laurie.
"I've been doing my artwork for 25 years, and I sold my first commissioned piece in 1991," recalled Anderson, who specializes in using alcohol ink to create a variety of landscapes, abstracts and other works mainly on ceramic tile and acrylic.
Her colors tend to be a bit more highlighted on tile than on acrylic, in part because the tile is smooth, whereas an acrylic canvas is porous, meaning the ink runs and blends more on tile, Anderson explained. She also sprays her works with a protective sealer.
Anderson, who plans to teach art classes beginning this fall at a Boardman gallery, remembered having been influenced by someone doing her type of artwork. Consequently, she learned the techniques online after a bit of encouragement, she said.
Part of her style also includes cropping portions of her works, then adding inspiring messages to magnets and notecards she sells for $2 and $15 apiece, respectively.
Factor said that little has changed at the fest this year, adding that generations of families continue to be drawn to the popular mid-summer gathering.
"We wanted to keep it consistent; that seems to work here," she added. "The arts and culture are very robust in Youngstown. There really is every genre of art, I feel, being represented."
Many attendees also enjoyed the evening Wine & Jazz Festival, which featured keyboardist and composer Jeff Lorber, who started the Jeff Lorber Fusion band in the 1970s. Earlier this year, Lorber won his first Grammy Award for his album, "Prototype."
More like this from vindy.com