Festival opening is Fabulous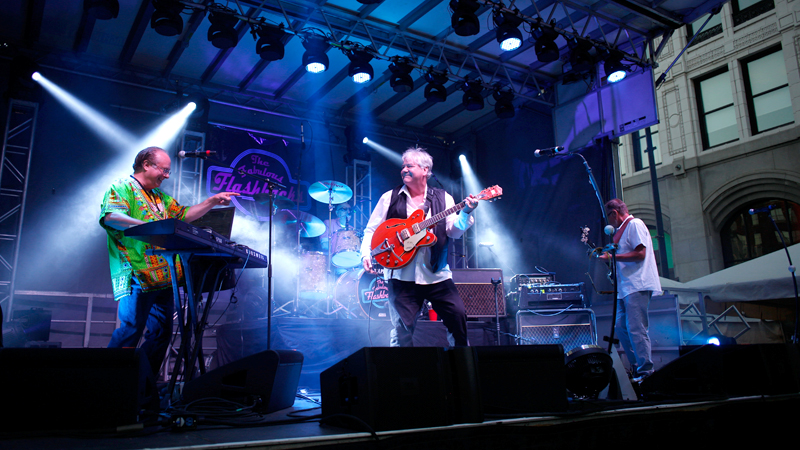 ---
By Joe Gorman
YOUNGSTOWN
For the Fabulous Flashbacks, it's all about fun.
As a part of the Summer Festival of the Arts weekend, the band performed on Central Square on Friday night for the second year in a row. Members said the key to their popularity is their fans have fun when they play.
That, in turn, makes it fun for the band to play for them, said bassist Greg Yochman.
"We do this because of the people," Yochman said. "We connected with the fans, and they connected with us."
Friday's gig was just the second in 10 years for the band. Drummer Nick Gilgor said the band rehearsed about six times over a six-week period to get ready for the show.
Kicking off the festival with Friday's clear skies and lower temperatures was something to look forward to, said keyboardist Brian Wingrove.
"This is great, especially with the weather," Wingrove said. "It should be a great crowd."
None of the members could explain the band's popularity, which endures today.
"We just happened to be the band that people have fun to," Gilgor said.
Asked what songs are the ones they most enjoy playing, all three laughed and said, "all of them."
The Flashbacks formed in 1983 and played for 13 years, a staple in the local music scene during that time, especially at the former Park Inn on Glenwood Avenue. The group is fronted by singer Brian McCall.
The band members said their favorite songs to play are the ones that get the best reaction from the crowd. When they see the crowd having fun and dancing and singing along, it makes it more fun to play that song, they said,
Some of the songs on Friday's set list included "For Your Love" by the Yardbirds; "Love You Madly" by The Doors; "It's My Life" by Eric Burdon and the Animals; "Gloria" by Van Morrison; and "Time Won't Let Me" by The Outsiders.
"If it [a song] didn't get a good reaction, it went off the list," Gilgor said.
All three said they would like to get together and play again.
"Sure, we'll play again," Wingrove said.
More like this from vindy.com