Summary of recent criminal activity in Poland and Boardman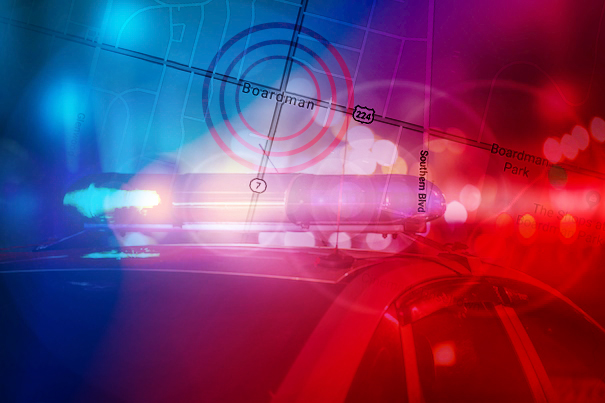 ---
A summary of recent criminal activity in Poland and Boardman townships:
POLAND
June 27
Criminal damaging: A 40-square-foot brush pile was damaged in the 5700 block of New Castle Road.
BOARDMAN
June 29
Animal cruelty: An officer reported finding a small dog unattended in a car at Southern Park Mall with no water and little air circulation while the outside temperature was 86 degrees. The animal was given water and was OK, and the Mahoning County dog warden was to be notified, a police report said.
Theft: An Afton Avenue couple reported two pairs of prescription sunglasses had been taken from their vehicle.
Drugs: While conducting a traffic stop in Youngstown, authorities arrested Michael A. Anderson, 23, of Lemans Drive, Boardman, on a felony drug-abuse charge, as well as Stacia M. Hewlett, 24, same address, on a Liberty Township warrant. Anderson, who listed a second address on Rutledge Avenue in Youngstown, had in the car a bag containing a brown substance that tested positive for fentanyl, officers alleged.
Stolen property: Police reported three suspicious males crossing Market Street before they charged Anthony L. Patterson, 22, of West Myrtle Avenue, Youngstown, with receiving stolen property, carrying a concealed weapon, obstructing official business and contributing to the delinquency of a minor; Jawaun T. Clark, 19, of West Ravenwood Avenue, Youngstown, with receiving stolen property and contributing to the delinquency of a minor; and a 16-year-old Youngstown boy with receiving stolen property. Found in their pockets were numerous items that had been taken from vehicles on Afton Avenue, along with a knife; also, Patterson provided a false name, a report showed.
Assault: A township man alleged a woman he knew smacked his face as the accuser tried to get a prescription filled at a Market Street pharmacy.
Felonious assault: A Youngstown woman told officers another woman intentionally struck the accuser's car's passenger-side bumper with her vehicle during a confrontation between them in a Doral Drive big-box store's parking lot after the woman reportedly had allowed a shopping cart to hit the victim's car.
Theft: An Erskine Avenue man noticed a wallet and $50 missing from his vehicle.
Theft: Aaron M. Hartman, 36, of Alderwood Drive, Canfield, surrendered on a felony-theft warrant, related to an April 13 incident in which more than $2,000 worth of tools was removed from a family member's garage in the 7400 block of Tippecanoe Road.
Citation: After responding to a complaint about someone soliciting for money on Centervale Avenue, police wrote a minor-misdemeanor citation charging Jeffrey A. Woods, 42, of Woodview Avenue, Boardman, with disorderly conduct while intoxicated.
Theft: A woman in her mid- to late 20s reportedly left Holiday Inn, 7410 South Ave., without paying for two alcoholic beverages.
Theft: Jeffrey A. Woods, 42, of Woodview Avenue, Boardman, was charged with stealing a $299 Sony PlayStation 4 game system and a PlayStation 4 video game from Walmart, 1300 Doral Drive.
Drugs: After being pulled over on Glenwood Avenue, Jose M. Martinez-Negrone, 31, was charged with drug abuse, a felony, and possessing drug paraphernalia, a misdemeanor. Martinez-Negrone, of Ayers Street, Youngstown, had four prescription bottles with suspected marijuana and suspected marijuana cigarettes, and a small device commonly used to grind marijuana; also found was a separate bottle with two pills determined to be Oxycodone, a controlled substance typically used to treat moderate to severe pain, with another person's prescription, authorities alleged.
Drug paraphernalia: A traffic stop on Market Street resulted in a charge of possessing drug paraphernalia against William L. Wilkins Jr. of Idlewood Avenue, Youngstown. Wilkins, 43, had two suspected marijuana cigars and a device commonly used to grind marijuana, a report stated.
Theft: A woman reportedly stole one package each of fake fingernails and nail glue from Hair Depot, 4026 Market St.
Theft: A Warren girl, 12, and a Struthers girl, 16, were accused of stealing about $61 worth of property from Walmart.
Theft: Kinshasa M. Taylor, 43, of East Indianola Road, Youngstown, was charged with intentionally failing to self-scan $98 worth of items that included a pair of shorts while in Walmart.
June 30
Assault/theft: A Carrollton, Ohio, man in the 20 block of Willow Drive alleged a man stepped on his right hand, leaving a minor injury, then took his car keys.
Attempted burglary: The front door was found slightly ajar after someone had reportedly tried to break into a residence in the 100 block of Island Drive.
Theft: A man and a woman reported stole $2,595 worth of merchandise that included a 21-inch electric lawn mower and a leaf blower from Lowe's, 1100 Doral Drive.
Drug paraphernalia: Police on Southern Boulevard pulled over then charged Alexis L. Brown, 31, of Jean Street, Youngstown, with possessing drug paraphernalia. Found in Brown's purse was a small device typically used to grind marijuana, a report stated.
Theft: A Brookfield Avenue man saw that several prescription medications and a $250 men's wristwatch were missing from his vehicle.
Attempted theft: Someone entered a car in the 200 block of Forest Park Drive before activating the alarm and fleeing on foot.
Theft: Youngstown police handed to Boardman authorities Roy D. Williams, 32, of Manhattan Avenue, Youngstown, who faced a theft charge, related to a Nov. 27, 2017, shoplifting situation in which $44 worth of clothing was stolen from Kohl's, 383 Boardman-Poland Road. Williams also was wanted on warrants.
July 1
Attempted burglary: Someone tried to break into a home in the 30 block of Lake Shore Drive before the homeowner discovered a broken kitchen window as well as damage to a rear-door window.
Burglary: To an apartment in the 3900 block of South Schenley Avenue, possibly through a kitchen window. A $400 Xbox game system was missing.
Stolen property: Liberty Township police relinquished custody of Mykhael M. Ruffin, 20, of Cohasset Drive, Youngstown, to Boardman authorities. He was wanted on a felony warrant charging receiving stolen property.
Theft: Authorities took Stephen J. Sinkovich III, 25, into custody at his West Boulevard apartment on a theft warrant. The Boardman man was accused of stealing $200 worth of video games May 18 from Walmart.
Trespassing: A Pheasant Court man noticed someone had left two empty cigarette boxes and a set of house keys on his front porch.
July 2
Arrest: Police in the 5900 block of Market Street picked up David McGuire of North Jackson Street, Youngstown, upon ascertaining McGuire, 35, was wanted on a Youngstown Municipal Court warrant charging domestic violence and theft.
Robbery: A man told police he had been pistol-whipped, punched and placed in a headlock during a fight with two men at the accuser's Huntington Drive residence before the perpetrators took his wallet.
Arrest: After seeing someone walking in the middle of the road on Maple Drive, officers arrested Savannah J.A. Pagan, 23, after determining Pagan, of Southern Boulevard, Boardman, was wanted on a Campbell warrant charging failure to appear in court.
Fraud: A worker with a Canfield business reported having gotten an email with instructions to complete processing a $5,617 check at a Boardman-Canfield Road bank before realizing it was a scam.
Identity theft: A Ewing Road man told officers that while checking his account activity, he discovered a pending $601 charge that apparently originated from a Columbus Walmart big-box store.
Theft: A former mechanic reported a cart that contained more than $2,000 worth of tools was stolen at a South Avenue car dealership.
Theft by deception: A woman told officers she had made a $300 down payment for tree-removal services at her Charles Avenue home, only to discover no one showed up to finish the work.
Arrest: Jessica A. Hill, 35, was taken into custody during a traffic stop on Market Street. Hill, of state Route 45, Leetonia, was wanted on an Allegheny County, Pa., warrant.
July 3
Harassment: A manager with a Boardman-Poland Road fast-food restaurant said a man called claiming to be a Boardman police officer yelled at and called her derogatory names.
More like this from vindy.com