---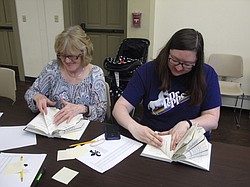 Photo
Neighbors | Zack Shively.Amy Burkard organized the Boardman library's book folding event. She taught those in attendance how to fold the books and find designs online for future use. The program gave those crafting a chance to socialize while making their projects. Pictured, Joyce Noble and Melanie Fannin worked on their crafts at the program.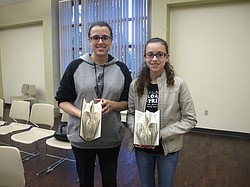 Photo
Neighbors | Zack Shively.The Boardman library had a book folding program at their branch. The attendees folded pages in books to create a special fleur-de-lis design. Pictured are, from left, Lana Ilain and Serene Awad with their finished products.
By ZACK SHIVELY
The Boardman library hosted a book folding program for their crafty patrons on May 23.
Amy Burkard taught a class on how to fold the pages of a book to make a pop-up fleur-de-lis design. She provided the books and other materials for those in attendance.
"The prep work is worth it because, after an hour, [the attendees] get to go home with a finished project," said Burkard. She marked the second half of each of the books with folding lines, taught the lesson in folding and provided rubber bands to those in the class.
The pattern she used required the patrons to make 156 folds within 312 pages. Those crafting worked on their project and used the time to socialize. They talked about the project and their lives.
Burkard first attended a book folding class at the main library and she got interested in hosting her own version of the event. She had a class that made a bird design last year. She wants to continue having these classes on occasion.