Seniors create crafts for outreach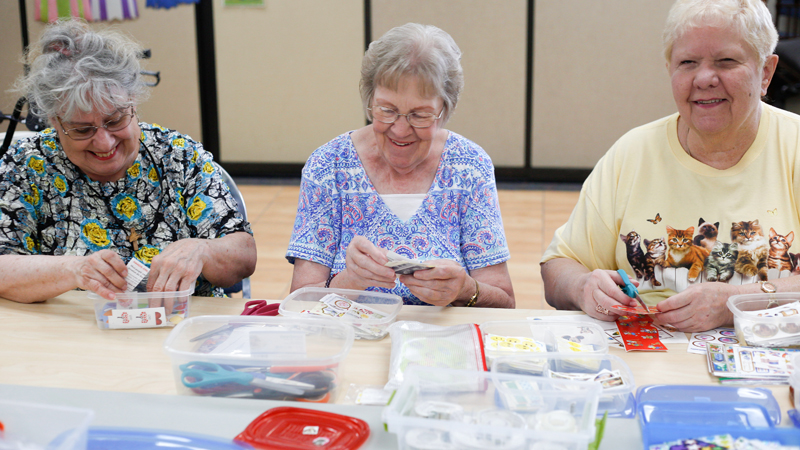 ---
AUSTINTOWN
Bracelets, bookmarks, keychains, sewing patterns and more are among the products of Austintown Senior Center's S.O.S. group.
The Senior Outreach Services group creates hand-made goods to sell and donate to the Austintown community for low prices between $1 and $5.
"I really just like the people and the fun we are able to have," said Carolyn Miller, a group member.
"We have such a good time here," echoed her friend Judy Hack.
The good time comes from the women who work together in the group and the friendships they've created with one another, she added.
"We have fun and eat lunch together and are supportive of each other when we need to be," Miller said. "We get crazy and have good laughs, too."
"It's just about spending time with the people," agreed Donna Pence.
Not only do the group members have familiar friends when they meet for S.O.S., but they create outside friendships, as well.
"We call and check up on one another and keep in touch when some of us aren't well," Miller said.
The crafts aren't all for fun, though.
The group either makes a few dollars off its creations or donates them to nursing homes and veterans.
"It just makes us feel good," Miller said.
Another facet of the feel-good effect of S.O.S. is the learning process.
Hack said she enjoys trying different crafts, even if they are sometimes difficult.
And the group members teach one another.
"We find new ways of learning how to do new things," Miller said.
Group members have a special place in their hearts for Hilda Townsend, the founder of S.O.S., who died in 2017.
"She started this, and we couldn't be more grateful or miss her more," Miller said.
But remembering Townsend pushes them forward to continue creating.
"We accomplish like nobody's business," Hack said.
Senior Center Director Jim Henshaw said simply, "There's something for everybody here at the senior center."
More like this from vindy.com