Youngstown Comic Con steps up with super lineup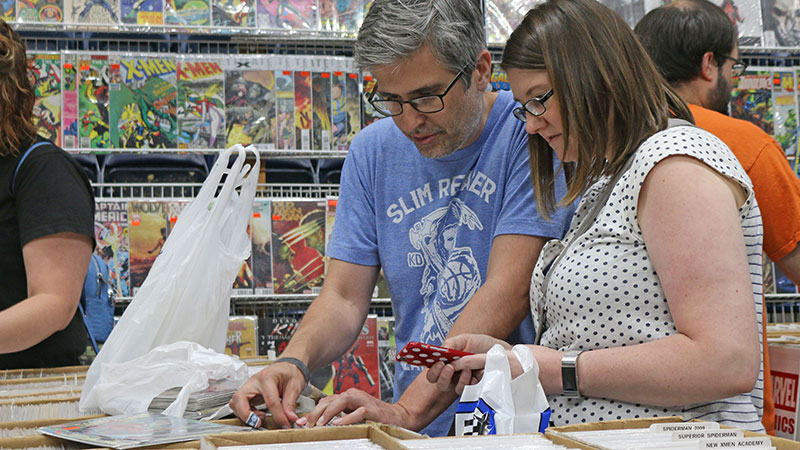 ---
By GUY D'ASTOLFO
YOUNGSTOWN
Two years ago, Greg Bartholomew owned a couple of comic book shops and ran a little fan convention on the side.
Nowadays, he owns a large fan convention and runs a couple of comic book shops on the side.
His newly renamed Youngstown Comic Con will take over Covelli Centre this weekend, and Bartholomew expects to draw 5,000 paying fans over the two-day run.
Some of those fans will be drawn into his All-American Comics shops in Warren and Boardman afterward to look for books they got turned on to at the convention.
The show at Covelli will feature 126 vendor tables, offering current and back issues of all manner of comics, as well as art, toys, games and more.
A main attraction for the more serious comics collectors will be the special guests, who will chat with fans and sign autographs. This year's guests are an A-list group led by Jim Steranko, a comic artist credited with transforming the visual style of the genre.
The list also includes Jim Shooter, Mike Zeck, John Beatty, Renee Witterstaetter and Darryl Banks.
As for the superhuman growth of the Youngstown Comic Con, Bartholomew is as surprised as anyone. He changed the name this year – it was known as All-Americon the first eight years – for marketing reasons.
"I never expected it to blow up like it did," explained Bartholomew. "When I started it, I went with naming it after my store."
For its first seven years, the convention was a one-day affair at Packard Music Hall in Warren. Last year it expanded to a full weekend and moved to the much bigger Covelli Centre, where it was an immediate success.
"At the post-show dinner last year, one of my guests said I need to incorporate the words 'comic con' into the name. 'All-American Comic Con' sounded stupid. When you think of San Diego, you think San Diego Comic Con, the grandaddy of them all, and [my guest] said 'then how about the Youngstown Comic Con?' So we rebranded it and gave it the red, black and white colors of Youngstown State University. People have been getting behind the change."
The convention has seen its attendance increase by 30 to 50 percent each year. The first couple of years drew about 1,000 people while last year's event pulled in 4,400 over both days.
While most visitors live in the Valley, Bartholomew has sold tickets to people everywhere from the East Coast to Nebraska. Some of the vendors also hail from hundreds of miles away.
Visitors can peruse the wares of the vendors who will fill up the entire floor of Covelli Centre, offering comics books, sketches, pop art, T-shirts, toys and other merchandise. There will be something for everyone.
"For example, for people who might not want anything to read, last year there was someone selling Groot earrings," said Bartholomew.
There will also be plenty of cosplayers in attendance, with costume contests both days (adults on Saturday, children on Sunday).
As for the special guests, they will be seated at tables where they will greet fans.
Steranko, who has been a guest at the convention before, has become an in-demand player on the circuit. "He is one of the 10 most influential artists in the history of comics," said Bartholomew, citing the realism of his work and the nontraditional elements he introduced. "It was very abstract at times and totally different from the norm in the '60s and '70s."
Steranko is cited as one of main forces behind the growth of Marvel Comics. He was a co-creator of several characters, including Nick Fury and Agents of S.H.I.E.L.D., and also wrote and drew Captain America, the Hulk and the X-Men.
"[Steranko] also conceptualized the Indiana Jones look for (filmmakers) Steven Spielberg and George Lucas," said Bartholomew. "He was at our first show at Packard Hall in 2014 and the line of people at his table was 20 to 50 people deep the whole day. And he talked to everyone. He's an entertainer, and he's interested in what you like. He is a great guest."
Jim Shooter began writing for Superman comics in 1965 at the age of 13. He was hired by Marvel in 1976 and became editor in chief in 1978. He wrote for the Avengers and headed up the creative teams that developed G.I. Joe and Transformers.
"Shooter is a giant in the industry," said Bartholomew.
Zeck and Beatty both worked as artists on many popular titles, including Spider-Man, Captain American, the Punisher and Batman.
The growth of the festival and expansion of its guest lineup has translated into an increase in the admission price. Tickets are now $15 (free for children 6 and under), as compared to $10 last year.
"It's still way cheaper than the mega shows," said Bartholomew.
The Youngstown Comic Con will be open from 11 a.m. to 6 p.m. Saturday and 11 a.m. to 5 p.m. Sunday.
More like this from vindy.com