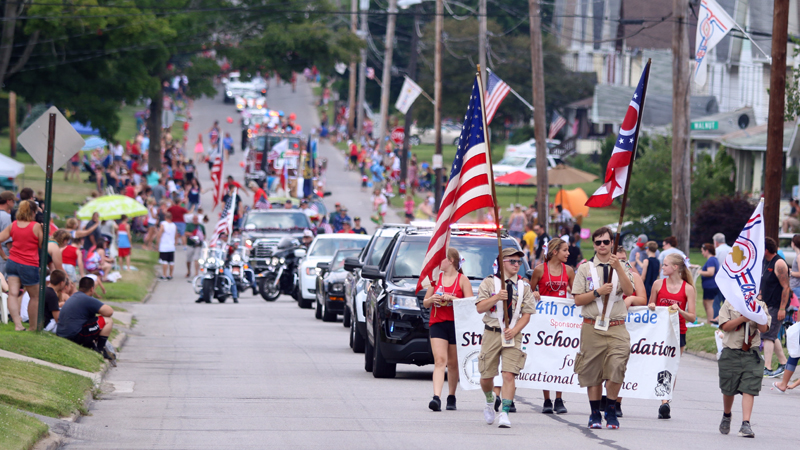 ---
By Sean Barron
STRUTHERS
When it comes to givebacks, you could say that Rose Lesnak's methods of reaching beyond herself are as sweet as they are unconventional.
"We're going to throw out boxes of cookies," said a jubilant Lesnak, leader of Campbell-based Girl Scout Troop 80493.
"We have boxes of cookies, 400 bags of chips and a bunch of candy bags."
It's likely few if any of the treats went to waste, because Lesnak and four Girl Scouts made their generosity felt as they participated in the 42nd annual Struthers Parade, which kicked off Wednesday afternoon at the Fifth Street Plaza.
Struthers Fourth of July Parade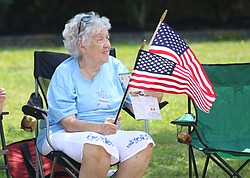 Gallery
The Struthers School Foundation sponsored the large gathering, which was preceded by a 5K walk/run that started at nearby Pizza Joe's, 960 Fifth St.
Accompanying Lesnak were her daughter, Regan Lesnak, 5; Talia Wilson and Samantha Allen, both 6; and Grace O'Donahue, 7. Also riding along was Rose Les-nak's sister, Brandy Jackson, a Troop 80493 co-leader.
Happy 4th of July Fireworks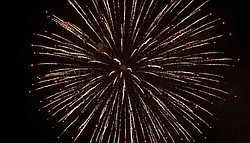 Video
Thanks to the Lake Club, Ed Muransky, Bruce and Alan Zoldan with BJ Alan Fireworks. How many remember going to Idora Park Ball Field for Fireworks !!!
The four Girl Scouts didn't seem to mind being in hot, cramped quarters inside the Cookie Express, one of an estimated 130 parade units, which sports a replica of a large cookie on top and smaller cookie replicas on each side. Lesnak recalled that it took her and Jackson about a month to build the wagon using mainly cardboard, wood and felt.
"We were here [in the parade] last year, but we didn't do this cookie thing," Lesnak said, adding that selling Girl Scout cookies led to the idea to build the eye-catching vehicle. "Now we're going to give back in the parade."
Other entries included the Struthers High School Wildcat Marching Band, Veterans of Foreign Wars Post 3538 of Struthers, radio station WKTL-FM 90.7 and Donavito's Restaurant & Catering Co., which had two trucks with attached smokers, inside one of which chicken was being grilled.
A large number of spectators of all ages, many dressed in traditional red, white and blue, lined both sides of Fifth Street, despite 90-degree temperatures and high humidity.
Seemingly oblivious to the oppressive heat was 1-year-old Lena Franceschelli of Boardman, who wore an outfit containing the patriotic color combination and didn't mind showing off her patriotism to the delight of people around her.
"This is a big deal," Lena's mother, Lyndsey Franceschelli, said, referring to the parade and turnout.
Also on hand was her son, Kaplin, 3, and husband, Jimmy Franceschelli, who grew up in Struthers.
The parade, which began in 1976 as a city-sponsored event, brought out a mixture of emotions that included pride and sadness in Stacey Medvec-Newyear.
Her late father, John Medvec Sr., coordinated the parade from the mid-1980s until he died Aug. 3, 2017, at age 70, she explained.
"This is a touching tribute to my dad," said Medvec-Newyear, current coordinator.
"He was the parade. It's really special that a lot of people want to pay tribute to him in some capacity."
Another tribute came in the form of a half-mile Kristy Taaffe Kids Fun Run that was in conjunction with the 5K event.
The children's run was named in honor of Taaffe, a popular and beloved Struthers PTA member and co-owner of a Struthers photography studio who died unexpectedly in July 2016 at age 38.
"She had a vision for doing things for the PTA for kids' fitness," explained Mike Cox, director of the 5K race and a Struthers School Foundation member. "She really meant a lot to the school district and the kids."
More than 70 children took part in the run. In addition, an estimated 111 people from 11 states signed up for the 5K event, Cox said, adding that the parade route nearly paralleled that of the 5K run.
The parade also elicited a series of fond memories for Cox and is near and dear to his heart, he continued. "I grew up on [nearby] Sexton Street and the parade came by every year," he remembered.
"I sat on my front porch and watched it."
More like this from vindy.com