How to attract pollinators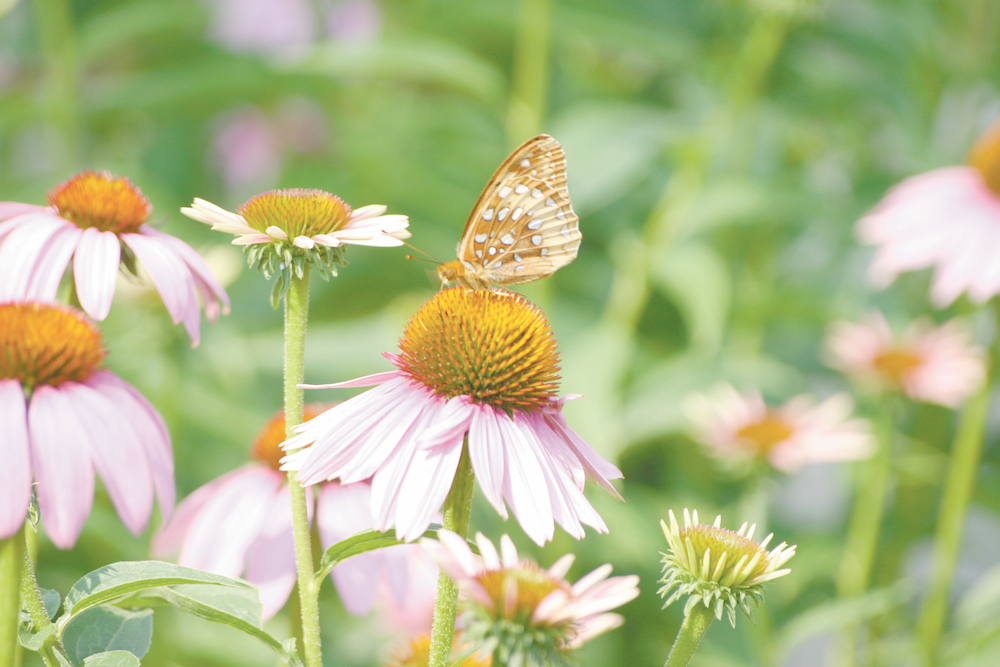 ---
By Marilyn McKinley
OSU Master Gardener Volunteer
Few things make me happier than to watch pollinators in our yard. If you are lucky they will just appear.
However, if you would like to attract a larger number and different kinds I'll share a few things I have learned.
Be sure to have host plants in your landscape. Pollinators need a place to lay eggs. If they are already used to your yard there is a better chance they just might stick around to delight you and to raise their young.
Have a variety of plants, in good size patches of plants. I used to be a "I want one of this and one of that" gardener. As I have learned more about pollinators I realized they like a bunch of flowers in one spot for ease of gathering pollen and nectar.
Pay attention to the seasons. Have plants that early pollinators need. As much as we despise them, dandelions are wonderful plants for pollinators. You will see honey bees on them and queen bumble bees on crocus. Late spring and early summer pollinator magnets are roses (ones that actually smell like roses), sweet peas, cosmos, nasturtiums, and flowering herbs. Later summer pollinator magnets are zinnias, four o'clocks, and goldenrod.
Colors matter. Bees do not see red, they are attracted to blue (borage), yellow (dandelions), purple/lavender (violets and crocus), white (clover). Speaking of clover, we have several nice patches of white clover in our yard. Bees love it. We all know hummingbirds like red. By the way, no need to put red food coloring in your hummingbird feeders. Hummers are also attracted to orange, purple and pink. One of my favorite plants for attracting hummers is pineapple sage. Too bad it is an annual here in zone 5. Hummers like plants that have nectar stored in tubes. Bee balm, columbine, daylilies and petunias are favorites. Of course, the trumpet vine attracts many hummingbirds. But, be warned it spreads and spreads, and spreads.
Butterflies need plants that provide a smooth landing. Favorite colors are red, yellow, pink, orange, and purple. Zinnias are a favorite for their many colors. Milkweed for monarchs to lay their eggs is a must. Butterflies like flowers clustered in groups, bee balm is also a favorite for its color and nectar. Butterflies need flowers that are in the sun. They need flat rocks so they can rest and dry their wings and a place to puddle. Ever see butterflies around a mud hole? That's puddling. Butterflies are such graceful creatures, it's hard to believe they like stinky things, real stinky things like manure. They need minerals, they need to drink water. What do to make a butterfly happy? Put some sand in a flat container, moisten the sand, plop down a scoop of cow manure, a rotten banana, you can't go wrong with this combo. We smear dollar store sponges with jelly and nail them to our wooden fence, sometimes we see several butterflies on the sponges. Swallowtails in particular love it.
If you love having pollinators in your yard, do some research, find out what they like, then do all you can to get them to leave the neighbor's yard and come by yours for a visit.
For more details on attracting them and plants for your garden, go to http://go.osu.edu/pollinatorplants.
More like this from vindy.com