Throngs endure heat to see 130 units in Struthers 4th parade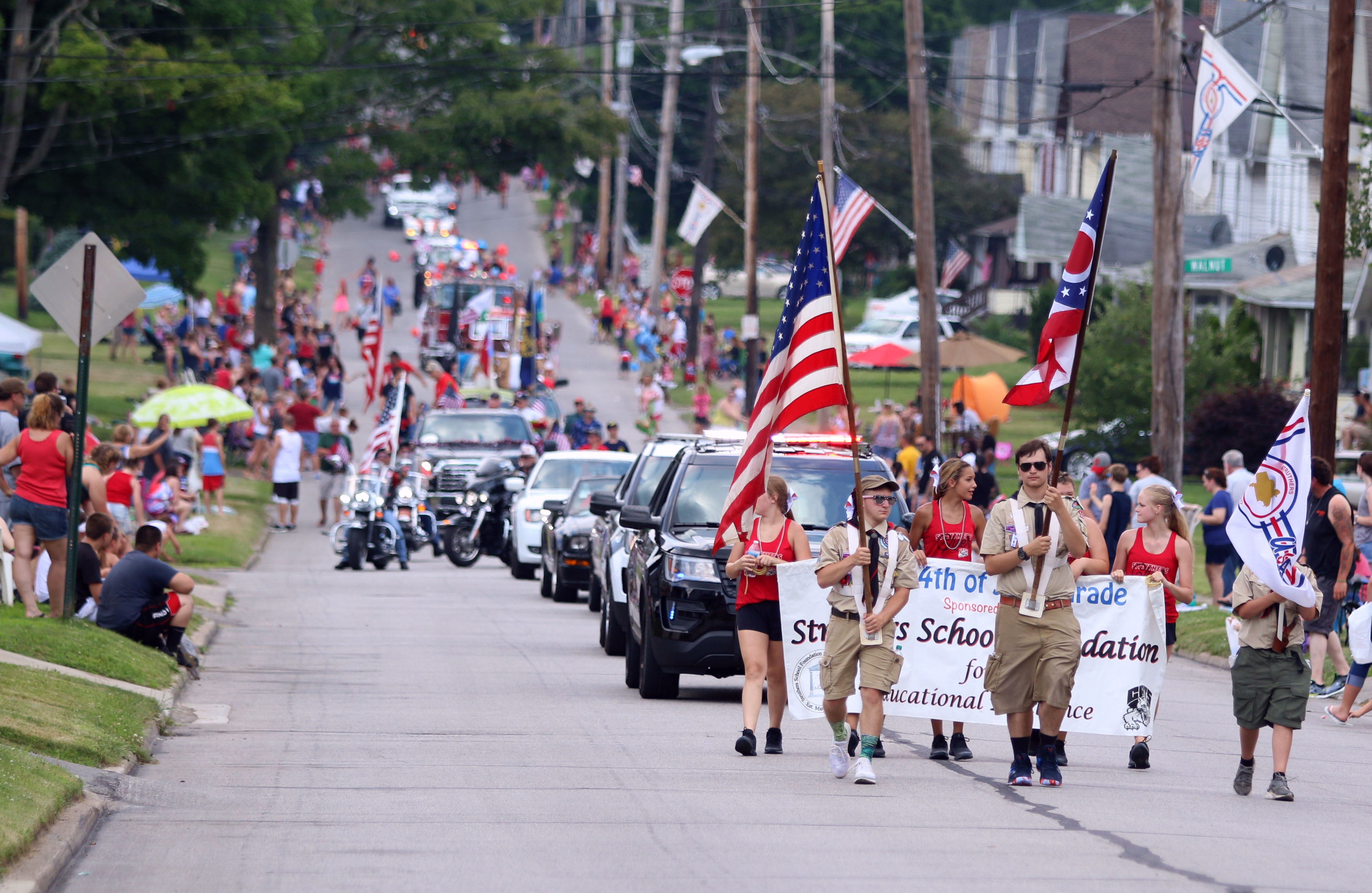 ---
By SEAN BARRON
news@vindy.com
STRUTHERS
When it comes to givebacks, you could say that Rose Lesnak's methods of reaching beyond herself are as sweet as they are unconventional.
"We're going to throw out boxes of cookies," said a jubilant Lesnak, leader of Campbell-based Girl Scout Troop 80493. "We have boxes of cookies, 400 bags of chips and a bunch of candy bags."
It's likely few if any of the treats went to waste, because Lesnak and four Girl Scouts made their generosity felt as they participated in the 42nd annual Struthers Parade, which kicked off Wednesday afternoon at the Fifth Street Plaza.
The Struthers School Foundation sponsored the large gathering, which was preceded by a 5K walk/run that started at nearby Pizza Joe's, 960 Fifth St.
Accompanying Lesnak were her daughter, Regan Lesnak, 5; Talia Wilson and Samantha Allen, both 6; and Grace O'Donahue, 7. Also riding along was Rose Lesnak's sister, Brandy Jackson, a Troop 80493 co-leader.
The four Girl Scouts didn't seem to mind being in hot, cramped quarters inside the Cookie Express, one of an estimated 130 parade units, which sports a replica of a large cookie on top and smaller cookie replicas on each side. Lesnak recalled that it took her and Jackson about a month to build the wagon using mainly cardboard, wood and felt.
"We were here [in the parade] last year, but we didn't do this cookie thing," Lesnak said, adding that selling Girl Scout cookies led to the idea to build the eye-catching vehicle. "Now we're going to give back in the parade."
Other entries included the Struthers High School Wildcat Marching Band, Veterans of Foreign Wars Post 3538 of Struthers, radio station WKTL-FM 90.7 and Donavito's Restaurant & Catering Co., which had two trucks with attached smokers, inside one of which chicken was being grilled.
A large number of spectators of all ages, many dressed in traditional red, white and blue, lined both sides of Fifth Street, despite 90-degree temperatures and high humidity. Seemingly oblivious to the oppressive heat was 1-year-old Lena Franceschelli of Boardman, who wore an outfit containing the patriotic color combination and didn't mind showing off her patriotism to the delight of people around her.
"This is a big deal," Lena's mother, Lyndsey Franceschelli, said, referring to the parade and turnout.
Read the full story with photos Thursday in The Vindicator and on Vindy.com
More like this from vindy.com