Sherrod Brown: GM CEO wouldn't commit to keeping Lordstown plant open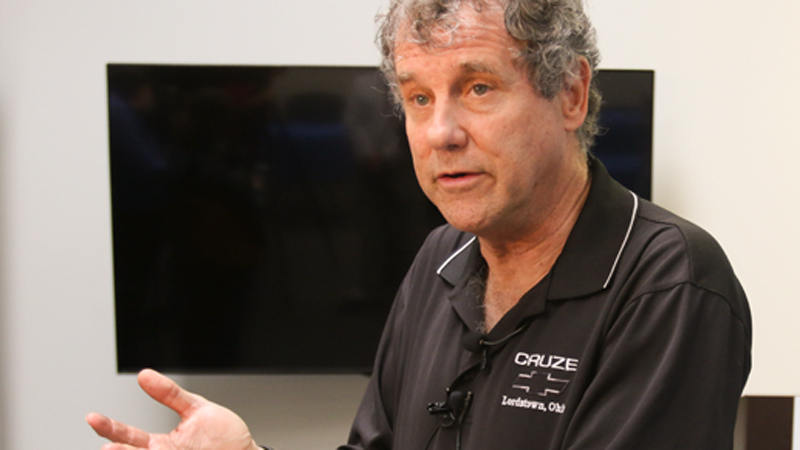 ---
YOUNGSTOWN
As General Motors reported a 26.2 percent second-quarter drop in Chevrolet Cruze sales Tuesday, U.S. Sen. Sherrod Brown said GM CEO Mary Barra "would not commit" to keeping the Lordstown assembly plant open.
Brown visited Vallourec Star, a local steel pipe mill, Tuesday, and afterward answered reporters' questions on a number of topics, including the Lordstown plant that builds the Cruze sedan.
Brown said he spoke with Barra about a month ago after the elimination of the plant's second shift was announced, but before about 1,200 layoffs went into effect June 22.
"I asked her to commit that Lordstown would stay open, at least the one shift, because the second shift announcement had already happened," he said. "She would not commit that they will keep that plant open in Lordstown."
Brown said he pressed Barra on why GM couldn't commit to using some of its recent tax savings from the GOP-led tax reform that reduced the corporate tax rate from 35 percent to 21 percent, among other benefits for businesses, to "retool" the Lordstown plant.
"She said it seemed too expensive," Brown said.
Brown said he also spoke with President Donald Trump about the issue in a phone call Saturday. Brown said he talked to the president about the local plant, the recent layoffs, and GM's announcement the same day the layoffs went into effect that it would build the new Chevy Blazer at a plant in Mexico.
"I asked him specifically to weigh in with Mary Barra," Brown said. "He was noncommittal. I'm hopeful he weighs in."
Tuesday marked the first time GM has released a sales report since it stopped releasing monthly sales numbers in March. Through March, the Cruze had posted 11-consecutive months of year-over-year sales declines.
According to GM's Q2 sales report, 37,836 Cruzes sold in the second quarter of 2018, down from 51,265 in the second quarter of 2017. Those numbers include both the Lordstown-built sedan and the Cruze hatchback that is built at a plant in Mexico. GM no longer provides a breakdown based on body style.
So far this year, 77,691 Cruzes have sold, down 26.1 percent from the 105,188 Cruzes sold in the first half of 2017.
Dave Green, president of United Auto Workers Local 1112, said Lordstown workers continue to do their job and have worked cooperatively with management over the last few years.
"Our members are doing the right thing by building a quality product," he said.
But, "Our members are frustrated. There's no carrot at the end of stick," he said. "Obviously the lack of commitment has created some anxiety, not only among our members, but for people in this community as well."
Green thanked elected officials such as Brown, and a group of state senators and representatives who sent a letter to Barra this week, for advocating on behalf of the plant.
Overall, GM reported a 4.6 percent year-over-year increase in Q2 sales, with 758,376 vehicles sold in Q2 of 2018 compared with 724,925 last year.
The sales jump was driven by strong truck and crossover sales, in line with a long-running trend of consumers favoring SUVs, trucks and crossover vehicles to cars.
Michelle Krebs, executive analyst for Autotrader, said this trend explains the Cruze's lagging sales.
"If you look across the board, every car maker had car sales down," she said. "We're seeing the car segment just shrink. At the end of May, car sales represented 32 percent of all sales."
Now, she said, analysts think that number could drop below 30.
The year-to-date sales for the Honda Accord were down 13.6 percent year-over-year. Toyota reported year-to-date sales for the Camry were down 7 percent on a daily selling rate and 5.8 percent on volume.
GM reported combined sales of pickups, large vans and SUVs increased 18 percent year-over-year to more than 366,000 units, the highest for any second quarter since 2007.
Big Q2 sellers included the Buick Enclave, sales for which were up 25.4 percent year-over-year; the Cadillac XTS, which was up 36.1 percent year-over-year; the Chevrolet Colorado, up 46.8 percent year-over-year, and the GMC Canyon, up 30.9 percent year-over-year.
Chevy's Q2 sales were up 6.2 percent over last year.
Ford's June sales were up 1.2 percent year-over-year.
Fiat Chrysler Automobiles US LLC reported June auto sales were up 8 percent year-over-year.
American Honda Motor Co. Inc. posted a year-over-year increase of 4.8 percent in June.
Toyota Motor North America reported June sales were up 3.6 percent year-over-year.
More like this from vindy.com