Summary of police activity in Canfield and Austintown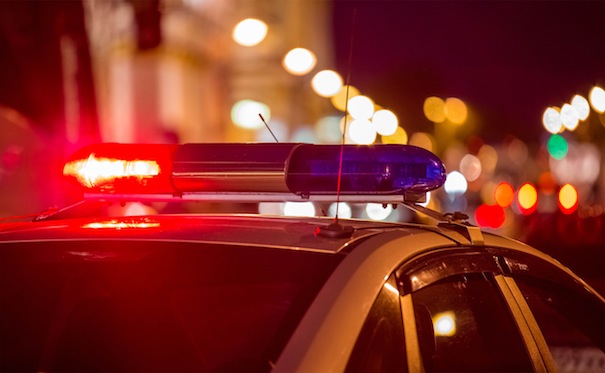 ---
POLICE CALLS
A summary of recent criminal activity in Austintown and the city of Canfield:
AUSTINTOWN
June 26
Arrest: After an officer reportedly saw two pedestrians walking in the road near Silica Avenue and refusing to move to the side, authorities charged Malik D. Dixon of East Dewey Avenue, Youngstown, with obstructing official business and failing to provide personal information, both misdemeanors. Dixon, 21, who also was wanted on a Youngstown Municipal Court warrant, refused several times to identify himself, which hampered the investigation, a report showed.
Possible theft: A car's dealer license plate was lost or stolen off the vehicle at a Mahoning Avenue auto-sales business.
Theft: Over-the-counter medication was stolen from Walgreens Pharmacy, 40 N. Meridian Road.
Theft: A TV was taken from a residence in the 4100 block of Pembrook Road.
June 27
Arrest: A traffic stop near North Raccoon Road led to the arrest of Alexandra C. Barker of Stadler Court, Boardman, on a charge of operating a vehicle impaired. Barker, 21, registered a 0.171 blood-alcohol content, which is more than double Ohio's 0.08 legal intoxication limit, a report stated.
Trespassing: Police charged Kevin Anderson, 46, of Chapel Lane, Canfield, with criminal trespassing after an officer alleged having seen Anderson enter a Get Go gas station, 5163 Mahoning Ave., knowing he was prohibited from being on the property or in the business.
Theft: A bank card was taken from a vehicle in the 4600 block of Deer Creek Court.
Theft: Krystal M. Padilla, 25, of Maple Leaf Drive, Austintown, was charged with knowingly failing to self-scan $97 worth of items that included three bath towels while in Walmart, 6001 Mahoning Ave.
Criminal damaging: A car was damaged at a business in the 600 block of South Raccoon Road.
Theft by deception: A Kirk Road resident reported having been the victim of a scam in which the caller pretends to represent the Internal Revenue Service.
June 28
Arrest: Police answered a complaint about a man who was not wanted at a business in the 4400 block of Mahoning Avenue before arresting Raymond G. Bell, 59, no address listed, on a warrant accusing him of failing to appear in Youngstown Municipal Court.
Domestic violence: Authorities in the 3800 block of Tippecanoe Road took into custody Terence L. Thomas, 39, of South Avenue, Youngstown, who was wanted on warrants charging one count each of domestic violence and violating a protection order. The domestic-violence charge stems from a Sept. 26, 2017, situation in which a Forest Hill Drive woman alleged Thomas had tossed a flashlight, striking her head, then punched the accuser throughout her body during an argument about one of their children and after the victim had asked him to leave the home.
Theft: Authorities were dispatched to the Trumbull County Sheriff's Department to pick up Felicia I. Wallace, 45, who was wanted on a theft charge. Wallace, of Glenwood Avenue, Boardman, was accused of stealing about $70 worth of property in April from Walmart.
Possible theft: Jewelry was reportedly lost or stolen in the 1400 block of South Canfield-Niles Road.
Theft: Megan L. McCale, 25, of Shannon Road, Girard, surrendered on a theft warrant, related to a June 23 incident in which an undisclosed sum of money was stolen from Holiday Inn Express, 5555 Cerni Place.
June 29
Arrest: Officers responded to someone jumping in and out of traffic near Ohltown and Silica roads before charging Jacob R. Robinson, 27, whose last known address was on Woodbine Avenue Southeast, Warren. He was wanted on a warrant from that city.
Burglary: Someone forcibly entered a residence in the 4500 block of Kirk Road and took a laptop computer.
Domestic violence: Mister Jackson, 32, who listed Youngstown addresses on Drummond and South Forest avenues, was charged with the crime after a Compass West Drive woman alleged Jackson had assaulted her, causing the victim to fear for her safety. Jackson also was wanted on two warrants, including one from Girard Municipal Court charging felonious assault, domestic violence, endangering children and criminal damaging.
Child endangering: Police received word that a 4-year-old child had been left unattended in the 1500 block of Fountain Square Drive before walking to a neighbor's apartment. No charges were filed at the time of the report, however.
June 30
Possible theft: A wallet was lost or stolen at a Mahoning Avenue restaurant.
Theft: Someone at Hollywood Gaming at Mahoning Valley Race Course, 655 N. Canfield-Niles Road, noticed $100 missing.
Theft: A credit card and other items were removed from a car in the 200 block of North Roanoke Avenue.
July 1
Fight: Officers received information about a fight between several people in the 1000 block of Compass West Drive.
Theft: Youngstown police handed to Austintown authorities Gregory L. Davenport of Kensington Avenue, Youngstown, who was wanted on a theft warrant. Davenport, 46, was accused of stealing about $353 worth of merchandise earlier this month from Walmart.
Burglary: To a home in the 4000 block of Burkey Road, from which a TV, an Xbox system and games and music equipment were stolen.
Criminal damaging: A vehicle in the 300 block of South Edgehill Avenue was found with damaged windows and mirrors as well as a damaged radio.
Theft: A home healthcare worker reportedly stole medication from a residence in the 4800 block of Westchester Drive.
Theft: Two women reportedly took three pairs of sandals from the JCPenney store, 6000 Mahoning Ave., then fled in a black Chrysler vehicle.
Criminal damaging: Construction equipment in the 5800 block of Mahoning Avenue sustained damage.
CANFIELD
June 26
Theft: Anthony Seidita, 52, of South Dehoff Drive, Austintown, was charged with stealing items from CVS Pharmacy, 601 E. Main St.
June 27
Arrest: Lloyd Raymond Jr., 24, of Pembrook Road, Austintown, was charged with driving under suspension after having been pulled over on South Canfield-Niles Road.
Arrest: Officers on Fairground Boulevard took Khaled Alajmi, 19, of Lockwood Boulevard, Boardman, into custody on a warrant charging failure to appear in court.
Drugs: After stopping their vehicle on state Route 11 near U.S. Route 224, authorities arrested Ryan Cepin, 39, of Gertrude Avenue, Campbell, on charges of possessing marijuana and drug possession, as well as Eric Ream, 41, of Lincoln Avenue, East Liverpool, who faced charges of possessing methamphetamine, a fifth-degree felony, falsification and possessing drug paraphernalia; Ream also was wanted on a Portage County warrant.
Arrest: A traffic stop on West Main Street resulted in Mark Barahona's arrest. Barahona, 34, of Northwood Avenue, Youngstown, faced a driving-under-suspension charge.
June 29
Arrest: After pulling him over on North Briarcliff Avenue, authorities charged Steven Tickerhoof Jr., 23, of Taylor Avenue, Girard, with driving under suspension.
More like this from vindy.com