Canfield captures softball titles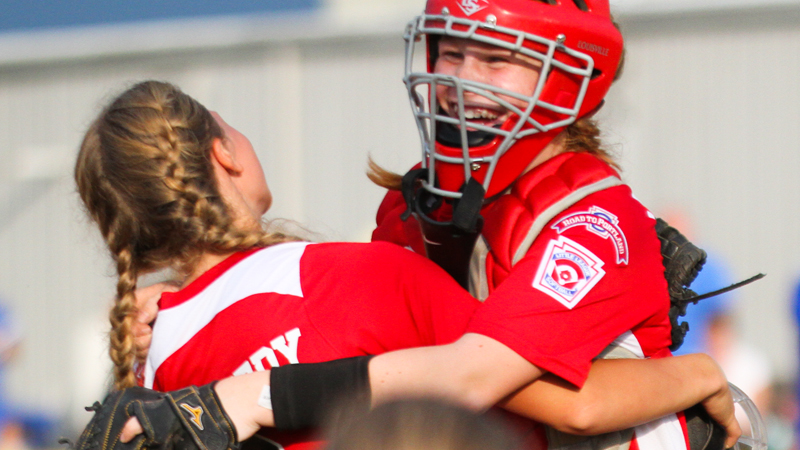 ---
By DAN HINER
dhiner@vindy.com
BOARDMAN
The Canfield 10U and 12U softball teams relied on quality pitching in their District 2 championships on Monday at Fields of Dreams in Boardman.
Bella Kennedy pitched a two-hitter in Canfield 12U's 7-0 win over Poland while Paris Lindgren and Kayleigh Golden combined to pitch seven innings for Canfield's 10U team in a 3-2 win over Austintown.
Kennedy walked one and struck out seven in a complete game while Golden pitched five innings of relief. She struck out five after Lindgren pitched the first two innings.
Kennedy allowed a hit to Poland's Mary Brant to lead off the bottom of the first inning. Then Poland went hitless until Katie McDonald singled to center field in the fifth.
"I knew I had to do my job when I went out there," Kennedy said. "I had to pitch like I've never pitched before and I had to do my best."
Christine Kennedy, Canfield 12U head coach, was a little concerned with Bella on the rubber since Poland saw the Canfield pitcher multiple times.
"[Bella] did a fabulous job," Christine Kennedy said. "She hit all her spots. She worked really hard. She knew what she had to do coming out here."
12U game
Canfield struck first with three runs in the top of the second.
Faith Morell hit a two-run RBI single to right field, driving in Malena Toth and Gianna Pannunzio.
Haydyn Merritt scored on the play after a throwing error.
"I knew we didn't have to stop," Bella Kennedy said. "We had to keep fighting but [the early lead] helped me calm down. I knew we still had to go."
Canfield added another run to push the lead to 4-0 in the third inning after Emma Campbell scored on another throwing error.
Poland committed four errors in the game, leading to three Canfield runs.
Canfield added three more runs in the top of the fifth, including a two-run single by Campbell. Pinch hitter Katie Koulianos drove in Campbell with a one-out single to right field.
Canfield advances to play in the state tournament in West Portsmouth on Saturday.
"This group as a whole really works hard," Christine Kennedy said. "I've coached most of these girls since they were 5. Not only are they great softball players, they're great young ladies."
10U game
While the 12U team was celebrating its championship, the 10U team was winning Canfield Baseball Club's second title in a span of 15 minutes.
Canfield's Sam Economous drove in the game winner in the top of the seventh inning. After Brooke Opalick and Marina Koenig reached base, Economous hit a two-out RBI single.
Canfield 10 lost the first meeting between the two teams on Thursday, so Canfield needed to win two straight over Austintown to claim the district title.
"We played them hard today, kept fighting, our defense played awesome once again, our pitchers came in and did their job," Canfield 10U head coach John Millich said. "I couldn't be happier for the girls right now.
"This [championship] is for this community – Canfield – and they certainly deserve this district."
Millich didn't want Lindgren to pitch too long since she threw a complete game on Sunday.
"I was only going to pitch Paris two or three innings because she pitched [Sunday] and see how far she can get," Millich said. "I [brought] in my other pitcher Kayleigh Golden and I just depended on them to handle things."
Canfield jumped out to an early 2-0 lead in the first inning. Sydney Lutz hit a leadoff single and scored on an RBI groundout by Economous. Koenig reached base on a fielder's choice and scored later that inning.
Economous finished 1 for 4 with two RBIs while Lutz and Opalick went 2 for 4 with a run scored.
Kali Ray had a hit and scored both runs for Austintown.
Ray struck out seven in a complete game. She allowed three runs, two earned, on eight hits and one walk.
Canfield and Austintown will advance to state on July 27 in Tallmadge.
For Millich, seeing the 10U and 12U teams advance is a testament to the community and the support of its Little League programs.
"This is what it's all about – the camaraderie, the girls – we're trying to promote the game, the competition," Millich said. "It's just a wonderful experience all the way around."
More like this from vindy.com