Valley mom: Drug suppliers getting away with murder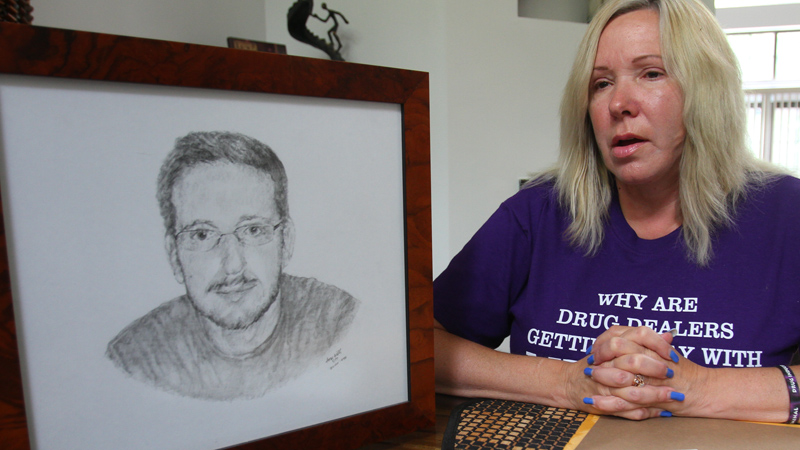 ---
By JORDYN GRZELEWSKI
jgrzelewski@vindy.com
BOARDMAN
Mary Hunsbarger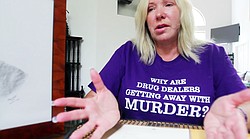 Video
Mary Hunsbarer's son died of as she puts it Fentanyl poisoning. In the aftermath of her son's drug-related death, she has written to and received a response from President Trump.
Mary Hunsbarger got the call May 16, 2017.
It's the call parents of someone struggling with
addiction dread.
Her oldest son, Brian Masaitis, was dead of a drug overdose at age 34.
The call came as a shock to Hunsbarger. Masaitis had struggled with addiction before, but she thought it was behind him.
"He had a history of addiction, but he had done really well," she said from her Boardman home, a portrait of Brian sitting on the table beside her, and wearing a T-shirt that reads 'Why are drug dealers getting away with murder?'
"I was totally blown away when I got the phone call," she said.
Now, a year into grieving, Hunsbarger is ready to talk about her son and to push for changes she believes will help combat the opioid crisis that in 2016 killed more Americans than were killed in the Vietnam War. Last year, more than 130 people died of drug overdoses in Mahoning and Trumbull counties. Hunsbarger is calling for those who supply a drug that leads to a fatal overdose to be charged with homicide.
Masaitis, a 2001 Maplewood High School graduate, died in his home in the Detroit, Mich., area, where he worked as a maintenance supervisor for a church. His mother describes him as a prankster, someone who was sometimes impulsive and liked to stir up mischief. He struggled academically, but was bright. He liked fitness and fishing and loved his 15-year-old son.
"He loved his son. He loved his mama," Hunsbarger said tearfully.
The last conversation she had with him assured her of this. Masaitis texted her on May 14, 2017 – Mother's Day. The message said, "Happy Mother's Day mom. I love you."
DEMANDING ACTION
Hunsbarger is part of a group, started by a Chicago police officer who lost her stepdaughter to an overdose, pushing for criminal investigations of overdoses and prosecution of those who supply the drugs on a charge called drug-induced homicide.
On Valentine's Day this year, Hunsbarger and other members of the group sent photos and letters to the White House about their loved ones and their push for drug-induced homicide prosecutions. Hunsbarger recently received a response signed by President Donald Trump.
"Thank you for sharing your story with me. I am so terribly sorry to hear of the loss of your son, Brian. Melania and I send our prayers to you and your family," the letter reads.
It goes on to say that opioid abuse is a "national health emergency" that is "plaguing families and communities across our Nation, robbing so many of their potential."
"My Administration is fighting this crisis on all fronts, and examples like yours motivate me to keep up the fight," the letter says.
Hunsbarger said she reached out to the White House to show her support for the president's stance on drug dealers. Trump's rhetoric on dealers has been tough – drug policies he released earlier this year even includes the proposal that the U.S. Department of Justice seek the death penalty against drug traffickers, and he called on Congress to reduce the amount of drugs needed to "invoke mandatory minimum sentences for drug traffickers who knowingly distribute certain illegal opioids that are lethal in trace amounts."
"My part of trying to get a hold of President Trump was not only for my son, but also to let him know that I'm standing beside him with having the dealers put away," she said.
She was happy with the response she received.
"I was just thrilled to know, hey, we do matter," she said. "He knows we're out here."
CHANGING INVESTIGATIONS
Currently, 20 states have drug-induced homicide laws on the books. Ohio is not one of them, but in recent years there has been a movement among law-enforcement officers and prosecutors to investigate overdoses as crimes and charge people who supply a fatal dose of a drug with involuntary manslaughter.
A number of those cases have taken place locally.
In 2013, for example, James Patterson was sentenced in Trumbull County to 20 years in prison for selling a fatal dose of heroin to Christine Sheesley of Girard on her 17th birthday in April 2012, according to Vindicator files. Another defendant, Tyler Stevens, got a five-year prison term for injecting Sheesley with the heroin.
In 2007, Timothy Wyland was sentenced to five years in prison for giving drugs to two teenage girls, one of whom, Cortney L. Rushwin, died. He was convicted on charges of involuntary manslaughter, three counts of corrupting another with drugs, two counts of trafficking in heroin and one count of trafficking in cocaine.
In May, Trumbull County Prosecutor Dennis Watkins and U.S. Attorney for the Northern District of Ohio Justin E. Herdman announced they had cross-designated members of their offices to work on each other's cases, saying the move would "enable more efficient and effective prosecutions of drug criminals, including those who distribute drugs that cause overdose deaths."
Watkins also has applied for a federal grant to help establish a Trumbull County Overdose Death Prosecution Unit, which would be made up of investigators, homicide detectives and narcotics officers. He said the unit would move forward even if the grant request is denied.
"Trumbull County's law- enforcement professionals are doing and will continue to do their very best with the limited, available resources investigating and prosecuting each overdose death to the fullest extent permitted under state and federal law to ensure each overdose fatality is treated as a homicide rather than just being viewed as tragic end to the life of an addict, a sad statistic, and another casualty of the war on drugs," Watkins said in a news release.
Ohio Attorney General Mike DeWine's office has been involved with this movement. The AG's Bureau of Criminal Investigation, for example, provides training to local law-enforcement officers and prosecutors on how to handle overdose scenes and build cases against dealers.
Whereas overdoses used to be, and sometimes still are, treated as accidental deaths, there has been a push to treat overdose sites as crime scenes. Investigators are trained to preserve and document scenes as they would a murder scene.
Although entities such as the AG's office have encouraged this, it's mostly up to the discretion of local prosecutors on how cases such as these are handled. Many have chosen to follow this model.
The U.S. Northern District Court of Ohio has charged about 34 people using a federal death-specification sentencing enhancement that can be used in drug cases involving a death, according to information provided by the U.S. Attorney's office. Two of those cases were out of Youngstown, with one defendant, Shayne Mascarella, sentenced to 20 years in prison and another, Lebron Bunkley, sentenced to 30.
To some, such as Hunsbarger, charges such as involuntary manslaughter don't go far enough.
"If you're given a toxic substance and it's ingested into the body and they die, that is murder. And that's what we're pushing for," she said. "I want to see justice for my son, but I also don't want to have to see other parents suffer."
LACK OF EVIDENCE
Others, however, say these types of prosecutions are not only ineffective, but counterproductive.
"We oppose these types of laws, in part, because they don't work," said Gary Daniels, chief lobbyist for the American Civil Liberties Union of Ohio. "They are a further manifestation of the war on drugs, which we've had for 40 years now."
"By any objective measure, the war on drugs has been an absolute failure," Daniels said, noting that drugs are as available as ever.
Additionally, prosecuting people who supply drugs does not achieve the goal of reducing overdose deaths, Daniels said.
"There is no evidence out there whatsoever that these work," he said. "It doesn't solve anything, except for putting more people in prison. It doesn't cut down on overdoses. It doesn't cut down on drug crimes."
Drug Policy Alliance, a nonprofit advocate for drug policy reform, released a report last year that argues these types of laws are "counterproductive and inhumane." The report notes news stories on these types of prosecutions increased by 300 percent between 2011 and 2016.
Yet, "there is not a shred of evidence that these laws are effective at reducing overdose fatalities."
Critics of such prosecutions also point to the thin line between drug dealers and fellow victims of the opioid epidemic. "The vast majority of charges are sought against those in the best positions to seek medical assistance for overdose victims – family, friends, acquaintances, and people who sell small amounts of drugs, often to support their own drug addiction," the DPA report states.
"These are fellow addicts. These are fellow users. These are also people who need help to get out of their problem," Daniels said.
Mike Tobin, spokesman for the U.S. Attorney's office, said that's where prosecutorial discretion comes into play. "That's why we've done 40 of these and not 4,000," he said.
"We're not claiming victory that it's solving the opioid problem. This is one of the tools in our arsenal," Tobin said. "This is one, but it is not the only tool, and we know that."
Effective strategies, DPA notes, include expanding access to overdose-reversal medication naloxone, expanding overdose-response training, increasing access to treatment, authorizing drug-injection safe sites and expanding drug-treatment research.
For Hunsbarger, the issue is black and white: "Either way, you broke the law," she said.
For her, fighting for justice for her son is part of the healing process.
"His life mattered," she said. "I just want my grandson to know his grandma is doing everything she can."
More like this from vindy.com