Trumbull Courthouse bells and clocks back in working order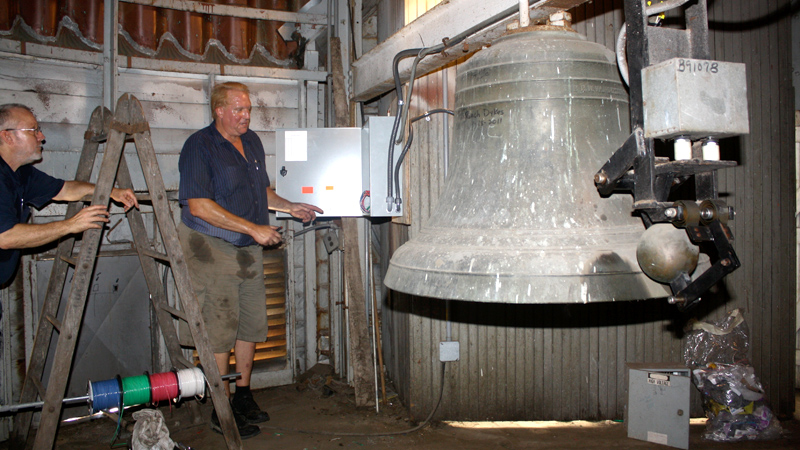 ---
VINDICATOR EXCLUSIVE
By Ed Runyan
WARREN
After several months without bells or working clocks on the dome of the Trumbull County Courthouse, the historic structure now has both.
In 2015, county officials thought for historic purposes it would be nice to replace the electronic equipment that allows the 1,500-pound bronze bell – installed when the courthouse was built in 1895 – to work again after 20 years of silence.
In recent months, however, new problems developed: The four clocks, which had trouble keeping accurate time in recent years, stopped working entirely.
The carillon, an electronic device purchased by the Warren Rotary Club decades ago to play music that imitates a bell, also quit working.
That means the Westmins-ter Chimes and other songs that could be heard in Courthouse Square in the past went silent.
But courthouse officials decided to use $23,810 of special-projects fees paid when individuals file civil cases in Trumbull County Common Pleas Court to be used to replace the equipment that runs the bell and the four clocks.
Warren Rotary Club agreed to pay about $12,000 more to replace the carillon and its eight speakers mounted around the outside of the dome.
The new equipment arrived this week, and The Verdin Co. of Cincinnati spent part of the week installing it.
By late Friday, the carillon and clocks were being fine-tuned, and the mechanism that allows a hammer to strike the bell had been tested with good results.
Todd Hultzman of The Verdin Co. programmed the carillon to resume playing The Westminster Chimes every hour and to also chime every 15 minutes. He was also preparing to program the Rotary song to be played in its traditional time period at noon Wednesdays.
The hands on the clocks, which dated to the 1980s, have been replaced, and the clocks now operate digitally and should only lose or gain a couple of seconds per month, Hultzman said.
They also adjust themselves automatically for the time change and reset to the proper time after power outages.
Two new solenoids were installed on the mechanical hammer that strikes the bell, and a new control panel operates the hammer and clocks.
Tony Cornicelli, common pleas court administrator and court mediator, said he expects the bell also to be programmed to sound on a schedule, but the specifics have not been determined.
Testing indicated that the bell is no louder than the carillon and should not disrupt courthouse proceedings.
Architect Andy Bednar, who is president of the Warren Rotary Club, said when the club learned that the carillon needed to be replaced, it decided to pay for the replacement.
One of the sources for that funding was $50,000 from the trust of Raymond L. and Janice M. Bland, Bednar said.
More like this from vindy.com