Red, white, blue on proud display at Lansingville Parade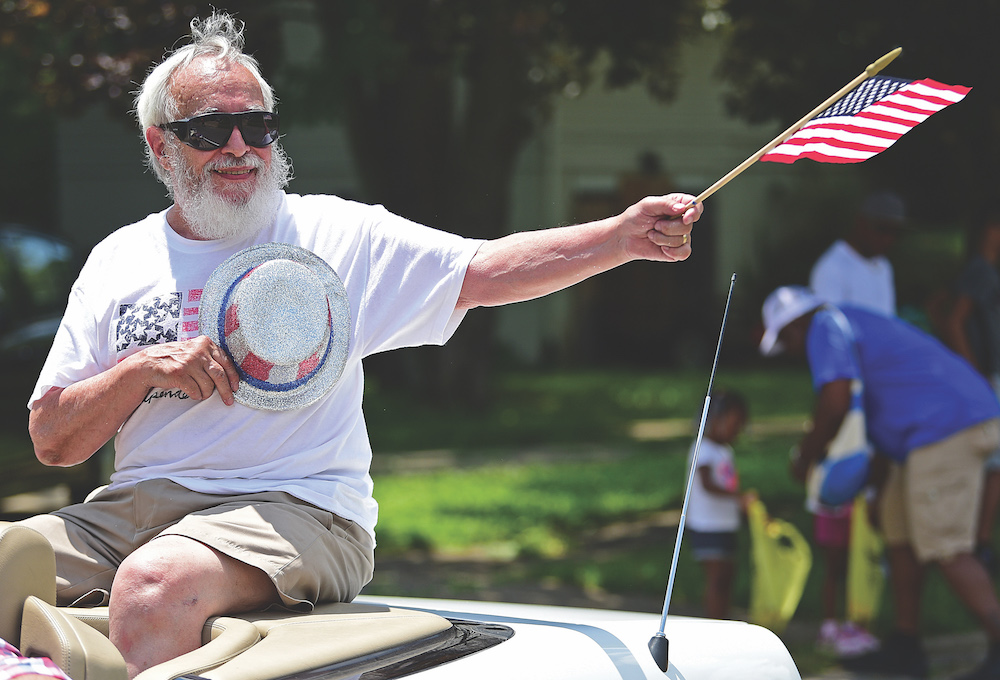 ---
By SEAN BARRON
news@vindy.com
YOUNGSTOWN
Many people likely will recall that "The Color Purple" was a highly acclaimed 1985 movie that featured Whoopi Goldberg and Oprah Winfrey's film debuts, but the phrase also goes a long way toward capturing much of the color that made up a longtime local parade.
Nevertheless, the parade's underlying meaning and significance go far deeper than a mere color.
"We want more neighbors to get involved with our meetings. Twice a year we have city cleanups," said Carol Moore, president of the Cochran Park Neighborhood Block Watch group, one of the groups that braved temperatures in the low 90s to participate in the 17th annual Lansingville Parade that began Sunday afternoon at St. Nicholas Byzantine Catholic Church, 3801 Shady Run Road on the South Side.
The parade proceeded to the former Adams Junior High School on Cooper Street.
Hosting the event were the Purple Cat and Golden String Inc.
The block-watch group's parade entry was a bright-purple, custom-made 1930 Ford Model A five-window coupe that Moore's boyfriend, Don Keck, rebuilt. One of the few modern features inside the vintage vehicle was a bag containing candy to be tossed to spectators along the parade route.
The Cochran Block Watch group covers mainly Cambridge, Palmer, Judson, Roxbury and Detroit avenues and is dedicated primarily to preserving and keeping safe those neighborhoods and improving their quality of life. Being in the parade each year is a way to drive home that point, Moore noted.
Lansingville is a diverse section of the South Side with mixed-income neighborhoods loosely bounded by Interstate 680, Midlothian Boulevard and South Avenue.
Another of the parade's purple elements was the color of the uniforms worn by more than a dozen youngsters who made up the Kingdom Keepers of Time Drumline. Marching in front of them were members of the Youngstown Fighting Redman, a nonprofit youth football organization with children age 6 to 13.
"This team has been in existence for over 100 years. We're just trying to give back to the community, and we want to teach them that respect," said Justin Glover, referring to the main reason for having the youngsters in the parade.
Glover and Lamont Jones serve as the organization's presidents.
Before marching, the Redman group received a few words of encouragement from Mayor Jamael Tito Brown, who also handed candy to children along part of the route.
Participants play seven games each year from July through October at nearby Gibson Field. Their first day of practice is set for next Monday, Glover continued.
Not making any moves to hide his sense of patriotism in advance of the Fourth of July holiday was Jimmy Sutman, who dressed as Lady Liberty.
"This year, it was a choice between Abraham Lincoln and Lady Liberty, and I felt it was time to go as a female," said Sutman, who founded the Purple Cat, a for-profit organization that provides a host of programs for adults with challenges. The clients are given opportunities to gain skills in music, office work, lawn maintenance, food service, arts and crafts and other areas.
The Purple Cat also runs a 52-acre farm on U.S. Route 422 in Coitsville that has a variety of animals and a vegetable garden.
More like this from vindy.com